'Many people agree with and sympathise with your determination to stop these attacks on your people,' Bob Schieffer told Netanyahu. Meanwhile, on Fox: 'What part of this can't you get through your thick head?' Video stills via CBSNews.com, FoxNews.com
Here are a few questions you won't hear asked of the parade of Israeli officials crossing US television screens during the current crisis in Gaza:
What would you do if a foreign country was occupying your land?
What does it mean that Israeli cabinet ministers deny Palestine's right to exist?
What should we make of a prime minister, Binyamin Netanyahu, who as opposition leader in the 1990s addressed a rally under a banner reading "Death to Arafat" a year after the Palestinian leader signed a peace accord with Israel?
These are contentious questions, to be sure, and with complicated answers. But they are relevant to understanding of the Israeli-Palestinian conflict today. They also parallel the issues routinely raised by American journalists with Palestinian officials, pressing to consider how the US would react if it were under rocket fire from Mexico, to explain why Hamas won't recognise Israel and to repudiate Palestinian anti-Semitism.
But it's a feature of much mainstream journalism in the US, not just an issue of coverage during the last three weeks of the Gaza crisis, that while one set of questions gets asked all the time, the other is heard hardly at all.
In years of reporting from and about Israel, I've followed the frequently robust debate in its press about whether Netanyahu really wants a peace deal, about the growing power of right-wing members inside the Israeli cabinet opposed to a Palestinian state, about the creeping air of permanence to the occupation.
So it has been all the more striking to discover a far narrower discourse in Washington and the notoriously pro-Israel mainstream media in the US at a time when difficult questions are more important than ever. John Kerry, the US secretary of state, and a crop of foreign leaders have ratcheted up warnings that the door for the two-state solution is closing, in no small part because of Israel's actions. But still the difficult questions go unasked.
Take Netanyahu's appearance on CBS's Face the Nation on Sunday. The host, Bob Schieffer, permitted the Israeli leader to make a lengthy case for the his military's ground attack, guiding him along with one sympathetic question after another. Finally, after describing Netanyahu's position as "very understandable", Schieffer asked about dead Palestinian civilians – but only to wonder if they presented a public relations problem in "the battle for world opinion".
As if Schieffer's position wasn't already blindingly clear, he went on to quote former prime minister Golda Meir's line that Israelis can never forgive Arabs "for forcing us to kill their children".
As way of balance, CBS followed with a short clip of an interview by Charlie Rose with the Hamas leader, Khaled Meshaal, who was pressed on his willingness to recognise Israel.
There has been fine reporting from on the ground in Gaza by courageous American journalists who have laid bare the price being paid by ordinary Palestinians. That, in turn, has prompted some stiff questioning in American TV studios of Israeli officials about the scale of civilian deaths and shelling of schools and hospitals. Some pro-Israel American pundits admit to have becoming "less pro-Israel".
But the broader framework of how the conflict is presented in the US is more troubling.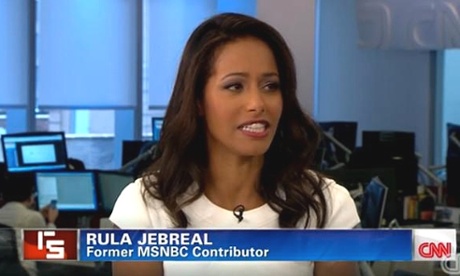 Former MSNBC contributor Rula Jebreal drew widespread attention to the media divide when she condemned NBC News on air, on MSNBC, for pulling its only Arab-American correspondent, Ayman Mohyeldin, out of Gaza, only to reinstate him because of the backlash. "We are disgustingly biased on this issue," she said.
She has a point.
An analysis by Punditfact of CNN coverage during the first two weeks of the latest Gaza crisis showed that appearances by Israeli officials outnumbered Palestinian officials by more than four-to-one. There were substantially more interviews with what Punditfact called Palestinian "laymen", but they included the relatives of a Palestinian-American beaten by Israeli soldiers that offered little insight into the bigger picture.
All appearances by Palestinian officials were outnumbered by interviews with a single man: Israel's former ambassador to the US, Michael Oren, whom CNN hired as a Middle East analyst earlier this year. The network presents Oren as a kind of neutral interpreter, when just a few months ago he was vigorously defending Israel on behalf of Netanyahu's government. His limited value as an analyst was swiftly exposed by his assertion that Hamas was trying to get Israel to kill as many Palestinian children as possible as part of a media strategy.
The number of guests booked or sources quoted has never been balanced on this issue in the mainstream American press, but more important is the nature of interviews and the broader coverage when Israel and Palestine are not thrust into the news by a fresh surge in violence.
At one extreme is Fox News, where last week Sean Hannity shouted down a Palestinian guest, Yousef Munayyer, because he would not condemn Hamas as a terrorist organisation, then proceeded to terminate the interview.
Munayyer, director of the Jerusalem Fund in Washington, has appeared repeatedly on CNN where he is treated more respectfully. But he told me he is frequently brought on to answer accusations from the Israeli side, rather than explain the Palestinian perspective in the way that Israeli officials and commentators are allowed to lay out their case.
"Most of the time I go on it is to be put on the defensive, in response to a conversation that's framed around Israel's security concerns first and foremost," Munayyer said.
Palestinians should face difficult questions about recognition of Israel, about Hamas's policies and actions, about how peace would work in practice.
But on the other side, I've rarely seen a major channel match that kind of routine close questioning of Israeli officials about the position of a government packed with ministers hostile to a Palestinian state, who advocate annexation of much of the occupied territories and who propose second-class citizenship for Arabs.
Israel's preferred representatives in the US media – Oren, plus the Israeli ambassador to the UN, Ron Prosor, and Netanyahu's spokesman, Mark Regev – all project the country as a liberal democracy, an unwilling occupier that is thirsting for peace.
But that does not fit with the views of leading politicians back in Israel. Naftali Bennett, the economy minister and leader of the most powerful political party on the right, has said: "I will do everything in my power to make sure [the Palestinians] never get a state."
Danny Danon, the increasingly powerful chairman of the central committee of Netanyahu's Likud party, openly opposes a Palestinian state and has said the prime minister doesn't believe in it either. "I want the majority of the land with the minimum amount of Palestinians," Danon, whom Netanyahu just fired as deputy defense minister for being critical of opposition to a ceasefire, told me last year.
And Israel's ultranationalist foreign minister, Avigdor Lieberman, wants a good chunk of Israel's Arab population stripped of citizenship.
Perhaps none of these men will get what they want. But they hold important levers of power, and good journalism would seem to demand that probing questions get asked about where Israel is headed under such leadership.
That kind of piercing American journalism can be found, mostly in foreign-policy journals and long magazine articles, such as David Remnick's insightful report in the New Yorker last year on the rising political power of Jewish settlers. But much of the press demonstrates a frightening lack of inquiry, and if the mainstream media won't do it, others are increasingly willing to do it for them.
It's no secret that younger Americans do not rely on the nightly news, cable networks or printed newspapers for information in the way many older people do. The internet has opened access to foreign news media, which often has a different take in Israel, and has opened up a stream of links to to first-hand accounts as well as writing by analysts and activists who offer insights and information wilfully ignored by the Bob Schieffers and Sean Hannitys of the world.
There is evidence of a shift in public opinion, mostly generational: a Pew poll this month showed falling support for Israel among younger Americans. Over 65s backed the Jewish state by 60% to just 9% support for the Palestinians. Among young adults, aged 18-29, just 44% were behind Israel with backing for the Palestinians rising to 22%.
As opinion shifts, it will be harder to go on presenting just one side of the story.
• This article was amended on 1 August 2014. An earlier version said Netanyahu had addressed rallies in the 1990s under a banner reading "Death to Arabs". That has been corrected to say that Netanyahu addressed a rally under a banner reading "Death to Arafat" a year after the Palestinian leader signed a peace accord with Israel.