Baltimore, MD— Families of unarmed Blacks who were slain by police rallied in West Baltimore one year after Freddie Gray died of injuries sustained in police custody. Six families joined protesters to tell stories about family members who had also been killed by police. They marched to the site where Gray had been apprehended and dragged into the police van, paused for a moment of silence and then proceeded four blocks past the local police precinct.
Video of the violent arrest of Freddie Gray was released on the Internet in April 2015, and his death a week later due to a severed spinal cord touched off protests and property destruction in Baltimore. Six police officers were subsequently indicted for their involvement in the "rough ride" leading to Gray's fatal injury. Their trials were put on hold by a Maryland appeals court.  Baltimore City settled a civil case with the Gray family for $6.4 million.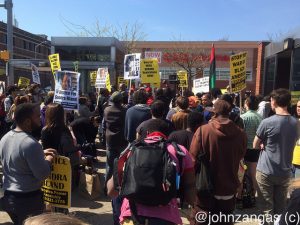 "This is 21st-century lynching at its best," said Reverend C.D. Witherspoon. "And it goes by the name police brutality."
People gathered in front of the CVS at the corner of West North and Pennsylvania Avenue. The store became infamous when rioters smashed the windows, looted and set fire to it a year ago. Today, large signs saying "Now Open" are displayed on the building.
Among those who spoke at the rally were mothers whose children were killed by police. Diane Butler, mother of Tyrone West, 44, a Black man who died after being beaten by 12 to 15 Baltimore police officers in July 2013, said that despite the pain of the families they will never stop seeking justice. She delivered a stinging rebuke of the Baltimore police who beat and arrested her son.
The Baltimore coroner's report said he died of a heart attack, but she strongly condemned the finding. "You better let them know we're gonna fight for our children, our black men and our black women. No justice, no peace," Butler said.
Tawanda Jones, West's sister, called the police officers who killed her brother "animals, savages." She described the investigation as "phoney-baloney" and "foolishness."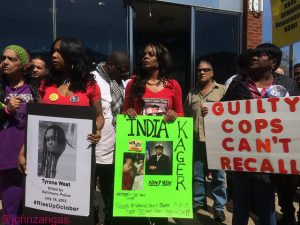 Gina Best, mother of India Kager, who was slain by Virginia Beach police in September 2015, also spoke about police violence against the unarmed. "I stand here today for Tyrone West, Tamir Rice, Loquan McDonald, and those who have been killed by police officers. I stand here in pain with the mothers who bear the pain," she said.
Darlene Cain, mother of Dale Graham, who was killed by police in 2008, urged the community to get involved in efforts to change policing standards in Baltimore. "This could happen to anybody. We are not exempt," she said.
Nathaniel Smith, a resident of West Baltimore, joined the protest as it passed his home. He believes solutions to Baltimore's poverty and racial problems are going to come from the people, not the police or City government. "If they're going to do something you need to start with the staff sergeants and elderly officers," he said.
The Baltimore Police Department appeared to view the protest as a chance to mend severed relationships with the community while still maintaining a watchful presence. Before the rally began, a chaplain from a local church led a prayer with about twenty people holding hands in a circle, seven of them on-duty police officers.
Many protesters were not happy about the prayer circle. Protester Lee Patterson, for example, called participants "sellouts" working with "pork preachers" and "the pork police."During the impassioned speeches condemning police brutality, a few officers, most of them female, stood off to the side. One officer greeted people warmly, smiling and offering to shake hands, and made a point to say that they were out at several community events. In contrast, another officer–who held a camera–was standoffish and reluctant to say whether she was on-duty or not. Neither would not comment on their participation in the prayer circle. A third suggested that the neighborhood community center–where they were distributing free food that day—would be a more interesting subject for media to cover than the protest. A police helicopter circled above.
Next week marks the anniversary of Freddie Gray's funeral, and more protests are set to take place then.