Three years ago it would have been unthinkable for a Walmart employee to walk off the job, especially on Black Friday, the busiest shopping day of the year. They would have been administratively disciplined or worse, terminated. But that is what happened on November 28 at the H Street Walmart in Washington, DC when several workers did not report to work, saying they were fed up with low wages, irregular schedules, reduced hours, and economic hardship.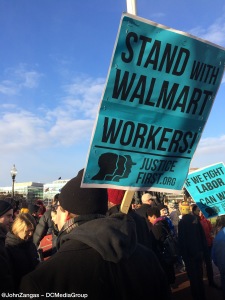 "I worked 40 hours a week but was classified as a part time employee even though I was working full time," said Glova Scott, a Walmart employee at the H Street location. She said her classification prevented her from qualifying for company benefit programs.
Early Friday morning, several hundred supporters from the advocacy group Our Walmart, the AFL-CIO, and other labor groups marched with strikers to the H Street Walmart in northwest Washington to tell managers they wanted better pay and regular hours.
The Walmart narrative is shifting from "low prices" to "low wages," giving the mega-corporation a reputation of social irresponsibility as more advocates and workers stand up for a living wage of $15 per hour and benefits like health insurance.
The marchers protested outside the doors while managers closed the store for an hour. Reverend Graylan Hagler of Plymoth United Church of Christ, a strike supporter, tried to deliver a letter to the General Manager explaining the reasons for the demonstration, but managers would not open the doors.
The night before, Reverend Hagler supported another worker walk-out at a Walmart located on Georgia Avenue. "We're here to demand that Walmart share its resources with workers," he said.
Another issue is constantly changing schedules, according to Fatmta Jabbie, a mother with two young children. "I have bills, [but] I cannot depend on my job because they change my hours," she said. She reported she had to depend on government assistance for food stamps and Medicaid for her children.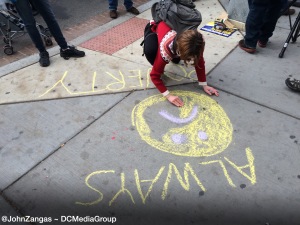 And she's not alone in needing public assistance because her wages are so low. A study found that taxpayers subsidize the average Walmart super center with 300 employees to the tune of between $900,000 to $1.75 million per year.
Teamster Shop Steward, Dirk Rassmussen of Local 639, said the protest was "a good beginning for Walmart workers so they can get benefits." He said his family has a good standard of living because union workers have bargaining rights.