Carte Blanche Clearance for Gas Industry Ventures Provokes Protest at Energy Agency Headquarters
A little-known regulatory agency has been the site of daily protests this week against the environmental costs and health and safety hazards associated with exporting natural gas. Roughly twenty people have been picketing every day this week outside the Federal Energy Regulatory Commission (FERC), the agency in charge of approving interstate gas pipelines and liquefied natural gas terminals. FERC is accused of being dysfunctional and in dire need of reform, a de facto "rubber stamp" for gas industry plans to expand their fracking operations.
"They are oil and gas industry facilitators, not oil and gas industry regulators," said Mike Tidwell, director of environmental group Chesapeake Climate Action Network (CCAN), at a press conference in front of FERC on Monday.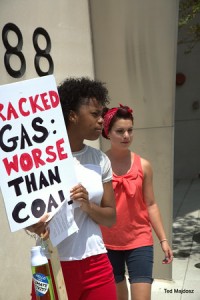 Protestors chanted, "Hey, FERC, yes you can, stop this dirty fracked gas plan!" and carried signs which said, "The FERC Rubberstamp Hurts Communities" and "Cove Point is All About Fracking!" They came from areas which would be affected by the approval of the conversion of Cove Point LNG into an export terminal. On Tuesday, Calvert County, Maryland residents picketed and expressed fears about their safety living in close proximity to the energy intensive and volatile process of supercooling methane gas. On Wednesday, people from Frederick County registered their anger with FERC over approving a highly polluting compressor station in Myersville which would help transport gas to Cove Point.
According to CCAN, organizer of the weeklong protest, FERC reviews projects without adequately assessing their environmental, health and safety risks, nor their cumulative impacts on the climate. They also say that it collaborates with energy companies to divide large projects into smaller ones, which can obscure their impacts as a whole and more easily pass review. Recently, a court ruled in Delaware Riverkeeper v. FERC that the agency had improperly approved four pipeline upgrades along one continuous forty-mile stretch, because the overall project had been "segmented" to avoid a comprehensive evaluation.
The activists fear that FERC will ignore the 150,000 public comments submitted to the agency criticizing the Environmental Assessment which it released in May and greenlight Cove Point over their objections.
"Residents living next door to Dominion's proposed Cove Point facility are coming to FERC this week because we refuse to let this agency sacrifice our safety to the gas industry," said Tracey Eno of Calvert Citizens for a Healthy Community, who lives close by to Dominion Resources' now-dormant import terminal. "FERC has failed to conduct a transparent, quantitative risk assessment that considers the very real threat of explosions compromising our safety in our own homes due to Dominion's proposed addition of extremely hazardous liquefaction equipment at Cove Point."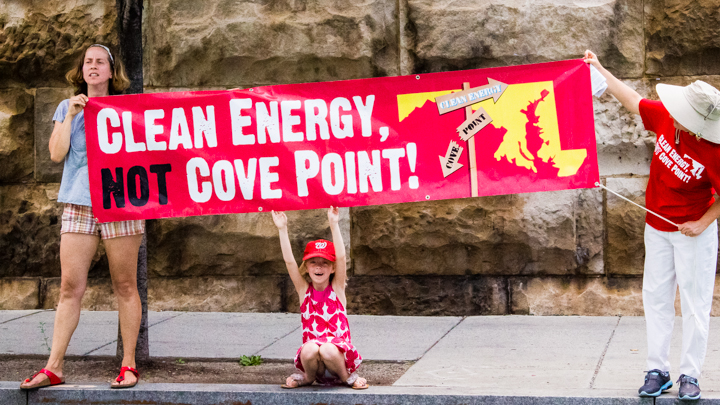 Leslie Garcia, also of CCHC, read a list of toxic air pollutants that the Cove Point plant would spew onto the neighboring houses, parks and schools, including ammonia, sulfuric acid, lead, arsenic, nitrous oxide, hydrogen sulfide and formaldehyde.
Natural gas exports have become a hot topic nationwide as Congressmen point to them as a way to thwart Russia, Europe's primary supplier of gas, in the wake of its aggression in Ukraine. They also cite jobs and benefits to the U.S. economy. On June 25, the House passed a bill to expedite the Department of Energy's approval of LNG export terminals–but only after they pass FERC's environmental review.
But FERC's environmental review is precisely where it comes up short, according to CCAN and other green groups. The agency took the questionable route of conducting a less rigorous assessment than it may have been required to under the National Environmental Policy Act, an action which could have enabled it to skirt analysis of the true overall effects of Cove Point. Even the EPA urged FERC to consider the cumulative impacts of greenhouse gases emitted throughout the entire export process. The total emissions of fracking, piping, liquefying and shipping gas to Asia exceed those of burning coal locally, according to a study released by the Department of Energy just last month.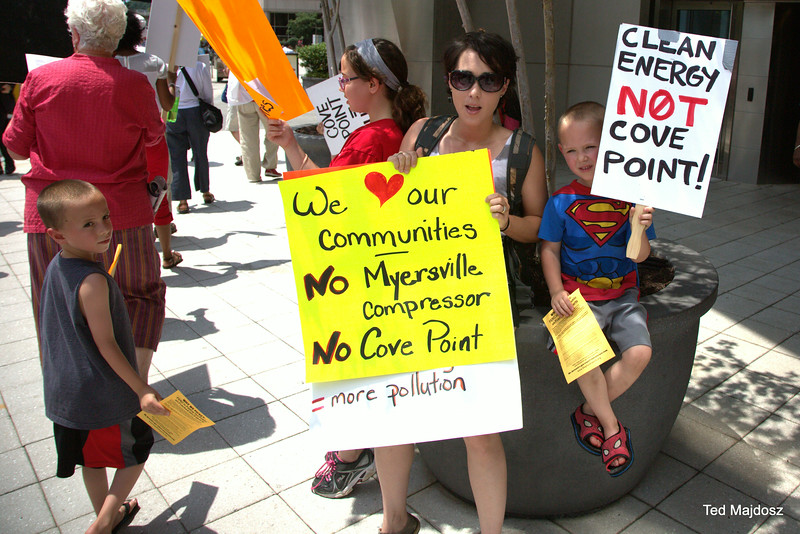 "It is clear… that the Commission failed to include necessary review of foreseeable impacts from this project," writes Delaware Riverkeeper in its official comment on FERC's Environmental Assessment of Cove Point. "As such, the Commission's finding that an Environmental Impact Statement is not required is flawed scientifically, factually, and legally."
A coalition of groups has hinted at taking legal action since FERC has refused to conduct an Environmental Impact Statement. In an interview, Jocelyn D'Ambrosio of legal advocacy group EarthJustice indicated that it was likely to file suit against FERC because it had failed to meet its obligations under the National Environmental Policy Act and consider the indirect effects reasonably related to the project, which include the full lifecycle greenhouse gas emissions produced.
The Delaware Riverkeeper decision against FERC's practice of "segmenting" could come into play regarding the 16,000hp compressor station being constructed in Myersville, Maryland on the Cove Point pipeline. Dominion has steadfastly denied that it is connected to Cove Point, although the compressor station's capacity is far greater than necessary to fulfill its stated purpose. In a preliminary review, a pipeline expert hired by EarthJustice confidently concluded that Dominion Transmission added additional compressor capacity at Myersville in order to ship gas to Cove Point. FERC considered and approved the compressor station on a separate docket from the LNG terminal expansion.
Unless it is halted by a pending appeal, the compressor station will become operational in November of this year and begin belching more than 23 tons of nitrous oxide per year into the air, only a mile away from an elementary school.
"From Lusby to Myersville to Minisink and beyond, mothers like me see FERC repeatedly failing to protect the health and safety of our children," said Ann Nau of Myersville Citizens for a Rural Community. "With a FERC rubber-stamp in hand, Dominion sued my small town to force a toxin-spewing compressor station on us, defying community and local government opposition.
"We are here to shine a bright spotlight on FERC's practices, and to demand a change in course before more communities see hazardous pipelines or polluting compressors in their backyards," Nau said.
Anti-fracking activists plan to picket FERC on Thursday this week, and interfaith groups will protest on Friday. A major rally and march against LNG exports is planned for July 13.