Demonstrators call on government to protect NSA whistleblower and attack US over internet spying programmes
Link to video: Snowden gains support from protesters in Hong Kong
Hundreds of demonstrators have taken to the streets of Hong Kong despite heavy rain to support the NSA whistleblower Edward Snowden and press the US to change its surveillance policies.
The gathering on Saturday came hours before Hong Kong's chief executive, CY Leung, broke days of silence on the case. He promised to "follow up on any incidents related to the privacy or other rights of the institutions or people in Hong Kong being violated".
His spokesman declined to elaborate on what that follow-up may entail, the South China Morning Post said.
Snowden has alleged that the US hacked hundreds of targets in Hong Kong and on mainland China.
Leung's statement said the government would handle Snowden's case "in accordance with the laws and established procedures of Hong Kong".
Human rights groups and other organisations arranged the rally after Snowden, a US citizen, told the South China Morning Post that he planned to stay in the territory and "ask the courts and people of Hong Kong to decide my fate". Three days earlier he revealed his identity and his presence in Hong Kong in a video interview with the Guardian.
Protesters waved placards and chanted "protect free speech – protect Snowden" as they rallied in the centre of the city before marching past the US consulate and gathering outside government offices.
Hong Kong has a well-used surrender treaty with the US. Supporters say they are concerned that Beijing may intervene in the decision and are worried about his treatment if he is sent back to the US.
Legislator Charles Mok told the crowd of more than 500 that they were there to protect not just Snowden but "all of us", given the allegations about US surveillance.
Albert Ho Chun-yan, a high-profile Democratic politician, said: "It's unlawful, unjustified and unscrupulous … We demand the whole truth be disclosed by the US administration, an unconditional apology from [President Barack] Obama and an assurance this interference will stop."
Allen Kuo, 43, who works in finance, said that as an American the behaviour of the US was "an embarrassment". Holding a sign reading "We stand with Snowden", he said: "People say he is a traitor and what he has done is illegal. I think spying on American people is unconstitutional and we need to address that first."
Protestors came from a range of ages and nationalities. Teacher Mary Stickley, who has lived in Hong Kong for 17 years, said: "This is my first ever march; I just felt pretty strongly about it."
Ruth Jopling, whose two young daughters were clutching Snowden masks, said: "We think it does not just affect us, but the next generation. That's why we have come as a family. It's time to stand up: he came to Hong Kong, so he must trust us to do something, and it's not good if we let him down."
One placard in the crowd read "Read my lips, not my emails". Others had images of Obama above the slogan "Big brother is watching you".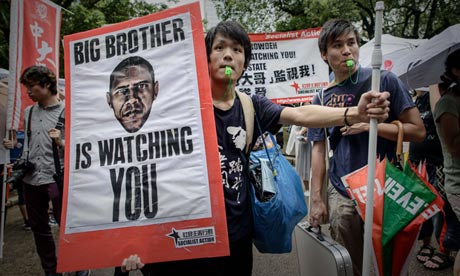 Protesters blow whistles during a protest in support of Edward Snowden in Hong Kong. Photograph: Philippe Lopez/AFP/Getty ImagesSeveral pictured both the US president and the Chinese leader, Xi Jinping, reinforcing the message from many protesters that they should not have to choose between criticising the US or Beijing.
Oiwan Lam, one of the rally's organisers, said: "In the past we have campaigned against Beijing, usually against their violations of rights and free speech … It's not fair to use one evil to cover another."
Tsui Hon Kong, of the Professional Teachers Union, which backed the protest, compared Snowden's case to that of a Chinese journalist who leaked a propaganda directive banning discussion of the anniversary of the 1989 crackdown on the student protests in Tiananmen Square. Shi Tao was jailed after Yahoo handed email records to the Chinese government.
Tsui said the case was similar because it was about governments ordering internet providers to give them information about customers. "The important thing is that many Americans came forward to speak up for Shi Tao. Now it's our turn," he said.
Several hundred people participated, but the numbers were small compared with other recent demonstrations. A vigil on the anniversary of the 1989 crackdown this month drew tens of thousands.
A small poll conducted for the South China Morning Post found that one in two Hong Kong residents did not believe Snowden should be returned if the US made a surrender request.
Half of the 509 respondents in the poll, conducted by the Centre for Communication and Public Opinion Survey at Chinese University, said they were against or strongly against his surrender, the Post reported.
Nearly one in five said Hong Kong should hand him over, and the remainder refused to answer or said they had not formed an opinion