Above: Cove Point protesters in front of Sen. Barbara Mikulski's office in Hagerston, MD. Photo by Katherine Nau.
Maryland residents took their doubts about the integrity of a Federal Energy Regulatory Commission review of a major industrial project to their U.S. Senators today. They believe FERC came up short with respect to the draft Environmental Assessment (EA) that the agency released last week for the Cove Point project, and they're appealing to their Senators for help.
The proposed conversion of a now-dormant natural gas facility in Southen Maryland into a booming export operation just passed a major regulatory hurdle last week. FERC's release of an overall positive Environmental Assessment for Cove Point puts it considerably further down the road toward final approval.
Several groups of Maryland residents visited the offices of Senators Ben Cardin and Barbara Mikulski around the state because of dissatisfaction with the draft report. "We feel very strongly that the EA is not sufficient and what we need instead is an EIS," said Michael Hartman of Greenbelt. We think that they missed a lot of stuff, some very basic aspects of it."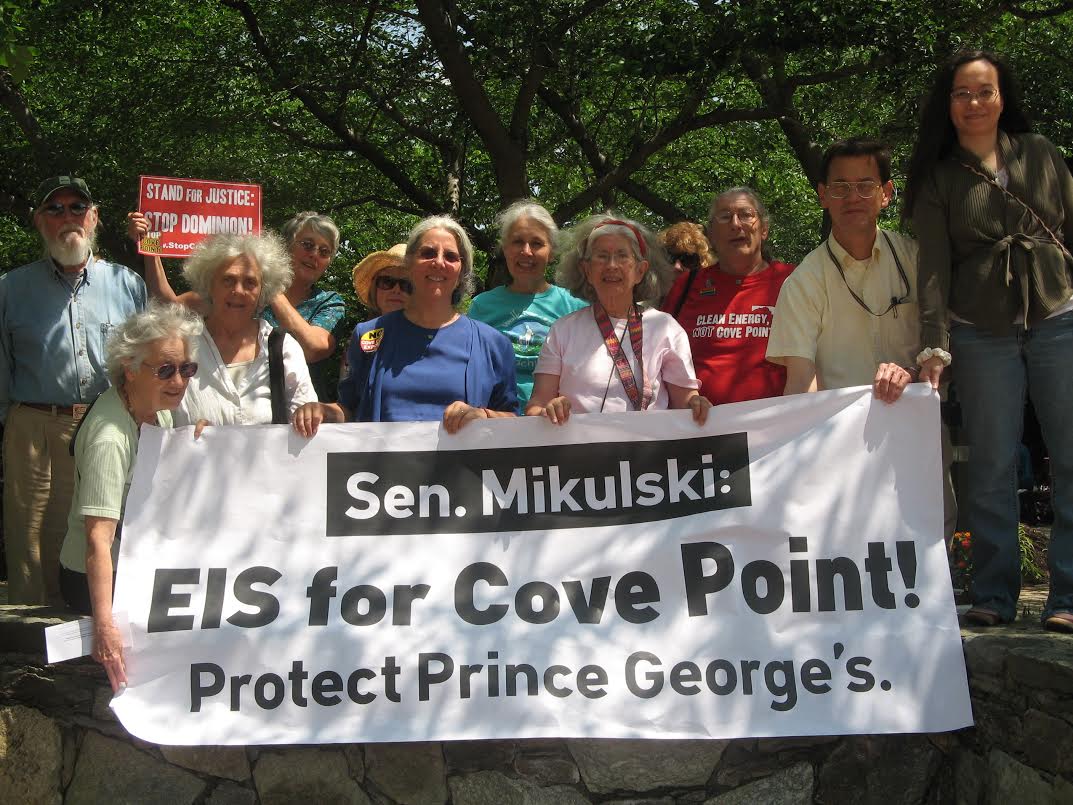 The need for speed is governing the regulatory process for Cove Point. Both government and industry want to take advantage of the surge in natural gas production in recent years as a result of hydraulic fracking. Energy companies are in a rush to get a piece of the liquefied natural gas (LNG) export bonanza and cash in on higher sale prices in Asia. Many in Congress see LNG exports as a solution to immediate geopolitical problems such as Russian incursions on Ukraine, even though most export plants will take years to complete.
Of all the permits required to build an LNG terminal, the one granted by FERC is the most time-consuming. By conducting an Environmental Assessment rather a more comprehensive Environmental Impact Statement, FERC is shortening the approval process by several months or more. The result is a pretense that Cove Point stands alone, in isolation from supporting infrastructure, emissions, and source of gas.
Because of this, Cove Point opponents believe the report is fundamentally flawed. "They're looking at Cove Point with a narrow lens," said Hartman. "But if you move back a little and take a broader view, there is so much more involved with this." Besides the pipeline infrastructure and compressor stations, he is concerned about hydraulic fracking in surrounding states to obtain natural gas for export.
"They don't see a relationship between the Cove Point facility and fracking," he said. "For me, it doesn't make any sense. If you didn't expect to have natural gas, why would you build it? It's ludicrous to think it wouldn't encourage more fracking."
A brand new terminal automatically requires an EIS, and converted terminals that would have a significant impact on the environment also require one. Cove Point would seem to fit the bill, as a $3.8 billion project in a populous and environmentally sensitive area.
"This is a drastic change in the way the facility is used," said Ted Cady, board member of Meyersville Citizens for a Rural Community. "Dominion Cove Point's position is that it is within the existing footprint, but that's inaccurate."
But there are no hard and fast rules governing what kind of assessment FERC chooses to do. "It's essentially up to them," said Ted Glick of Chesapeake Climate Action Network (CCAN), noting that the more comprehensive EIS is a "commonsense" measure.
Glick hopes that if two U.S. Senators ask FERC to do an EIS and make a public issue out of the insufficient EA, the agency might respond.
But a Mikulski staffer at her Annapolis office was pessimistic about the Senator's influence over FERC, according to Carolyn Rickett of Edgewater, Maryland. "She said they have little power, the power is with FERC."
"There is so frustratingly little that we can do," she added. "We've had to turn to our state and federal legislators. This is not a small thing, this a huge thing."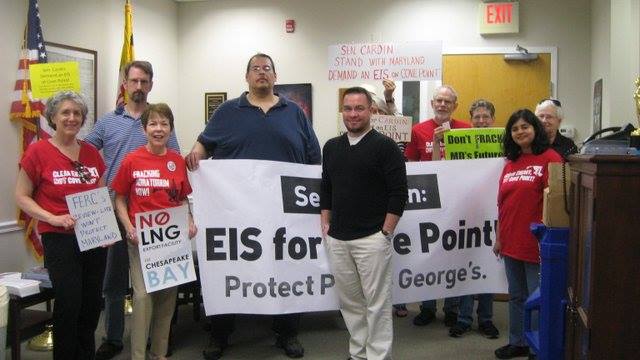 No one at FERC has said why they decided to do the less rigorous EA rather than an EIS, and while public interest law group EarthJustice is threatening legal action, there is no procedural mechanism or authority to compel them to do one.
"It seems like they can do what they want. They don't have to answer to anybody," said Elisabeth Hoffman of Howard County, Maryland. Their goal is to keep fossil fuels flowing. With climate change, that's not a good overall goal now. FERC sees as its charge to keep supplies moving. Their thinking is, here's how we can help industry make this happen."
Reasoning that federal agencies get ninety days to review and comment on the report, CCAN and other green groups are requesting a sixty-day extension for the public to comment. They also cite the difficulty in analyzing "highly technical information" contained within the EA. FERC is taking public comments on the draft EA until June 16. At the request of Rep. Steny Hoyer, FERC is holding one public meeting on May 31 in Calvert County.
Ted Cady believes that FERC places an undue burden on the public, and its process favors industry. "I have thirty days to respond to this. I have a family and a job," he said. "I am not a scientist, and I am not a lawyer. This is an issue which in the past has been completely ignored. However, FERC holds conferences with industry teaching them how to submit documents."
Cady lives in Myersville where Dominion Transmission wants to build a compressor station to move natural gas toward Cove Point. FERC approval was involved there too. "We got steamrolled by FERC. Our town was sued by DTI [Dominion Transmission], and we had to raise funds to participate in the suit. FERC passes more than 90% of projects presented to it."
Without a comprehensive evaluation, FERC may function as a rubberstamp in approving Cove Point. But even if public pressure manages to get an EIS done, many people like Lore Rosenthal of Greenbelt say that it's most important to do a thorough and independent study. "It's not only writing an EIS, but who is writing it. We have our doubts about what has been done so far. We're watching. You're not going to pull one over on us."
FERC will issue its final Environmental Assessment for Cove Point on August 13.
Related Stories