Enviro Groups Challenge Dominion Energy Over ALEC Connections
Almost a hundred people rallied at the Arlington, Virginia headquarters of the American Legislative Exchange Council (ALEC) on September 4 to protest Dominion Resources' relationship with the shady group. By law, Dominion holds a monopoly for power production in Virginia.
ALEC partners member corporations such as Dominion with state legislators to further a pro-business agenda by producing "model" bills. Elected officials who attend ALEC's conferences (often on the taxpayer's dime) frequently propose bills identical to the "model" ones drafted by ALEC. ALEC has gained negative attention recently for its role in creating Stand Your Ground and voter suppression laws and getting them passed in several states.
Chesapeake Climate Action Network, Sierra Club, Food and Water Watch, Greenpeace and other groups organized Thursday's protest to call out Dominion's business relationship with ALEC. The groups claim that ALEC plays a behind-the-scenes role to sabotage renewable energy goals. It has also lobbied to undermine EPA efforts to promote regulations designed to curb carbon emissions from coal-fired energy plants.
"Here we are in Virginia where Dominion is the biggest carbon polluter and ALEC is headquartered," said Joe Romm, who writes about global warming at Climate Progress. "What Dominion is doing through support of ALEC is immoral, and it's time for them to stop," he said.
Virginia, whose coastlines are especially susceptible to sea rise from climate change, has been a target of ALEC's bill mill. According to a report from ProgressVA, "ALEC holds a 'disturbing level of influence' over Virginia's elected officials." There were 50 pieces of legislation copied from ALEC bills introduced into the Virginia General Assembly between 2007 and 2011. Many of them are energy-related.
ALEC protestors denounced electric power monopoly Dominion Resources for influencing Virginia lawmakers. Virginia Delegate Will Morefield is just one legislator who copied the contents of an ALEC publication called "EPA's Regulatory Train Wreck" word for word for a bill he proposed to protect the coal industry.
"The people support renewable energy, but there's a lot of money behind defending fossil fuels," said Seth Heald, Vice-Chair of the Virginia chapter of the Sierra Club. "ALEC is a particularly noxious group in that regard." Heald pointed to Dominion's responsibility as a public company to "serve the people," not just business interests. "Dominion serves all Virginians, and they have an obligation not to be giving money to groups like ALEC that so many Virginians find offensive," he said.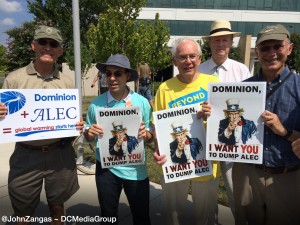 Romm cited an historical precedent for Virginians opposing an organization like ALEC. "If you go to its website, ALEC features Thomas Jefferson to somehow suggest the great Virginian would somehow be an ALEC supporter. Not even close," Romm said. "The key question Jefferson raised was whether later generations have the right to the same things that we of the preceding generations have, or whether those of the preceding generations can basically trash the place."
According to Romm, Jefferson wrote to James Madison of the need for intergenerational ethics, that the preservation of the environment was necessary for future generations, because it was immoral to "eat up the entire soil in one's lifetime."
Romm said Dominion is Virginia's largest carbon polluter and has resisted converting to renewable energy sources. By threatening legal action, it has even blocked the solar industry from taking hold in the state.
Dominion relies heavily on coal but is turning more and more to natural gas from hydraulic fracturing (fracking). Fracking has been shown to pollute land, water and air.
Dominion's proposed fracked gas export facility, Cove Point in Southern Maryland, is expected to receive the thumbs-up from the Federal Energy Regulatory Commission (FERC) soon. Dominion also announced last week that it wants to build a 550-mile natural gas pipeline from West Virginia through Virginia and North Carolina to South Carolina.
Alexandria Mayor William Euille is concerned for the future of his city since much of it is bordered by the Potomac and subject to flooding from the Chesapeake tides. "We must not permit our future well-being to be held hostage by fossil fuel companies," he said. He has proposed building a flood-control wall system to protect it. "We must push back hard against groups like ALEC, an organization which has opposed the EPA's clean power plan as well as the use of renewable energy."
Romm believes the need for activism and speaking out is needed now more than ever. "It is immoral for one generation to destroy another generation's vital soil or its livable climate," said Romm.