Fracking Maryland rally against Cove Point LNG
The Federal Energy Regulatory Commission (FERC) has approved energy giant Dominion Resources' application to build the controversial Cove Point Liquid Natural Gas (LNG) plant and associated projects in Lusby, Maryland. Environmental and community groups who condemn the decision will protest at FERC headquarters in Washington, D.C., and at the Cove Point facility this Friday at 10am.
Advocates for green energy expressed "deep disappointment" and say they'll appeal the decision. They have 30 days to file an appeal with FERC to deny approval of the $3.8 billion project.
Dominion's plan to build the LNG plant at Cove Point sets it in close proximity to the estimated 24,000 residents of Lusby, raising safety concerns of residents and advocacy groups. Over 600 homes and 2,400 residents are located within a mile of the plant. Residents are concerned because they are pinned between a two lane road which borders the plant for ¾ mile, and the Chesapeake Bay, the only exit from Cove Point area. Residents, fear for their safety because they say that if there is a gas release, explosion, or fire, their only recourse would be to evacuate along the road next to the proposed LNG facility.
"FERC's decision to approve Cove Point is the result of a biased review process rigged in favor of approving gas industry projects no matter how great the environmental and safety concerns," said Mike Tidwell, director of the Chesapeake Climate Action Network (CCAN).
Tidwell expressed deep concerns with the project approval process. "FERC refused to even require anEnvironmental Impact Statement [EIS] for this $3.8 billion facility right on the Bay," he said. Tidwell compared the Cove Point LNG facility as 12 times more costly than the Baltimore Ravens NFL training facility, a Maryland project requiring an EIS.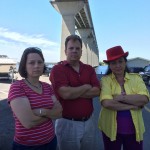 FERC conducted an Environmental Assessment (EA) upon which it based its decision. Dominion provided FERC the critical data which FERC relied on to make its decision. Advocates say the EA is not adequate for a complex project of this scope and instead requires a more comprehensive EIS in order to properly evaluate it. Further, the FERC decision document rejected every issue raised to oppose the project.
Opposition groups are adamant that FERC should conduct an EIS, open the approval process to a public comment period throughout the state because the project will impact areas beyond Lusby, Maryland.
Tracey Eno, member of Calvert Citizens for a Healthy Community (CCHC), said an EA is inadequate to properly determine health and safety impacts the proposed plant will have on the residents of Lusby. FERC is "showing such blatant disregard for our safety and our lives," she said.  "FERC's failure to demonstrate compliance with the most current safety standards in the National Fire Protection Association (NFPA) 59A 2013 is a fatal flaw in the Environmental Assessment that could cost residents and first responders their lives," said Eno, a resident who lives within a mile of the facility. Eno said the Members of CCHC believe "the new standards were a direct response" to the explosions that occurred at a Skikda, Algeria LNG export facility in 2004, resulting in 30 deaths, 70 injuries and extensive property damage.
Environmental Concerns extend beyond Cove Point Facility
Nathan Matthews, a staff attorney with Sierra Club Environmental Law Program said the Dominion proposal will result in more fracking along the Marcellus Shale coal basin, from NY to Maryland. It is "clear that if Dominion Cove Point is approved, [LNG] exports will cause more fracked gas upstream and downstream," he said.
Groups have expressed concerns with ballast water ejected from ships exporting gas. Water is pumped onto the empty tanks to stabilize them at point of departure from the countries (Japan and India) which have contracted with Dominion to import LNG. Advocates say such water would be ejected into the Chesapeake while gas was loaded, introducing foreign species and polluting the Bay.
Other concerns extended to air pollution, carbon and methane emissions, noise, polluted water runoff into the Bay, and a pier and staging area auxiliary projects coincident with Dominion's proposal.
"Potomac Riverkeeper is extremely concerned about the impact of this new LNG export facility on the entire Potomac and Shenandoah Watershed," said Sarah Rispin, General Counsel for Potomac Riverkeeper, Inc. "We believe that FERC failed to take into account the cumulative impact that having a major export facility on the Chesapeake Bay will have on the watershed, by driving increased fracking activity in the Marcellus and Utica Shale formations, and the construction of new pipelines serving the facility that will crisscross the region," she said.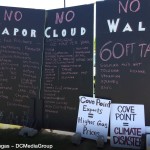 "400,000 people just marched in New York because we are at a precipice when it comes to the amount of greenhouse gases trapped in the atmosphere," said Lisa Bardack, a blogger who writes about the environment.
Tidwell said FERC was a "rubber stamp" agency, designed to get projects like Cove Point LNG facility to a "yes" decision. "For the safety of Marylander's and for people across our region facing new fracking wells and pipelines, we will continue to fight this project until it is stopped," said Tidwell.
CCAN issued a plan to demonstrate at both the Proposed LNG site and At FERC on Friday. An unprecedented demonstration at the FERC agency in Washington during July drew 1000 and resulted in 25 arrests the next day.
"We intend to challenge this ruling all the way to court if necessary," said Tidwell.