Above: Dakota Access Pipeline Dog Attack Indigenous water protector from Facebook page of Teko Alejo.
U.S. District Court Judge James Boasberg on Monday ordered parties involved in a standoff over the Dakota Access Pipeline to appear in court on September 6 to hear a motion for an emergency injunction.
Tuesday's hearing is expected to address the desecration of the burial sites which led to a dog attack incident. The same judge had declared at an August 24 hearing that he would issue a decision on a motion for a permanent injunction on work near the Reservation no later than September 9.
"On Saturday, Dakota Access Pipeline and Energy Transfer Partners brazenly used bulldozers to destroy our burial sites, prayer sites and culturally significant artifacts," said Dave Archambault II, Chairman Standing Rock Sioux Tribe, in a press release on Sunday. "They did this on a holiday weekend, one day after we filed court papers identifying these sacred sites. The desecration of these ancient places has already caused the Standing Rock Sioux irreparable harm. We're asking the court to halt this path of destruction," he said.
The standoff escalated when a private security firm, contracted by Dakota Access Pipeline, LLC brought in a team of attack dogs to hold a line against water protectors.
In a page right out the 1963 Birmingham Alabama police tactic playbook used against Civil Rights Marchers, Security Firm G4S used attack dogs against Native Americans standing up for their water and ancient burial land rights near Standing Rock Reservation on Saturday. Six were bitten and bloodied as attack dogs were released against Standing Rock Sioux Tribe members, including a child and a pregnant woman, according to a Standing Rock Sioux spokesmen. Security personnel also sprayed thirty with mace, requiring that they receive first aid.
Video and photos taken during the incident showed attack dogs, including pit bulls and German Shepherds, biting men, women, a child and a horse. Tribal members and allies responded and drove the guards and dogs away from the scene, stopping work at the site for the rest of the day. Local police responded but there were no arrests.
The incident marked an ominous turn from what had been a peaceful gathering which grew to thousands in support of the Standing Rock Sioux Tribe at its Sacred Stone and Red Warrior Camps, to protect water and ancient burial sites. Tribe Elder Tim Mentz said the burial sites have now been dug up and destroyed.
Mentz, also an expert in Native American Archeological sites, described the nature of the ancient burial sites as "rare" and unable to be found anywhere else on the continent.
Many supporters from around the country have already joined the protective actions at two camps set up to support them but this incident has pushed news of the standoff to center stage and doubled numbers to an estimated eight to ten thousand in support of its cause.
There was swift reaction across social media as supporters expressed outrage after the attack. A group of supporters published information about the security personnel who orchestrated the dog attack. They had also hacked and taken down their Facebook pages a day after a Democracy Now video publicized the attack.
Dakota Access Pipeline, LLC construction company had aggravated the situation by bulldozing burial sites near the Standing Sioux Reservation, one day after Standing Rock Sioux had identified the burial sites crucial to its heritage, along the pipeline easement.  Standing Rock Sioux and Cheyenne River Sioux subsequently filed papers against the Army Corps of Engineers in US District Court, for the District of Columbia, for an emergency injunction to stop construction. The desecration of "marked sites" led to a peaceful action by over 500 who marched to the construction site where Dakota Access Pipeline, LLC bulldozed the sites, according to Dallas Goldtooth, member of the Lakota tribe. It was at this site where the dog attack took place.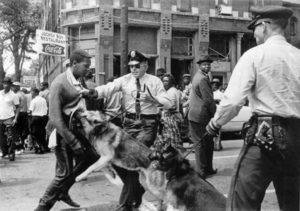 "Dakota Access literally plowed through a burial site and a significant ceremonial site that was JUST identified by the landowner and tribal members," Goldtooth wrote in a Facebook post. "This was off-reservation. They plowed it before a state agency could come to the site and do a survey, with which the agency (SHPO) could trigger a work stoppage thru the site."
The dog attack against the water and land protectors bears many similarities to the Birmingham dog attack against Civil Rights Marchers of 1963. But it is yet to be seen if it will win the sympathies of the public for the present day environmental movement the way it did for the Civil Rights movement.
Update: U.S. District Judge rules on motion for temporary restraining order filed by Standing Rock Sioux and Cheyenne River Sioux Tribes. Read report by DC Media Group here.