Above Photo: Kayakers take to the Potomac River in August 2017 to protest the Eastern Panhandle Expansion and related Mountaineer Gas Pipeline./Photo by Anne Meador
Environmental groups are questioning the good faith of a Maryland state agency tasked with the permitting of a proposed gas pipeline which would cross underneath the Potomac River, saying it made a decision to greenlight the project before the application was even submitted.
Potomac Riverkeeper Network accuses the Maryland Department of the Environment (MDE) of misleading the public and abdicating its responsibility to scrutinize the full impacts of the Eastern Panhandle Expansion, the Potomac crossing in particular. What's more, they believe the agency may have colluded with TransCanada, the company proposing to build the 3.3-mile pipeline, to pre-determine a positive outcome for the permit.
Upper Potomac Riverkeeper Brent Walls says MDE has failed to be transparent from the start and now believes the agency may have intentionally deceived them. "I feel like we've been lied to," he said. "I feel like the process, they're just going through the motions, that there wasn't any real expectation on the side of MDE to take our concerns seriously."
Using hydraulic directional drilling (HDD) to bore underneath the Potomac in an area of permeable rock called karst has been one of the biggest objections to the pipeline. HDD on normal terrain carries the risk of inadvertent returns of drilling fluid. In fact, last year a blowout during HDD in Ohio resulted in millions of gallons of drilling fluid flooding ecologically sensitive wetlands. Drilling in karst geology compounds the risks of blowouts, subsurface collapse and river and groundwater contamination.
A paragraph from TransCanada's joint federal-state permit application, submitted in March 2017, leads Potomac Riverkeeper Network to believe that MDE may have exempted the impacts of HDD from review completely. According to the application, a meeting took place between MDE staff and TransCanada representatives on October 13, 2016, about five months before submission. In the meeting, "it was confirmed that the underground crossing of an aquatic resource via HDD technology does not require a permit." TransCanada says it is therefore not required to "account for" the aquatic resources crossed using HDD technology.
Potomac Riverkeeper interprets this as an exemption of HDD from any review at all. "MDE is relying on a baseless and absurd assumption that there will be no impacts from the use of HDD drilling," they say.
MDE has "totally abdicated their responsibility to look at drilling under the Potomac," according to Brooke Harper, Maryland Policy Director for Chesapeake Climate Action Network (CCAN). "We automatically thought it would be considered, because why would MDE not look at the drilling process for the water source for like 6 million people?"
Both Walls and Harper say that in a meeting with Secretary Ben Grumbles and MDE staff last spring, they never mentioned they were "rolling two permits into one," weren't considering pacts of HDD under the Potomac or had already waived the right to more rigorous review in favor of the Army Corps of Engineers general permit.
TransCanada intends to employ HDD in crossing the Potomac River and Little Tonoloway Creek. The company includes these waterways in a list of aquatic resources in its joint federal-state application, and it lays out an HDD contingency plan. Pre-application meetings between permit applicants and state agencies are typical. (TransCanada has not responded to requests for comment.)
MDE project manager Paul Busam calls TransCanada's characterization a "misunderstanding." Maryland regulations are "clear that the Potomac is a special case," he said in an email. Any river crossing requires a waterway construction permit—also known as a general permit–from MDE. "Generally, waterway construction regulations cover any change which would impact the course, current, or cross section of the free flowing waters of the state," he continued.
Brent Walls says there have been "plenty of misunderstandings" regarding the permit, and if MDE were "truly concerned about the impacts" to water, then it would use its authority under the Clean Water Act to conduct a more comprehensive review, called a 401 certification.
"When MDE waives its rights for a full review, that waives the rights of Marylanders to have the highest level of investigation on the safety of their drinking water," he said. "MDE chose to take short cuts and to minimize the threats of the project to the public."
Several environmental groups–including Potomac Riverkeeper, CCAN, Waterkeepers Chesapeake and others–laid out their arguments for a 401 certification review in a meeting with MDE Secretary Ben Grumbles and water department directors last April and again in a letter to Grumbles in September. Top concerns were HDD drilling under the river and the divorce of the Potomac pipeline from West Virginia's Mountaineer Gas distribution line, which gets no consideration at all. Individuals echoed their concerns in correspondence to the agency and calls to Gov. Hogan.
A complete lack of response led to a mass walk-out at a public hearing on the pipeline held by MDE in January in Hancock, Md., where protesters decried the process as "illegitimate" and "a sham."
A letter dated February 2, 2018 and signed by Grumbles confirms Walls' view that the permit process was "pre-determined" and rigged from the beginning. "MDE made the decision to have this project be covered by the General permit before TransCanada submitted their application in March of 2017," he said.
"MDE understands that the Corps is presently processing this application under its General Permit MDSPGP-5, which was issued on September 29, 2016," the letter says. "Because MDE issued a 401 water quality certification in 2016 for all projects covered by the MDSPGP-5, those projects generally do not require a project-specific 401 water quality certification from MDE."
General Permit MDSPGP-5 is a regional blanket permit which went into effect on October 1, 2016. General permits are "reserved for only the most minor impacts to waters of the United States regulated by the Corps," according to USACE's website. Sarah Gross, a spokesperson for USACE, confirmed that the TransCanada application is going through the general permit process for both Maryland and Pennsylvania, although no permit decisions have been made yet. "Because of the minimal impacts that it looked like the project would have, it fell under the general permit category. … It didn't meet the qualifications to necessitate an individual permit," Gross said. The state's water quality certification was issued under the blanket permit, which is a requirement for the Army Corps approval. It could ultimately deny the permit based on other water quality impacts, according to Gross.
"The permitting process can be very confusing," she said.
Harper calls the general permit "one size fits all" and thinks MDE is putting the safety of Marylanders into the hands of the Trump administration in the form of the Federal Energy Regulatory Commission (FERC) and the USACE.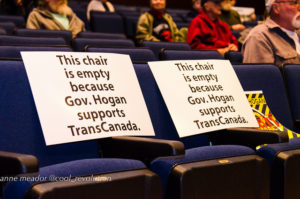 Now the focus is on Governor Larry Hogan, who signed a ban on fracking last year and is now "violating the spirit" of the ban with his enthusiastic support of fracked gas in Maryland. The governor is "kicking down the doors" for more gas infrastructure, CCAN says, after a December announcement of a plan for natural gas expansion into unserved areas of the state.
"It's his administration, the one that pledged support and said that we needed to safeguard our water and natural resources from fracking," Harper said of Gov. Hogan. "He oversees MDE, so I feel he's really abdicating his responsibility. He's putting Marylanders at risk for no reason right now. So I think it's squarely on his shoulders to still safeguard Marylanders from fracking and uphold his promise to do that."
A coalition of groups are organizing a rally at the Governor's Mansion in Annapolis on February 15.