Massive Effort To 'Break The Internet,' Beseige FCC Before Net Neutrality Vote
Above Photo: From dcmediagroup.us
Washington, DC — Groups against a two-tiered Internet are rallying to beat back FCC Commissioner Ajit Pai's plan to end Net Neutrality, which will affect users' ability to access thousands of websites. They are mobilizing with support from activists for a two-day "Break The Internet" effort to temporarily shut down websites and flood Congress with phone calls and messages. They hope to convince Congress not to allow the FCC to vote for the internet to be handed over to a handful of telecoms.
Up until this time, the Internet–the modern backbone of nearly all U.S. communications–has been free and open to anyone with a connection. This principle of open and free communications access has been guided by Title II of the Telecommunications Act of 1934. But the FCC plans to vote on Thursday, December 14, to remove the language from the rule which would in effect deregulate it and allow some Internet Service Providers to take full control of access to it. Activists say this will have a chilling affect on business websites that rely on the Internet for their transactions because it will force them to go through the big telecoms. Verizon, AT&T, Comcast, T-Mobile and Sprint would be able to create access criteria that charge different prices for faster service, limit access to sites that compete with their services or throttle data to any website at their discretion.
Groups plan to stage an occupation by camping out on the sidewalk at the FCC on December 13, the night before the vote. They also plan a massive protest there on the morning of December 13. There are other unspecified direct protest actions being planned for December 14, but activists have not released any details.
The FCC is located in a sleepy part of Washington, DC, buried behind layers on nondescript government buildings. Typically there are no protests there. But in 2014-15, this same issue was fought, and pro-Net Neutrality campaigns supported by hundreds of thousands of people pressured the Obama administration to keep the Internet free from telecom control–and won.
The concept of Net Neutrality was a wonky topic back in 2014 with few understanding what it was and what was at stake. In general, everyone took open Internet access for granted. Internet freedom groups and activists had to not only educate the public on what Net Neutrality was, they also had to get the public involved. With a few lucky political breaks and a helping hand by comedian John Oliver, they succeeded and the FCC eventually voted 3-2 to keep the Internet free and open by not changing Title II.
But in 2016, the tables turned with the election of Trump and his administration's self professed agenda to deregulate much of government oversight in every agency it has control of, and the FCC was no exception.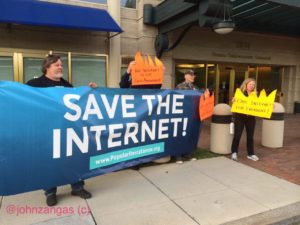 Pai previously worked as a lawyer for Verizon, so few were surprised when he came out against the Title II regulations. "Ajit Pai brings his Verizon lawyer viewpoint to the FCC, and when he leaves the FCC, Verizon, Comcast and other ISP's will be his close colleagues and his retirement plan," said Kevin Zeese of Popular Resistance.
Republicans in Congress may pay a heavy price for not supporting Net Neutrality. "The Republicans will regret that Pai took this action, as it will be a political issue that will be very costly politically," said Zeese. Over 700,000 phone calls have been logged at the FCC over the past few months against Ajit Pai's plan to end Internet Freedom.
If the fight to keep the Internet free and open fails, it is certain to end up in federal court. There were a number of controversial issues that plagued the FCC public comments process regarding a review of Title II during 2017. One such issue involved alleged robo calls using stolen emails to end Net Neutrality. Another issue involved the FCC resistance in providing transparency into the cause of its public comment servers going down when the comment period was at a peak in public responses.
What you you can do to keep the Internet open and free.
Contact your Member of Congress by writing or calling and ask them to vote for Internet Freedom (Net Neutrality) and keep the Internet free and open to everyone.
Participate in a twitter storm "Break The Internet" which will be held two days prior to the vote, starting on December 12.
Join the protest march for Internet Freedom on Wednesday morning at 10 am at the FCC on December 13 in Washington DC.
Join the sleep out at the FCC on the night of December 13 to the morning of the 14th, the day of the vote.
Join other web sites by setting up a banner on your website to notify users about this issue.