When Lansing, Michigan Mayor Virg Bernero introduces two resolutions in support of expansion of United States Postal Service services at the 2014 U.S. Conference of Mayors annual meeting in Dallas in two weeks, he'll have the support of co-sponsors Mayor Paul Soglin of Madison, Wis., and Mayor Jean Quan of Oakland, Calif.
Bernero, who chairs the USCM's Advanced Manufacturing Task Force, submitted the resolutions several weeks ago. They represent cutting edge ideas advanced by some of America's most forward-thinking policymakers and analysts. Elizabeth Warren proposed non-banking financial services at the beginning of the year (based on the recommendations of the U.S.P.S. Inspector General), while public banking activists and postal experts have long suggested a postal infrastructure bank that could re-build America's infrastructure at a fraction of the interest costs levied by private financiers.
"Our nation's mayors are acutely aware of the impact of predatory lending, 'banking deserts,' and the potential loss of postal services in American cities and towns," said Marc Armstrong, president of BankACT, a nonpartisan group campaigning for postal banking legislation at the federal level and public banks at the state and local level.
Many Americans are asking 'what if we had a banking system that is not based on profits?' Credit unions are small step in this direction – postal banking helps to complete the picture."
According to the U.S.P.S. Inspector General's report, using postal financial services rather than payday lenders could save working people as much as $80 billion per year. The report proposes that America's 30,000 post offices provide basic, low-cost financial services primarily to low-income workers and retirees. For instance, a five-month $375 loan typically costing $520 in interest and fees could be profitably provided by the post office for $48.
Frederic V. Rolando, president of the National Association of Letter Carriers, proposed a postal infrastructure bank last year, arguing that it "would provide a means to channel public funds into regional and national projects identified by political and community leaders across the country to keep the economy healthy," Rolando said.
"It could issue bonds, back public-private partnerships and guarantee long-term, low-interest loans to states and investment groups willing to rebuild our schools, hospitals, airports and energy grids." He added that such an infrastructure bank could be implemented without taxpayer funds.
BankACT is presently hosting weekly discussions regarding the two U.S.C.M. resolutions via conference call, occurring at 3:00 PM EDT every Wednesday between now and June 18. Those wishing to attend the discussions can register at this conference site. Meanwhile, Armstrong said, BankACT is continuing to contact individual mayors and urging them to sign on as sponsors and supporters of the resolutions. "These are the folks whose fingers are on the pulse of the real economy, the working economy," he said.
*
Meanwhile, David Dayen writes in Salon that the U.S. Postal Service Postal has long resisted offering banking services – and with companies like T-Mobile, Walmart and Google now stepping in to fill the need, it's the moment for the U.S.P.S. to act or get left behind.
Through a combination of sloth, tentativeness and nonchalance, policymakers are squandering the chance to institute postal banking, which could bring tens of millions of Americans out of the financial dark ages, save them billions of dollars and aid the balance sheet of the venerable federal agency.
But while the government – at all levels – makes little effort to capitalize on this prospect, some of the largest corporations in America have figured out that expanding banking access for underserved communities makes sense, and have taken steps to fill the need. T-Mobile, Walmart and Google have all begun to move into the financial services arena, with prepaid debit cards to which customers can add money.
These companies are threatening to pass by the postal service – which can still get into the mix, but the clock is ticking fast.
The current regime in charge of the U.S. Postal Service has no interest in postal banking. Postmaster General Patrick Donahoe recently told American Banker that the idea was "not in our wheelhouse," and expressed surprise that the U.S.P.S. inspector general, David Williams, would even raise the idea in a white paper. Donahoe has continued his "innovations" for dealing with the post office's Congressionally-created budget deficit, through branch closures, proposed service disruptions and privatization.
The good news is that the regime can be changed. Under the current setup, the USPS Board of Governors chooses the postmaster general and sets agency policy. That's supposed to be a nine-member board, but there are currently five vacancies. Five years into the Obama presidency, the Board has a conservative majority, with three Republicans and one Democrat. This is rather shocking, but it offers an opportunity: Nominate a full slate of governors, and they can advance postal banking, through pilot programs like testing a reloadable, ATM-like "Postal Card," or expanding current services like money orders and international money transfers. If Donahoe didn't like it, the Board could actually vote him out.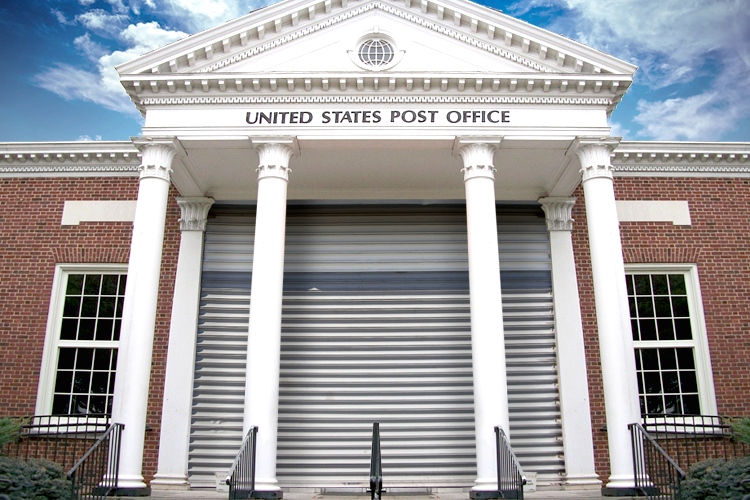 The Obama administration nominated replacements for four of the five slots on the Board earlier this year, including Vicki Kennedy, Ted's widow. But the missing nominee represents a key omission. No more than five of the nine governors may come from one political party. As I mentioned, right now, three Republicans and one Democrat sit on the Board. And one of the president's nominees, James Miller, is a Republican holdover, the former director of the Office of Management and Budget under Ronald Reagan. So even if all the nominees were confirmed, you would still have a partisan 4-4 split on the Board. The vetting process for presidential appointments can take time, but the White House hasn't made a selection for the Board since February.
Meanwhile, once nominated, candidates must pass through another bottleneck. The Senate Homeland Security and Government Affairs Committee has had three of these nominees – Miller, Stephen Crawford and David Bennett – on their calendar since January, and Kennedy since February. Yet none of them have even had a confirmation hearing at this point, let alone a vote out of committee. It's not like the committee has a massive workload; by my count, they have only two other nominees currently active on their calendar. But they've only held two votes on nominees so far this year, most recently on May 21.
Hearings for USPS Board of Governors nominees have not been scheduled, and they may be further slowed by the usual requests for paperwork. It's reasonable to expect hearings in this work period, before the August recess. But even after that, the committee must schedule a business meeting to vote on the nominations. And then the full Senate must vote on confirmation. Once you push past August, there simply isn't much time left on the Senate calendar for the year, because campaigning for the midterms will take a chunk out of September and October.
This all means that everyone – the White House, the Homeland Security Committee, and the Senate – will have to hurry to see a full Board of Governors before the end of the year. And rushing is not their strong suit, especially when there's so little urgency around what Washington types likely consider low-level appointments. As a result, the only change to the postal service being talked about now is not postal banking, but the one proposed by the House Republican leadership, to end Saturday delivery and use the savings to boost the Highway Trust Fund.
Filling the USPS Board of Governors does not guarantee a change in attitude, or the immediate adoption of postal banking. In particular, Democrat Stephen Crawford, a research professor at George Washington University, appears to have an interest in extracting concessions from postal unions "the way the Big Three auto firms did." But a full Board would at least give advocates a focal point, to drive the idea home that one in four households in America have limited or no access to financial services, and with over 33,000 branches, the post office could provide that needed alternative, a convenient and affordable public option for simple banking. The outside pressure would have an outlet, as opposed to the ideological rigidity on display at the USPS today.
There are two timelines bearing down on policymakers. First, the midterm elections could flip the Senate, at which point getting the president's nominees swiftly confirmed becomes less viable. The second timeline stems from the flurry of interest among for-profit corporations to take advantage of this market failure and serve the unbanked and underbanked.
T-Mobile, Walmart and Google's offerings include features like online bill payment, check depositing through smartphone cameras, and mobile money transfers from one account to another. All of these could be part of a postal banking account, but right now, these companies are passing them by.
All of this actually shows that the concept of postal banking holds lots of promise. Walmart's prepaid card service, offered in partnership with American Express, attained 1 million customers in under a year. A strong rollout from the postal service at its tens of thousands of locations could yield similar results. There's an untapped market of millions of Americans who have been ripped off by both high-fee commercial banks and predatory operators like check-cashing stores and payday lenders. They clearly want an alternative. But with each passing day, the post office loses potential market share to for-profit companies, which are more likely to use their services to extract money from customers, perhaps at kinder and gentler rates than their bottom-feeder predecessors.
Perhaps this will lead anti-government types to snicker that the private sector is simply more nimble to respond to the public's needs. That's actually not true. Washington can act very quickly when it really wants to, like when bailing out giant banks or expanding domestic spying. There's nothing inherently sluggish about government that cannot be smoothed out with the proper motivation. In this case, if enough Americans demanded alternative banking options, and if the right leaders wanted it to happen, the postal service could deliver in short order. They have existing authority to do it without Congressional approval.
But instead, the postal service is blowing it. They have a unique opportunity to return to their historical roots and fulfill their stated mission of supporting commerce. But dithering by policymakers has handcuffed the agency from innovating. And now, the usual gang of private-sector operators has begun to take advantage, without the same commitment to universal service and not-for-profit public access. With concerted effort and strong outside pressure, the political sector can be roused to get the postal service into the game. But at some point it will be too late.