Above Photo: From Dcmediagroup.us
Update: At 6:45pm, police took 15 protesters into custody.
Opponents of the Atlantic Coast Pipeline filled North Carolina Governor Roy Cooper's office Friday and refused to leave until he reverses course on the pipeline. About 25 people began their sit-in at about 8:30am and are still occupying the governor's office as of mid-afternoon. They say they won't voluntarily vacate the room until Cooper stops the pipeline by revoking a crucial permit.
The Atlantic Coast Pipeline, which would run 600 miles from West Virginia through Virginia and North Carolina, has met with strong resistance all along its proposed route. After several requests for more information from applicant Dominion Transmission, North Carolina's Department of Environmental Quality just granted the project a water quality certification. Duke Energy, a major influencer in North Carolina politics, has a minority stake in the pipeline.
The sit-in was organized by NC Alliance to Protect Our People and the Place We Live (APPPL) and joined by several other groups and individuals from around the country who have resisted the pipeline and are concerned by its climate impacts. They say that with the permit approval last week, normal avenues have failed them. The sit-in marks the beginning a "new phase" to stop the ACP with tactics of disruption and obstruction.
Police officers warned that protesters were subject to arrest unless they moved their demonstration out of the building and onto the sidewalk. The Governor's Chief of Staff Kristi Jones used all her powers of persuasion to get them to move into another room, but they refused to budge. She said she had rushed into the office when she heard of the protest and feared she was in danger of getting a parking ticket.
Steve Norris, acting as police liaison for the group, explained to an officer that pipeline opponents had exhausted other options. "We have gone through all legitimate channels," he said.
Protesters anticipate that police will move in to arrest them about 5pm.
In the morning, they secured a meeting with Jeremy Tarr, the Governor's Policy Advisor on energy, environment, transportation and natural resources, who listened to their concerns.
The pipeline would cross 300 waterways in North Carolina through eight counties, including 6 major rivers which are significant sources of drinking water. Many acres of wetlands will be disturbed and destroyed. For large pipelines like this one—36" in diameter—the "blast zone" is about half a mile in each direction, but some houses are located a few hundred feet away. Local fire and rescue may not receive adequate equipment and training to deal with an explosion or other emergency.
The pipeline would lock North Carolina into an outdated form of energy, they told Tarr. The pipeline will cause 15 new gas power plants to be constructed by 2030, according to Greg Yost of NC APPPL. Additionally, rate payers will experience price volatility.
They also argued that it has a disproportionate impact on vulnerable populations while providing no economic benefit to the state. For some the counties involved, people of color are the majority of the population, and they are some of the poorest counties in the country. About 30,000 Native Americans live along the pipeline route in North Carolina.
Lumbee pastor Matthew Locklear of Pembroke was one of those in the governor's office Friday. The Lumbee tribe has struggled to gain federal recognition.
"No one can promise me that the watershed of the Lumber River will be untouched, because no one has done the proper permitting, no one has done the proper test to see what the effects of this pipeline will be."
Pembroke is the terminus of the ACP., but Locklear thinks that more pipeline will extend either south or west. "Who puts a compressor station at the end of a pipeline?" he asked.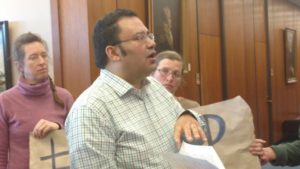 Like Locklear, many pipeline fighters view the permit process as compromised, even illegitimate. Feelings of betrayal and disappointment are giving way to determination.
"We can't afford to lose this. If it takes getting in the way of construction, that's what we're going to do. If it takes getting arrested, that's what we're going to do," said Yost. "It's not about details of regulations. It's about stopping the continued construction of fossil fuel infrastructure."
"Folks have been really frustrated that their voices haven't been heard and are feeling betrayed. When the time comes to put our bodies in front of this pipeline construction, we'll be there," said Tim DeChristopher of the Climate Disobedience Center. "We're delivering an injunction of the heart. Even though they're already cutting trees for this pipeline, we're planting seeds of resistance."
"This pipeline cannot be built and will not be built," Norris said. "We're going to do everything in our power to stop it."