Above Photo: From PopularResistance.org.
The use of solitary in the state is often described as "torture."
Tonja Fenton spent 270 consecutive days in a 6-by-10-foot cell, alone for 23 hours a day. She was there for three infractions of prison rules: purchasing socks and a hair dryer for another inmate, mailing a sample of prison food to court as part of an official complaint, and for allegedly falsely accusing a guard of sexual assault.
For these apparent transgressions, Fenton, like so many prisoners in the state and across the country, found herself in punitive, solitary confinement.
"You don't hear any other voices," Fenton recalled in a phone call with reporters Wednesday. "You speak out loud to hear yourself. You forget what it feels like to be human."
"I got lost in that box," she said, and when she finally got out, Fenton said something about her "wasn't right." She and her partner of 23 years split, and it was hard for her to remember life before "the box."
"Solitary kills everything that's spontaneous," she said. "It drains your speech, thought, communications … I don't know if I can rebuild the life I have."
Like me, I think New York got lost in the box. Today, it's finding its way out.
It will, in short, help end a system that enabled the "torture" of thousands of people, NYCLU Executive Director Donna Lieberman said Wednesday.
"Today I feel hope for people that are still [in solitary]," Fenton, who was one of the plaintiffs in the lawsuit, said Wednesday. "We're not going to take away from what makes them human. Like me, I think New York got lost in the box. Today, it's finding its way out."
Both the NYCLU and the office of Gov. Andrew Cuomo (D) characterized the settlement as historic. While states across the country have made changes to their use of solitary, none as large as New York — which has 54 prisons and about 60,000 inmates — have implemented such sweeping reforms.
According to Alfonso David, legal counsel to Cuomo, the agreement will "set a national standard" on how to reform the use of solitary, which in recent years has gained attention as an often torturous, inhumane punishment.
Currently, over 4,000 people are locked away in solitary in New York state prisons, some of them there for years, wiling away the hours with no rehabilitative programs and being fed what's often referred to as "the loaf," a baked meatloaf-shaped brick of vegetable matter, usually served to prisoners as punishment.
Under the $62 million settlement announced Wednesday, about 1,100 people in solitary will either be moved into more rehabilitative units with common spaces and group activities, or will be transferred to less isolated units. These 1,100 people will be composed primarily of those serving the longest solitary sentences, many of whom have developmental disabilities or suffer from addiction.
Currently, the 
average stay
 for an inmate in solitary is six months, with 50 inmates in the state having languished in solitary for over five years. Under the new agreement, the new maximum solitary sentence will be three months for all but a few first-time violations such as assault and escape. There will be a maximum sentence of 30 days for almost all first-time nonviolent violations.
All inmates serving solitary sentences will be eligible for early release for good behavior or for participation in rehabilitative programming.
Additionally, they'll be allowed to make more telephone calls, have more access to reading materials, and will no longer be fed "the loaf." (Lieberman described the loaf Wednesday as "an indigestible brick that is known to severely interfere with a person's digestion. In the view of many, it's worse than not eating at all, and is a form of physical torture.")
Inmates will also be allowed to leave their cells three times a week, in two-hour intervals, for recreation time with other inmates in solitary. Currently, inmates in solitary are given one hour of recreation a day, which they spend in a cage, alone.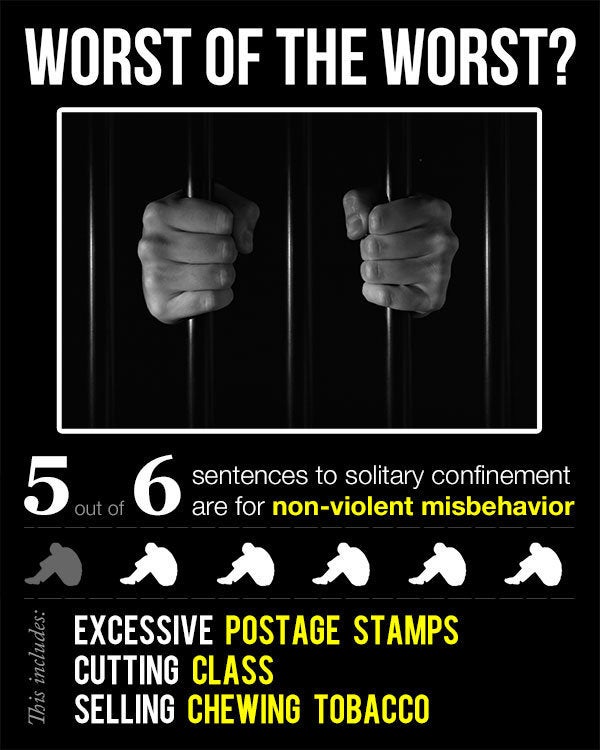 There are currently 87 prison violations that can land an inmate in solitary. Wednesday's agreement knocks that number down to 64. Additionally, another 42 of the rules  — all of which deal with drug use and drug possession — are only punishable by solitary after being violated for a second time.
The settlement also requires that the state's 20,000 Department of Corrections and Community Supervision personnel become familiar with these reforms, and that they all undergo de-escalation training in order to calm situations before solitary might have to be used to punish someone.
"
Boxed In
," a report released by the NYCLU in connection to the lawsuit, examined in detail the problems of solitary in New York state. Half of those serving solitary sentences were mentally ill, even though the 
U.N. rapporteur on torture
, Juan Mendez, has spoken out against placing the mentally ill in such conditions.
Additionally, solitary inmates account for 34 percent of suicides in the state's prisons. A 
2013 article in the Law and Psychology Review
 — cited in a 
research paper by Kalief Browder
, the Bronx teen who spent an accumulated two years in solitary before taking his own life this year — lists the physical effects of solitary confinement ("chest pains, weight loss, diarrhea, dizziness, and fainting") and its psychological effects ("decreased ability to concentrate, confusion, memory loss, visual as well as auditory hallucinations, paranoia, overt psychosis, violent fantasies, anxiety, depression in huge numbers, lethargy, and trouble sleeping").
Those put in solitary in New York are also disproportionately African-American. Although African-Americans make up less than 15 percent of the state's population, they represent nearly 60 percent of those the state locks up in solitary.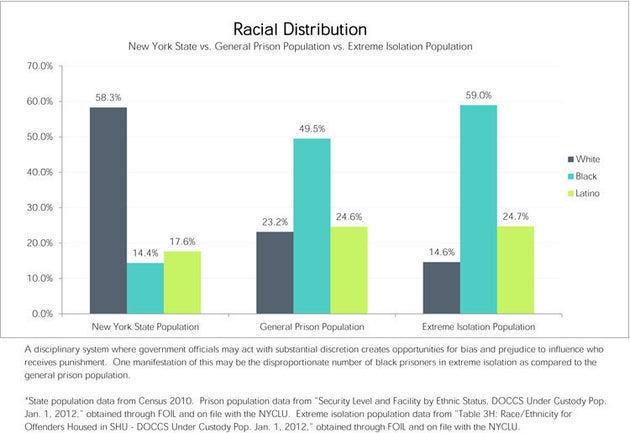 Wednesday's settlement comes almost two years after the state agreed to an interim settlement that barred the use of solitary confinement for more vulnerable inmate populations, including pregnant women, the developmentally disabled and juveniles.
"Today is a watershed moment, as New York moves beyond just shielding the most vulnerable and sympathetic from solitary and starts to address more difficult and fundamental issues that have allowed such a devastating and unsafe practice to become so common for so long," Taylor Pendergrass, lead counsel and NYCLU senior staff attorney, said in a statement Wednesday. "By addressing the use of solitary at nearly every level, this agreement puts New York on the path toward a system that embraces the reality that respecting human dignity and improving public safety are not in conflict, but are mutually reinforcing goals."
Pendergrass added Wednesday that an NYCLU-approved monitor will oversee the agreement's implementation, which will take a total of five years. The settlement also requires the approval of a federal judge, which Pendergrass expects will happen within the next few months.