Activists of All India Trade Union Congress (AITUC) shout slogans as they sit on rail tracks to stop trains on the first day of the strike in Bhubaneswar. Millions of bank and factory workers stayed away from work and public transport was shut down after India's major trade unions called the country-wide strike. (Biswaranjan Rout /AP)
Nationwide Trade Union Strike In India Affects Normal Life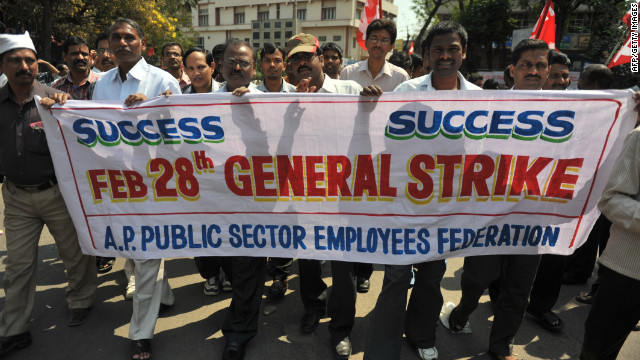 Trade Unions in India began a two-day nationwide strike Wednesday in protest against government's economic reforms, which they say will lead to price rise, privatization and loss of labor.
The unions have put forward multiple demands, which include containing the price rise, generating employment, halting disinvestment in public sector enterprises and implementing labor laws, the NDTV reported. Trade unionists said 100 million workers will be taking part in the strike.
The strike that has the participation of 11 trade unions has severely impacted banking and services sectors and public transport across the nation. Industry body, the Associated Chambers of Commerce and Industry of India (Assocham) estimated a loss of between 15-20 thousand crore rupees (about $3 billion) to the economy.
In Haryana, bus driver Narender Singh was killed when he tried to stop a bus from plying. Singh was the treasurer of All India Trade Unions Congress (AITUC), the labor arm of the Communist Party of India (CPI). The AITUC is one of the 11 central trade unions that have called for a two-day strike.
Commuters in the national capital faced hardships due to the reduced number of auto-rickshaws and taxis. Although Metro train services were not affected by the strike, bus services were partially impacted, as a number of bus unions have extended support to the strike.
Normal life was hit in states of West Bengal, Kerala and Tripura, where the unions enjoy the most clout.
Shops, markets and business establishments were closed in many parts of West Bengal's capital Kolkata, while government-run buses and trams plied in large numbers in comparison to private buses and taxis, the Times of India reported. Banking operations remained paralyzed in the state.
The Trinamool Congress-led West Bengal government had warned employees against being absent during the strike. The state government had also asked shops and markets to remain open or face administrative action, including cancellation of trade license, Telegraph India reported.
Normal life was hit in Left Front-ruled Tripura due to the strike. Shops and markets were closed, as were schools, colleges, banks and financial institutions, the Indian Express reported.
In Kerala, the Congress-led government has declared "dies non" (no work, no pay) to discourage government employees' participation in the strike. Buses and taxis were off the roads and shops and restaurants remained closed. Train services were not affected, DNA India reported.
In Andhra Pradesh, several public sector employees were absent from work. The Andhra Pradesh State Road Transport Corporation (APSRTC) staff has joined the strike in different parts of the state, reports said.
Cars set on fire by vandals burn on the first day of a two-day strike in Noida, a suburb of New Delhi, Feb. 20, 2013. (AP)
Violence erupts during country-wide strike in India
By ANNIE BANERJI
Protesting workers destroyed vehicles and damaged factories near New Delhi on Wednesday at the beginning of a two-day strike called by major trade unions over high prices.
About 400 striking workers threw stones at factories in the industrial hub of Noida, about 16 kilometres east of the capital, to force them to close, a Reuters witness said.
Police baton-charged the workers to stop the violence. Seven cars and the fire truck were burnt out and a dozen cars smashed up.
Indian workers participate in a rally in Hyderabad. (Mahesh Kumar A /AP)
"In my own factory, mobs climbed the gates and walls, broke and carried away computers, and damaged the external facade of the building," factory owner Pankaj Sadh told NDTV.
Violence erupted elsewhere in the country as workers, angry about high fuel prices in particular, tried to keep vehicles off the roads. One union member was killed in Ambala, media said.
Offices and factories were shut in many places and transport was disrupted. However, New Delhi and the business centre, Mumbai, were mostly unaffected and financial markets were open.
The strike comes as the beleaguered government prepares to present an austerity budget to parliament and as it weathers a corruption scandal in a big arms deal.
Parliament begins its budget session on Thursday and the government is to present its expenditure plan for fiscal 2013/14 (April-March) next week.
People walk past burnt-out cars at a factory in Noida. (AP)
Several officials have told Reuters the government plans to slash a public spending target by up to 10 per cent to avoid a sovereign credit downgrade, even though that may create more economic pain in the short run.
The government is also on the back foot over accusations by Italian police that officials from defence group Finmeccanica paid bribes in a $750-million (U.S.) deal to sell India VIP helicopters manufactured by its Anglo-Italian subsidiary AgustaWestland.
Prime Minister Manmohan Singh, who is grappling with the worst economic slowdown in a decade and faces a general election early next year, had asked the unions to call off the strike, but they refused.
"We want the government to take note of this," said Akhtar Hussain, vice-president of the Bharatiya Mazdoor Sangh. "They think they can turn a blind eye to our demands, but they must know that enough is enough. We need our demands to be met. The government needs to be more serious."
The strike also hit iron ore and coal production in the resource-rich state of Chhattisgarh.
"Trade unions leaders have forced dozens of workers to stop iron ore mining in protest against violations of labour laws and high inflation," an official of NMDC Ltd., India's biggest iron ore producer, said by telephone.
By noon, the company had halted 60 per cent of production at mines in the Dantewada district, where it produces about 60,000 tonnes of iron ore a day, officials said.
The strike also affected coal production at a mine owned by a Coal India Ltd. unit in Gevra district, where workers stayed off the job in protest.
The Associated Chambers of Commerce and Industry said on Tuesday the two-day strike was expected to cause a loss of 150 billion-200 billion rupees ($2.8-billion to $3.7-billion U.S.), hurting sectors such as banking, insurance and transport.
Thousands of rail and road passengers were stranded in Odisha and Bihar as protesters blocked the movement of trains, buses and auto rickshaws.
"Protesters are squatting on the railway tracks or capturing the locomotives. We're just helpless," Amitabh Prabhakar, a public relations officer for Indian Railways' east-central zone, said by telephone.