People's Climate March Floods Wall Street
Above photo by Resa Sunshine
The People's Climate March drew an estimated 300,000 – more green-energy minded people – to one place ever in history. The historic march rivaled civil rights and anti-nuclear mobilizations of the 60s and 80s, effectively ushering in a new era of mainstream environmental activism. Crowds walked from Central Park , nearly two miles through midtown, be-speckling Manhattan streets with costumes, banners, and signs for nearly 8 hours.
Organizers described the march as a movement to change the course from carbon based fossil energy sources-oil, gas, and coal, to renewable sources-wind, solar and geothermal energy. They say it is essential to start now to change to renewable energy to reduce carbon emissions or climate disruption will get worse.
The march was duplicated around the globe in other cities like London, where another 40,000 took to the streets.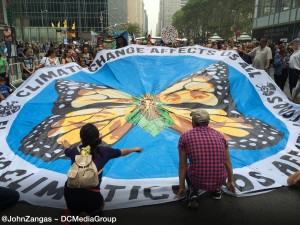 Vaishali Badil came to New York from India because of climate disruption from coal plants in her country. She expressed concern that India's Prime Minister was not taking part in the United Nations Climate Change discussions. "Climate change is not only a problem for India but the U.S. As well as Africa, South America-the whole world," she said.
A front line responder during Typhoon Haiyan in the Phillipines, Efleda Baudista traveled to the People's Climate March to remind others of the impact climate disruption is having on her country. "Haiyan is an example of what climate change can do," she said. She carried a flag with an image of people reaching to form the shape of a planet. It was titled 'People Surge.'
Rishauna Cumberg, organizer with 350.org said the main message of the People's Climate March climate was "action not words." She was not surprised by the numbers she saw because climate was "an issue that unifies a lot of groups."
Flood Wall Street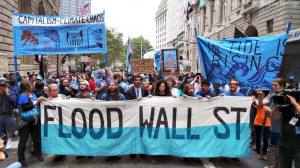 Thousands of environmentalist and Occupy Wall Street activists gathered in Battery Park early Monday morning in the wake of Sunday's mass demonstration. The group gathered to prepare for a civil disobedience action known as Flood Wall Street at Battery Park. Flood Wall Street organizers planned civil disobedience in their strategy to highlight a need to go against the financiers of climate change by changing business as usual on Wall Street.
New York City Councilman Jumaane Williams led Flood Wall Street out of Battery Park. He expressed interest in seeing that rights to protest were respected. "I see this as a continuation of getting citizen's voices heard," he said.
The boisterous crowd of over 3000 marchers surged out of Battery Park and confounded the New York Police Department by diverting from a agreed upon plotted course. Police scrambled to stop them but the protesters quickly surged up Broadway and surrounded the iconic Wall Street Bull. For the entire day protestors occupied Broadway in lower Manhattan with a sit-in, stopping traffic.
The protestors carried a huge banner that represented the ocean, large balls representin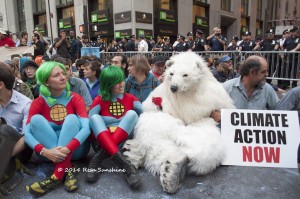 g carbon bubbles and a blue chalk that they threw into the air to mimic an ocean spray.   They  weaved in and out between tourist buses and cars, and made their way towards the Stock Exchange and were stopped on the corner of wall street & Broadway.
"Yesterday was about numbers, today is about disruption," said Barry Knight, a climate change protester who participated in both protests.
Captain Planet, a real life super hero "protector of the planet," wore green hair with a blue and red suit to stand up for everyone's right to a livable planet. "I'm here to flood wall street and hold the people who are funding the climate crisis accountable," she said.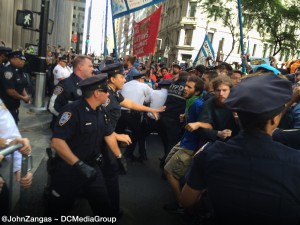 In the afternoon, protesters attempted to breach barricades but a fracas ensued and they were rebuffed by police. The marchers were stopped at the barrier where the police used their pepper spray, hitting some protesters, other police officers and the many journalists who were filming them. Eventually, flexible handcuffs were used to tie the barriers together to keep protesters from getting past the barriers.
Protesters sat down again, blocking Broadway for another three hours, creating a festive-like atmosphere.
Around 6:00, an announcement was made by the police to clear the streets and those taking part in the civil disobedience action were then arrested. Police arrested 104, including including Kierán Suckling, executive director of Center for Biological Diversity and his colleague Peter Galvin who was dressed as a polar bear.  Also arrested was Captain Planet, three activists in wheelchairs, members of the Sierra Club, Sane Energy and many others.
According to those arrested, the respectful treatment was only present when journalist were present.  Some arrested reported that they were treated unusually well and served vegetarian food but others claimed that they were subjected to excessive and disturbing questioning.  Kim Fraczek of Sane Energy reported that she and others were asked who they were employed by and who they lived with and what their plans were for the next day. Fraczek said she refused to give any more than the required information.

Video by Rob Brune