Above Photo: After 50 marchers arrived in Washington, they began to set up Resurrection City II/Photo by John Zangas
We applaud the efforts of the Poor People's Economic and Human Rights Campaign (PPEHRC) in marching from Philadelphia to Washington, DC to fight for the rights of the poor. This poor people-led campaign is resurrecting Resurrection City in DuPont Circle in Washington, DC. This action is occurring on the 50th Anniversary of the Poor People's Campaign, which created Resurrection City in 1968.

PPEHRC also sought to confront the Secretary of Housing and Urban Development, Ben Carson, today. They sat in at the lobby of HUD asking for to talk to him. When they refused to leave, one of them, Cheri Honkala, was arrested. More below in a story by the DC Media Group. – KZ and MF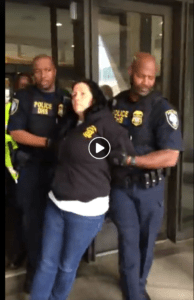 Washington, DC – An advocate for the poor and homeless was arrested today at the Department of Housing and Urban Development (HUD) while attempting to speak with HUD Secretary Ben Carson.
Federal Protective Services police took Cheri Honkala into custody Monday afternoon when she refused to leave the lobby of the HUD building.
"All I wanted is a meeting on behalf of poor, homeless families across the entire country," she said as police pulled her toward a vehicle. "Poor people deserve to eat. One fucking meeting!"
The arrest took place during a protest at HUD organized by the Poor People's Economic Human Rights Campaign, which has set up an encampment in Dupont Circle. Honkala was Jill Stein's running mate and the Green Party candidate for vice president in the 2012 election.
Carson announced a plan in April that would raise rents for those receiving federal housing assistance by 20 percent, according to an analysis just released by the Center on Budget and Policy Priorities. The proposal would affect 2 million households immediately and an additional 2 million in the next six years.
Carson says reducing assistance will force the poor into the workforce and give them a path to self-sufficiency. "It's our attempt to give poor people a way out of poverty," he said in an interview with Fox News.
Honkala and about fifty others with the Poor People's Economic Human Rights Campaign had just arrived in Washington on Saturday after walking for ten days from Philadelphia. They began their walk in Kensington, the poorest district in Philadelphia, on June 2, the 50th anniversary of the original walk led by Dr. Martin Luther King, Jr. from Baltimore to Washington in 1968.
They set up camp in Dupont Circle, in the midst of some the most costly properties with the highest rents in the District. Resurrection City II, as they call it, will remain indefinitely and serve as their base of operations for protest actions like the one at HUD today. They hope to highlight deteriorating economic conditions, rampant homelessness, hunger, job displacement, drug addiction and rising debt among the working class.
The new occupants of Resurrection City are advocating for themselves as poor Americans. Many of them are homeless and have never done anything like this before. Part of their message is that in order for meaningful progress in any movement, it must be led by those affected, according to Rev. Bruce Wright. "Any movement to end poverty must be led by poor people, homeless people, unemployed people and people impacted by it," he said.
"Poor people are the ones that need to be heard," said Wright. "Unless you have been homeless, unless you've been poor, unless you've experienced poverty, you have no right to dictate to poor people how their change should happen," Wright said.
Leaders of large foundations and the Democratic National Committee are top-down organizations and want to take control, Wright said. This used against Dr. Martin Luther King, Jr. in the 1960s, when leaders from political parties tried to intervene in his campaign. "They tried to co-opt Dr. King and tell him don't say anything because [President] Johnson is doing all this for the poor, and he said 'I can't not say anything, this isn't about political parties.'"
Organizers are asking for support at Resurrection City II, including food, water, medical supplies, and moral support. They are also requesting donations to help with transportation costs. The plan to stay in Dupont Circle at least a week or longer if hey can generate the support needed.