It was billed as the ultimate "property marketplace", a high-profile networking event for investors, developers and local authorities to broker big deals, but the first day of the Mipim conference in Olympia, west London ended in a police lockdown. Protesters forced organisers to close the gates and one conference delegate was arrested on suspicion of assault as tensions spilled over.
"What they're doing in there is a crime against the city," said Sam Middleton, of the activist group Focus E15 Mums, as she hurled a dollop of mud at the windows of the exhibition centre while a 300-strong crowd chanted "homes for people not profit, housing for need not greed".
A theatrical house of cards built from estate agents' signs teetered on the street corner, and people piled hay bales against the walls of the conference hall as a mobile sound system pumped out carnival music, giving the scene an air of a mini-Glastonbury. "They're doing dirty deals inside," said one campaigner, "so we're doing a dirty protest outside."
Evicted from a homeless hostel in Newham last year, Middleton and other young mothers recently staged an occupation of a vacant council house on the Carpenters estate, on the edge of the Olympic Park in east London, where 400 homes have stood empty since the Games despite the council's 24,000-strong housing waiting list. "Mipim is the place where these problems begin," she said. "It's where the councils sell off public land behind closed doors."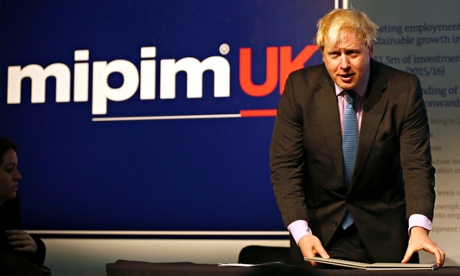 The international property fair has gained a reputation among its critics as a champagne-soaked jamboree where local authority chiefs are wined and dined by investors. Staged in Cannes for the past 25 years, it is being held in the UK for the first time this year, where it is projected to attract 4,000 delegates.
The three-day event was opened by the London mayor, Boris Johnson, who reassured his audience that the city was "open for business" as ever, despite the disturbances outside. "I don't want to expel any oligarchs," he said. "Their cranes are sprouting all across the city, and it's marvellous."
Some protesters were there to object to the redevelopment of nearby Earls Court, subject to an £8bn masterplan by Capital and Counties for 7,600 homes in blocks up to 22 storeys high, in which one-bedroom flats will start at around £600,000. There will be 740 "affordable" homes, but at 80% of market rent they will be affordable only for those on annual incomes of at least £80,000, critics say.
"This is the wrong type of housing," said Lib Dem councillor Linda Wade, who has lived in the area since 1976. "It's fuelling the appetite for overseas investment rather than providing the homes that we desperately need. We've arrived at a toxic position, where developers are masterminding and dictating urban planning – not for the common good, but for their profit."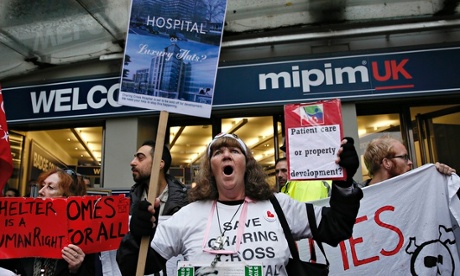 Like a regional popularity contest, the fair hosts 35 cities and local authorities, each selling their investment opportunities in little booths plastered with aspirational slogans – from "Nottingham: the time is now, the place is here" to "Croydon: the economic powerhouse of the south-east". Delegates drift from a mint cake reception with Invest in South Lakeland to a whisky tasting with the Scottish Cities Alliance, past Southwark's motivational triad, "Towers, sky, ambition".
Howard Bernstein, chief executive of Manchester city council, standing at his city's joint stall with Liverpool, said: "I've always been pretty sceptical about Mipim. But our businesses demand that we're here. We have to work a lot harder than London to attract inward investment, so we need to be visible."
The Labour leader of Hammersmith and Fulham council, Stephen Cowan, arrived late to his booth after being harangued by protesters outside. "We inherited this stand from the Conservative administration, and we couldn't get out of the contract," he said. "So we decided to bring the protest inside." In place of the usual promotional images were posters reading "Homes for residents not overseas investors" and "Save Charing Cross hospital".
But some of his constituents remained sceptical. "It's just a publicity stunt," said one. "The council is in bed with developers while the local community is being pushed out of their homes."