Reconstructing Nonviolence: A New Theory And Action For A Post-Secular Society
Above Photo: From Transcend.org
Nonviolent methods of action have been a powerful tool since the early 20th century for social protest and revolutionary social and political change, and there is diffuse awareness that nonviolence is an efficient spontaneous choice of movements, individuals, and whole nations. Yet from a conceptual standpoint, nonviolence struggles to engage with key contemporary political issues: the role of religion in a post-secular world; the crisis of democracy; and the use of supposedly 'nonviolent techniques' for violent aims.
Drawing on classic thinkers and contemporary authors, in particular the Italian philosopher Aldo Capitini, this book shows that nonviolence is inherently a non-systematic and flexible system with no pure, immaculate thought at its core. Instead, at the core of nonviolence there is praxis, which is impure because while it aims at freedom and plurality it is made of less than perfect actions performed in an imperfect environment by flawed individuals. Offering a more progressive, transformative and at the same time pluralistic concept of nonviolence, this book is an original conceptual analysis of political theory which will appeal to students of international relations, global politics, security studies, peace studies, and democratic theory.
Nonviolence has an established tradition in several disciplines, including political theory, international relations and political science. But its potential for the European Union (EU) has not been appraised yet. Thus, we set out to explore nonviolence as an analytical and normative framework for the study of the EU. At the outset, we introduce nonviolence and define our approach to this concept. We then apply our analytical and normative framework to three critical issues concerning the nature of EU power, the democratic deficit and the narrative of integration. We find that nonviolence re‐defines the core dimensions of power and democracy, and imagines the EU in non‐state‐morphic ways, situating praxis at the roots of the integration process and its narrative.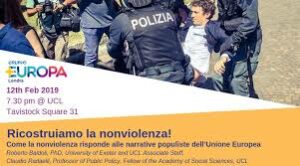 Italian philosopher Aldo Capitini:
Nonviolence for Capitini is praxis of liberation from the necessity and cruelty of nature, and also the openness to the existing one. Nonviolence adds actions of openness to all to reality, creating a different reality, which Capitini calls 'reality of all'. Nonviolence enters religion and politics. As for religion, it develops the concept of copresence, which changes the idea of ​​faith; it is the basis for the activities of the prophet and postulates a change in the structure of religions, proposing a different idea of ​​commands and different models of actions. Nonviolence also changes politics. Capitini has proposed the theory of the two phases of power. The first phase is that of 'power without government', where the people learn to use and develop the power they have. This work leads to a second phase, called by Capitini omnicracy, the power of all, where institutions will not be necessary.
****
"This book is an important contribution to our knowledge of the Italian philosopher Aldo Capitini. At the beginning of the 1960s, Capitini was the precursor of concepts with great importance for our post-industrial societies, such as omnicracy, open religion, centre for social orientation, compresence between dead and new generations. Finally, this book is a very interesting work in the historiography of nonviolence and about the lesser known but profound intellectual Aldo Capitini."
— Mario López-Martínez, Professor of Contemporary History, University of Granada
"In this ambitious and insightful book, Roberto Baldoli seeks to cross the divide between principled and pragmatic approaches to nonviolence. He does so by drawing generously from several familiar traditions while generating new insights. Nonviolence, for Baldoli and his fellow travellers in the universalist vein, is a way of life which manifests ethics while eschewing dogmatism. Baldoli's book will be of enduring value for the praxis of nonviolence by the secular and faithful alike."
— John Heathershaw, Associate Professor of International Relations, University of Exeter