Above photo: Cover art by Marc J. Palm, Cartoon by Khalil Bendib
The Trump administration is moving towards NAFTA re-negotiations at a quick pace and the results look an awful lot like a combination of the existing NAFTA along with anti-democratic TPP provisions and a strong side of economic bullying disguised as nationalism.
Laying the Ground
This month, the Trump administration sent out an eight-page draft letter to the Senate Finance and House Ways & Means committees outlining the administration's objectives for NAFTA re-negotiations. US Commerce Secretary Wilbur Ross has expressed wanting to send out the official letter to Congress, which upon approval would initiate the 90-day consultation period required before beginning negotiations. Mexico's President Enrique Peña Nieto already began Mexico's own 90-day consultation period in early February. That means the NAFTA negotiations could start in early July.
Timing is Key
If the Trump administration wants Fast Track procedures to apply (the voting of trade agreements without Congress being able to modify the legislation), the implementing legislation would have to be
introduced prior to July 1, 2018
. This is the same day that the government could request an extension of Fast Track authority itself until 2021. That is, if Trump wants to subject a new NAFTA to a vote by Congress with fast track assured, the negotiations need to be completely finished by July 2018. If not, Congress has the ability to annul the president's Fast Track authority. This authority also applies to the existing TTIP and TiSA agreements. In the context of the November 2018 mid-term elections, the people have the opportunity to make Fast Track and a North American Trade Agreement for the People primary election issues.
TPP, NAFTA Not So Different After All
It took the Obama administration five years to negotiate the Trans-Pacific Partnership, it is unreasonable to expect a brand new NAFTA to be pushed out within less than a year. The result is that the Trump administration is combining existing NAFTA provisions with those negotiated under the TPP for the sake of time and maintaining corporate interests. Public Citizen's Global Trade Watch Director Lori Wallach the text of the notice letter to Congress outlines how "Trump's plan not only would maintain the investor protections in NAFTA and ind investor-state enforcement tribunals, bubt calls for expanding protections U.S. investors would have for relocating offshore[…] Language on intellectual property and access to medicines, financial services deregulation, food standards and product safety reflects the TPP standard that was extremely harmful to consumer interests."
Economic Nationalism or Economic Bullying?
We must also keep in mind the history of the United States's use of military and political intervention in other countries to benefit US multinational corporations when attempting to read between the lines of Trump's trade discourse. US "isolationism" in the early 1900s was a time of great foreign intervention in Central America and the Caribbean. We must remember that the Colombian Embassy reported that the United States twice threatened to pull funding for the Colombian Peace Process if it passed legislation that would allow for generic leukemia medicine to be sold for cheaper prices, threatening pharmaceutical giant Novartis's monopoly in the process.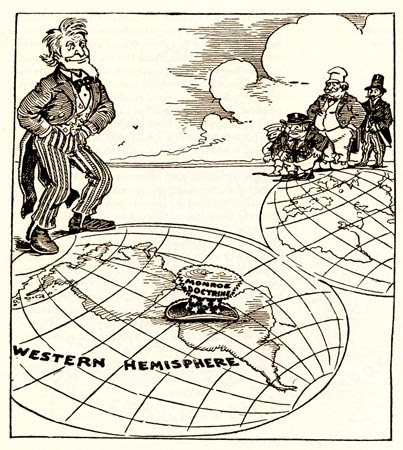 Even more recently, last week
Guatemala agreed to eliminate its 12.5% tariff
on U.S. poulty products 4.5 years earlier than expected under the Dominican Republic-Central America Free Trade Agreement (CAFTA). The USTR has described it as a victory for President Trump's "America First" trade policy, yet we are conscious that there is a history of US intervention in Guatemala, notably the US sponsored
coup against President Jacobo Arbenz in 1954
after he made plans to redistribute  unused lands owned by major US owned banana corporations. We wonder what has not appeared in the news regarding the reasons why Guatemala would be inspired to inflict this kind of harm on its own poultry farmers and workers. In the context of imperial ambitions and global inequality, Trump's economic nationalism serves as a disguise for economic bullying, a method of using power that his administration is generally fond of. Workers in the United States do not stand to benefit from this regime and neither do workers and consumers across the world.
We Fight For Trade Justice and Solidarity
In the context of the draft notice, the Sierra Club, 350, the US Human Rights Network, Greenpeace USA, Earthjustice and several more organizations released a joint proposal, "Replacing NAFTA: Eight Essential Changes to an Environmentally Destructive Deal" that gets to the heart of creating a North American deal that prioritizes the well-being and survival of people and the global ecosystem we depend on. We highly encourage you to read the entire statement as this is the future of what trade deals should look like if we want to establish a global economy of solidarity and cooperation amongst the most serious challenges we have ever faced. Here is a snapshot of the baseline eight changes:
Eliminate rules that empower corporations to attack environmental and public health protections in unaccountable tribunals.

Add strong, enforceable environmental and labor standards to the core text of the agreement.

Safeguard energy sector regulations by overhauling overreaching rules.

Restrict pollution from cross-border motor carriers.

Require green government purchasing instead of restricting it.

Bolster climate protections by penalizing imported goods made with high climate missions.

Require governments to prioritize policies that minimize climate pollution.

Add a broad protection for environmental and other public interest policies.
Ilana Solomon, director of the Sierra Club's Responsible Trade Program, declared that "NAFTA not only left American workers in the dust, it has caused more than two decades of damage to our climate and our environment. Rather than benefit Trump's favored billionaire class, a renegotiated NAFTA must support a more stable climate, clean air and water, healthy communities, Indigenous peoples, and a good union jobs."
Since the birth of the TPP, the future of global trade has been a top political priority at an international scale. Amidst the current crises we face, we are called upon to work across borders to establish a system of trade justice and solidarity. To see our communities' well-being and survival as directly tied to those in Mexico, Canada, Guatemala, Colombia, and across the globe. To minimize the harm that corporations inflict upon the air we breathe and water we drink by acting today.