Note: As the Freddie Gray killing is investigated, it is important to remember that the first step was illegal. There was no probable cause to chase or arrest Gray. The police have not even claimed they had any probable cause. Everything that followed that illegal arrest would not have occurred if the police had not violated Gray's constitutional rights. As we have noted in previous article the Baltimore police have been making arrests without cause since the era of Mayor Martin O'Malley. His administration created a norm of unconstitutional activity in Baltimore that continues to this day.
The story the police and medical examiner are beginning to leak to the public is unraveling as quickly as it is told. No one with any common sense would believe the claim that Gray injured himself so severely in the van that he killed himself. This physical impossibility would require great bias in favor of the police to ignore reality and believe this fictional fantasy. As the article below shows, the lies being leaked are already falling apart. 
If the state's attorney goes with the "Gray did it to himself" story, state and city officials should expect an explosion of mass protest. Such a decision will indicate the system is incapable of achieving justice when an obvious injustice has occurred.
The Police Story of a Self-Inflicted Death Does Not Hold Up to Reality
By now, everybody knows the injuries that contributed to Freddie Gray's death. Baltimore authorities and representatives for Gray's family agree that the 25-year-old sustained fatal trauma to his neck and spine at some point while in police custody following his arrest on April 12. Although a full autopsy hasn't yet been released, the family has said that Gray's spine was nearly severed, and that his doctors had attempted to repair three fractured neck vertebrae and a crushed voice box. Last week, The Baltimore Sun spoke to medical experts who said that Gray's injuries were, in the paper's words, comparable to those seen in "victims of high-speed crashes."
On Thursday, unnamed law enforcement sources told WJLA that according to a police report shared with prosecutors earlier that day, an investigation into Gray's death suggested the fatal injuries occurred when Gray slammed into the back of the police transport van. The officer driving the van has not yet given a statement.
While this may end up being a significant detail of the investigation, much is still unclear about the circumstances of Gray's death, including how Gray's head might have hit the wall of the van hard enough to kill him. Over the past few weeks, Baltimore police have provided few answers about how Gray went from seemingly healthy enough to flee police on the morning of April 12 to dead on April 19 after a week in a coma. On Wednesday, April 29, hours after stating that they would not give the public their forthcoming internal report on Gray's death, police leaked a different document to The Washington Post. It was the first new piece of information from police in nearly a week. But instead of clarity, it offered more confusion.
The Post reported that a prisoner who was in the van with Gray allegedly told investigators he could hear Gray "banging against the walls" of the police vehicle, and said he believed Gray was "intentionally trying to injure himself," according to a document written by a Baltimore police investigator. However, in a subsequentinterview with WBAL, the man, identified as Donte Allen, seemed to walk back his claims.
Allen's remarks are just the latest entry in a series of questions and inconsistencies that have left the public wondering what really happened to Freddie Gray. None of this necessarily means that someone is lying about it, but clearly someone, intentionally or otherwise, is not telling the truth.
Did police have probable cause to arrest Gray?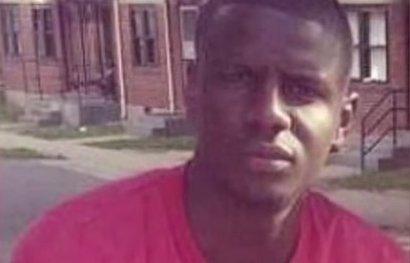 Gray is seen in an undated family photo.
Court documents
 filed by Baltimore police Officer Garrett Miller claim that Gray caught the attention of the police because he ran. Deputy Commissioner Kevin Davis
told reporters
 that three officers chased Gray — one on foot and two on bikes. "It's a foot chase," he said, "and it's a long one." When asked last week for an explanation for Gray's arrest, 
Baltimore police Commissioner Anthony Batts said
 that "just running — there is no law against running."
A witness told the Sun that Gray may have run because he had previously been beaten by one of the officers.
Whatever the reason, court papers show that the only charge police intended to file against Gray was for possession of a switchblade knife, which they say was clipped to the inside of his front pants pocket.
Was force used during Freddie Gray's arrest?
In its account of Gray's arrest, the Baltimore Police Department has maintained that he was picked up "without force or incident." The 
court documents filed by Miller
 say that Gray was nabbed by police because he "fled unprovoked upon noticing police presence." After police found the knife, he was arrested.
In its reporting of the incident, The Baltimore Sun found witnesses who refuted Miller's account to the court. In an April 25 article, Sun reporter Kevin Rector wrote: "Kevin Moore, a 28-year-old friend of Gray's from Gilmor Homes, said he rushed outside when he heard Gray was being arrested and saw him 'screaming for his life' with his face planted on the ground. One officer had his knee on Gray's neck, Moore said, and another was bending his legs backward. 'They had him folded up like he was a crab or a piece of origami,' Moore said. 'He was all bent up.'" Others claimed to have seen officers beating Gray with batons.
At one point during the arrest, according to the police commissioner, an officer pulled out a stun gun. Moore claimed to have seen this as well. According to the Sun, police investigators failed to obtain footage from a convenience store surveillance camera that may have captured the incident more clearly. Instead, the officers found that the moment in question had been taped over by the time they got there. This was a common theme throughout the investigation, as officers reportedly failed to obtain footage from other cameras that may have recorded key moments in Gray's subsequent ride to the police station.
A third perspective on Gray's arrest was added to the mix on Wednesday, when CNN interviewed an anonymous relative of one of the arresting officers. The woman said the officer believes Gray "was injured outside the paddy wagon," though she expressed personal concern that "six officers are going to be punished behind something that maybe one or two or even three officers may have done to Freddie Gray."
Was Gray injured before he was loaded into the van?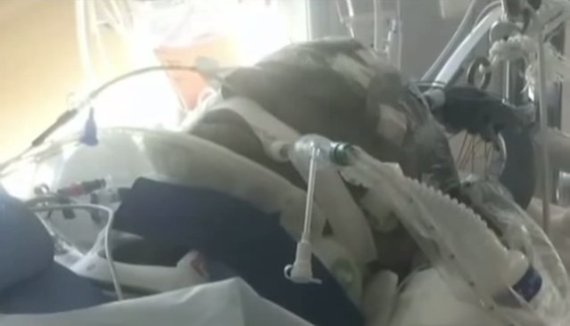 A family photo shows Gray in the hospital after his arrest.
While police insist they didn't use force on Gray during the arrest, Davis 
appeared to suggest last week
 that Gray was injured before he was put in the van, and that officers failed to offer medical assistance despite requests from Gray.
"Quite frankly, that's exactly where Freddie Gray should have received medical attention," said Davis, referring to the scene of the arrest. "He did not."
According to witnesses, Gray's legs looked like they had been damaged during the arrest. He was also having trouble breathing, and police say he asked for an inhalerand other assistance but was denied.
Police have also claimed that a preliminary autopsy report showed that Gray's only injury was the one to his spinal cord. The full results of that examination are still forthcoming.
Batts said last week that officers didn't exercise proper protocol following whatever injuries Gray supposedly sustained while in the van. "No excuses for me. Period," Batts said. "We know our police employees failed to get him medical attention in a timely manner multiple times."
But according to the charging documents filed in court, police claimed to have attended to Gray with proper urgency. Miller described the arrest as by-the-book: "During transport to Western District via wagon transport the defendant suffered a medical emergency and was immediately transported to Shock Trauma via medic."
What happened during Gray's van ride?
This is the critical question, and there is still no clear answer. Witness video shows Gray screaming at the time he was loaded into the vehicle. According to the official police timeline, the van made its first stop four minutes later so that officers could shackle an "irate" Gray. He was removed from the van and was placed in leg irons.
At this point, witnesses report seeing a "commotion" in which they say police hit Gray with batons. Again, police have maintained that a preliminary autopsy report indicates Gray didn't suffer any injuries other than the one to his spinal cord.
Police and witnesses then agree that Gray was returned to the van in both hand and leg restraints. Officers have admitted they didn't buckle Gray's seat belt, a violation of police department policy that has led to suggestions that Gray may have been the victim of a "rough ride" — an illegal but not uncommon technique in which officers drive vans in such a way as to cause injury to detained passengers.
A few minutes later, a second stop was reportedly made. The fact of this stop was not reported until Thursday, April 30, 18 days after Gray's arrest. Police said they learned about the second stop while canvassing local businesses in search of surveillance footage of the van. It's unclear what happened during this episode.
At 8:59 a.m., about 15 minutes after Gray was first put in the van, the vehicle stopped for a third time after the driver asked an officer to perform a check on Gray. This had previously been explained as the second stop, and exactly what happened there was reportedly a key part of the investigation. Batts has said that responding officers had to "pick [Gray] up off the floor and place him on the seat," and that Gray requested a medic at this time. He was ignored again.
The fourth and final stop was made minutes later to pick up another prisoner. At this point, it's unclear what state Gray was in. Davis has suggested that Gray was again found on the floor, but responsive enough to make another request for a medic. If this request was indeed made, it was evidently denied. Other reports suggest that Gray may have already lost consciousness when this second person was picked up.
Whatever the case, the account of the second prisoner, Donte Allen, was leaked to The Washington Post on Wednesday. It has led to questions about what happened during the minutes-long, six-block ride to Baltimore's Western District station, where police say Gray was removed from the van unconscious and unable to breathe.
How was Gray acting in the police van?
Details of Allen's account conflict with earlier reports on Gray's time in the van, including reports from police officials themselves. According to the Post, Allen told investigators that Gray was "banging against the walls" and "intentionally trying to injure himself." But Allen later 
told WBAL
: "When I got in the van, I didn't hear nothing. It was a smooth ride. We went straight to the police station. All I heard was a little banging for about four seconds. I just heard little banging, just little banging."
WBAL investigative reporter Jayne Miller had told MSNBC on Wednesday that her own reporting suggested Gray was in no state to behave in the manner described in the Post report.
"According to our sources, by the time that prisoner is loaded into that van, Freddie Gray was unresponsive," Miller said. "Secondly, we have reported [there] is no evidence, medical evidence, that Freddie Gray suffered any injury that indicates that he injured himself."
Medical professionals have also said the catastrophic nature of Gray's trauma suggestsit was not self-inflicted.
Thursday's developments about the nature of Gray's injury don't necessarily change any of Miller's reporting. If the only factor in his death was in fact the spinal damage he reportedly suffered while in the back of the police van, the circumstances of that incident remain unclear.
In fact, only one thing has become clear since Freddie Gray's death: The police aren't telling the whole story. And what they have chosen to disclose has in most cases left us with further questions, not concrete answers.