Thousands Demand White House End Support Of Israel
Over 10,000 rallied at the White House today demanding an end to the Israeli lead bombing and destruction of the Gaza territory. The historic demonstration was the biggest anti-war march in over a generation and bore resemblance to anti-war rallies of the Vietnam War era.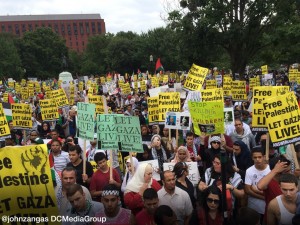 The number of people killed in Gaza has spiked to over 1600 and more than 8,000 reported injured. The only remaining power plant in Gaza was destroyed Thursday by Israeli attacks as was the Islamic University of Gaza.
With no electricity for urgent medical care to injured civilians, the situation in Gaza can now be considered a humanitarian crisis.
Dr. Cornell West, Carl Messineo, Legal Director of Partnership for Civil Justice Fund, and Brian Becker of Answer Coalition were among the many who rallied crowds. Rally leaders represented a broad coalition of Jews, Muslim-Americans, Arab-Americans, and Chistians opposed to the continued Israelli occupation in Gaza.
The White House demonstration was significant as nearly all stood in opposition to U.S. policy that promises $3.5 B in military aid to Israel annually. Protesters have said that U.S. funds are being used to support the Gaza war.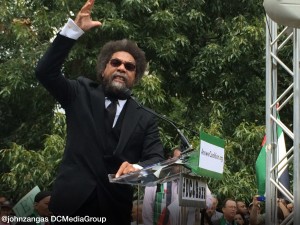 Dr. West stung the White House with a rebuke of President Obama's support of Israel, "Barak Obama is a war criminal…because his drones have killed 233 innocent children and because he facilitates the killing of innocent Palestinians in Gaza and in the West Bank."
Brian Becker, criticized the administration for sending more arms to Israel this week, "the White House and Congress have the blood of the Palestinian people on their hands." "This week when Obama made his first tepid criticism of Israel, the Pentagon rushed more bombs and missiles to Israel," said Becker.
"The civilian population in Gaza is under direct attack," said Carl Messineo, "the Israeli government has declared its military the most moral army in the world-such arrogance, such a perversion-no words can be more cynical or further from the truth."
Many cities such as Chicago, New York and London, experienced similar anti-war protests today. The recent uprisings mark a change in sentiment towards the attacks on Gaza. Scores of individuals have vowed to continue to pressure the White House and congressional leaders to change direction when it comes to supporting Israel and the attacks on Gaza.