Below is a series of articles about Wal Mart strikes happening in multiple sites across the country. Stand with striking Wal-Mart workers. Check out the OURWalmart support site for details how. Cosumers need to join with workers in saying "no more" to Wal Mart's shoddy business practices and mistreatment of workers that has led to race to the bottom employment practices. The underpaying of workers has led to the Wal Mart family having wealth equal to 30% of all Americans. Consumers and workers can end these bad business practices — don't shop at Wal Mart, join workers on the picket lines.
Walmart's First-Ever Retail Worker Strike Spreads To 12 Cities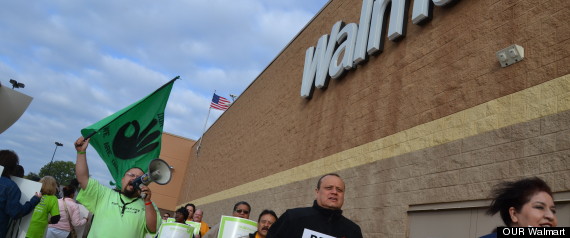 The first retail worker strike against Walmart has spread from Los Angeles, where it began last week, to stores in a dozen cities, a union official said Tuesday.
Walmart workers walked off the job in Dallas, Seattle, the San Francisco Bay area, Miami, the Washington, D.C., area, Los Angeles, Sacramento, Chicago and Orlando, said Dan Schlademan, director of the United Food and Commercial Workers' Making Change At Walmart campaign. Workers also went on strike in parts of Kentucky, Missouri and Minnesota, he said.
Tuesday's walkouts included 88 workers from 28 stores — a minuscule fraction of the 1.4 million who work at Walmart, the world's largest private employer. Until Friday, when about 60 Walmart employees walked off the job for a day in LA, no Walmart retail workers had ever gone on strike, the union said.
The workers are protesting company attempts to "silence and retaliate against workers for speaking out for improvements on the job," according to a United Food and Commercial Workers news release. Walmart workers, who are not unionized, have long complained of low pay and a lack of benefits.
Some striking Walmart associates plan to protest Wednesday at a Walmart annual investor meeting at its headquarters in Bentonville, Ark., said a striking worker.
"I make $8.90 an hour and I've worked at Walmart for three years," said Colby Harris, 22, of Dallas. "Everyone at my store lives from check to check and borrows money from each other just to make it through the week." The six heirs to Walmart founder Sam Walton, meanwhile, are worth $89.5 billion, or as much as the bottom 41.5 percent of Americans combined.
David Tovar, the retailer's vice president of communications, said the unhappy strikers "aren't representative of our entire associate base."
"We do surveys and our associate satisfaction scores have been improving over the past couple years, which runs counter to what a few workers who show up at events that the unions put them up to would say," said Tovar. He said Walmart's employee turnover rate is lower than the retail industry average.
Harris, who works in the produce department in Lancaster, Texas, belongs to OUR Walmart, the UFCW-backed worker organization that planned Tuesday's strike in Dallas and the others across the country. Harris said it's not just the wages that bother him. Walmart harasses and fires workers who join labor groups or complain about company policies, he said. "But I'd rather lose my job than be treated like this."
Tovar said Walmart has a policy of listening to complaints from workers. "We have an open-door policy," he said. "If you have any kind of issue you should bring it forward to your manager and if it isn't resolved to your satisfaction you can go to the next level of management."
Walmart also disputed the UFCW's claim that the strikes this week were the first ever. "The UFCW has done these same publicity stunts in the past," said Tovar, citing a 2006 walkout at a Walmart store in Hialeah Gardens, Fla.
However, the walkout in Hialeah Gardens was not exactly an organized union strike. In that case, workers with no ties to union groups spontaneously walked out of a store after an abrupt scheduling change, according to reports from the Miami Herald and Bloomberg news. Tuesday's strikes, meanwhile, had been planned for weeks.
"They say [these strikes] are an attempt to get attention," said Harris. "But if we were getting the attention we deserved, we wouldn't be protesting." He added: "I'm not being paid for these days. We're taking off work to protest — obviously there must be something wrong."
Non-union workers employed in Illinois and California warehouses owned by Walmart also went on strike earlier this month.
Walmart workers on strike Tuesday.

Walmart employees strike outside of a Walmart store in Pico Rivera, Calif. on Thursday Oct. 4, 2012. The employees are accusing Walmart of unlawful retaliation against workers who speak out for change at the company. The workers present are members of the Organization United for Respect at Walmart (OUR Walmart), which is an Associate-led group working for change at Walmart. Members of the group say that when they have come forward to call on Walmart to address issues with scheduling, wages, benefits and above all else, respect in the work place, Walmart has reacted by retaliating against them. Photo by Aurelio Jose Barrera.

Walmart employees strike out side of a Walmart store in Pico Rivera, Calif. on Thursday Oct. 4, 2012.

Walmart employees strike out side of a Walmart store in Pico Rivera, Calif. on Thursday, Oct. 4, 2012

Walmart workers striking in California.

Around 500 people came out to support Warehouse Workers For Justice striking against alleged unfair labor practices in Elwood, Ill.. The event forced the warehouse to shut down. The strike was triggered by management's alleged illegal retaliation against workers attempting to present the company with their concerns about wage theft, unsafe conditions and discrimination.

Walmart workers strike in Dallas, Texas.

Walmart workers strike in Chicago.

Walmart workers strike in Chicago.
Employees protesting working conditions and retaliation are flexing their organizing muscle. But the first-of-its-kind strike carries risks
BY JOSH EIDELSON
Salon, October 4, 2012
Today, for the first time in Wal-Mart's 50-year history, workers at multiple stores are out on strike. Minutes ago, dozens of workers at Southern California stores launched a one-day work stoppage in protest of alleged retaliation against their attempts to organize. In a few hours, they'll join supporters for a mass rally outside a Pico Rivera, Calif., store. This is the latest – and most dramatic – of the recent escalations in the decades-long struggle between organized labor and the largest private employer in the world.
"I'm excited, I'm nervous, I'm scared…" Pico Rivera Wal-Mart employee Evelin Cruz told Salon yesterday about her decision to join today's strike. "But I think the time has come, so they take notice that these associates are tired of all the issues in the stores, all the management retaliating against you." Rivera, a department manager, said her store is chronically understaffed: "They expect the work to be done, without having the people to do the job."
Wal-Mart is entirely union-free in North America, and has worked aggressively to stay that way. Today's strike is an outgrowth of a year of organizing by OUR Walmart, an organization of Wal-Mart workers. OUR Walmart is backed by the United Food and Commercial Workers union, but hasn't sought union recognition from Wal-Mart; its members have campaigned for improvements in their local stores and converged at Wal-Mart's annual shareholder meeting.
They say their efforts have won some modest improvements, but also inspired a wave of illegal retaliation by the retail giant, which they charge is more concerned with suppressing activism than complying with the law. I reported in July on three workers' allegations that Wal-Mart retaliated against them for their activism. Since then, OUR Walmart has filed many more Unfair Labor Practice (ULP) charges with the National Labor Relations Board, alleging further punishment of activists.
Interviewed yesterday about OUR Walmart, Wal-Mart spokesperson Dan Fogleman emphasized the group's funding from unions, which he charged "are focused on their own agenda … getting more members to join their unions. That gives them more revenue to help fund the political agendas that they have." He suggested that today's rally might have been organized as a stunt to impress visiting leaders from the UNI global union federation, who are currently visiting Los Angeles to launch a global Wal-Mart labor alliance. Fogleman denied the allegations of retaliation: "Unfair Labor Practice charges are similar to lawsuits. Anyone can file them, regardless of whether it's a valid claim or not. We disagree with those assertions."
The strikers are taking a risk. With certain exceptions, courts have found that U.S. law prohibits disciplining non-union workers who go on strike in an effort to improve their working conditions. "The bottom line," former NLRB Chairwoman Wilma Liebman said yesterday, "is non-union people, as well as unionized people, have a right to concertedly walk off the job in protest." Whether employers can legally permanently replace striking workers (effectively terminating them) depends on whether a strike is ruled to have been in protest of Unfair Labor Practices, and whether the workers offered to come back before the company had hired replacements. But Wal-Mart strikers said yesterday that they expect the company will seek ways to punish them anyway. Already, photo department worker Victoria Martinez said yesterday, "Every time I go into work, I get panic attacks … I'm always wondering what are they going to try to do to me when I come in."
Interviewed yesterday, University of California labor historian Nelson Lichtenstein predicted that in the event of a Wal-Mart employee strike, public relations would play a bigger role in restricting Wal-Mart's response than any legal restrictions. If a work stoppage mustered "a substantial number of the workers" in a store, he said, then "a tougher response would be a PR disaster."
Lichtenstein, the author of "The Retail Revolution: How Wal-Mart Created a Brave New World of Business," said that if workers at one Wal-Mart store went on strike indefinitely, "they'd just close the store, period. And it would be open with a whole new workforce in a week or two. And then it would be litigated for the next three years …" On the other hand, he said, "If every month or so, the workers at a Wal-Mart store walked out, like a three-hour walkout, and then they went back in, that would have tremendous impact." Brief walk-outs have happened at U.S. Wal-Mart stores in the past, but they've never involved multiple stores.
That sets today's strike apart. But it's only the latest in a series of strikes in the Wal-Mart supply chain, all by non-union workers. As I've reported, eight guest workers at C.J.'s seafood in Louisiana walked off the job in June, alleging violent threats and forced labor. After initially saying it had investigated the workers' claims and couldn't substantiate them, Wal-Mart suspended C.J.'s.
Then, the second week of September, warehouse workers who move Wal-Mart goods went on strike in Mira Loma, Calif., and – three days later – in Elwood, Ill. Both groups of workers — about 65 total — alleged that management had retaliated against employees for protesting abusive conditions. The West Coast warehouse workers struck for 15 days, and joined a 50-mile march to Los Angeles, before returning to work Sept. 28. Their Midwest counterparts are still on strike. On Monday, they were joined by supporters – and police in riot gear — for a 600-person rally at which 17 people were arrested for nonviolently blocking the entrance to the major Wal-Mart distribution hub.
On paper, the warehouse workers work for Wal-Mart's contractors, not for Wal-Mart. Company spokesperson Fogleman said that the striking warehouse workers are raising "issues directly with their employers, and not with Wal-Mart." He said that Wal-Mart is implementing new procedures for monitoring compliance by its suppliers, and added that in inspections, "the observations that have been made at facilities in California and Illinois are that the working conditions are more than satisfactory."
But in a summer report, the National Employment Law Project argued that the cost-cutting Wal-Mart requires of its contractors makes abuse inevitable. "Wal-Mart controls its supply chain, but it has no legal responsibility," said Lichtenstein. "That's what's brilliant about it."
Cruz said she believes the warehouse workers' strikes are "what really led us to do something." At a Monday panel in New York, OUR Walmart members expressed full-throated solidarity with the striking warehouse workers. "We see what's happening to them as part of the same process, of the lowering of standards, that's happening to us," said grocery worker Mary Pat Tifft.
The striking store workers make up just a tiny percentage of Wal-Mart's 1.6 million U.S. employees. But their strike, and those of their contracted counterparts, signal a new stage in Wal-Mart's labor wars. They also come as the company faces new challenges on other fronts, including a congressional investigation of its Mexican bribery scandal and the failure of its latest bid to breach New York City limits.
Southern California has been a focal point for Wal-Mart worker activism, but it isn't the only one. Two weeks ago, OUR Walmart members in Dallas held a hundred-person rally protesting Wal-Mart's wages and benefits. And interviewed on Monday, Kenosha, Wis., OUR Walmart activist Jackie Gable told Salon that "as in the warehouses … safety issues at the stores, health issues at the stores, are getting to a critical level." Gable, a prominent OUR Walmart activist, added that she now believes "we have enough of a voice, and enough of a presence" that strikes have become "an option that we could use in stores, if we had to."
So could the Wal-Mart strike spread further? "I think it will," said Cruz. "I hope it will."
Josh Eidelson is a freelance journalist and a contributor at The American Prospect and In These Times. After receiving his MA in Political Science, he worked as a union organizer for five years.
As One Wal-Mart Warehouse Strike Ends, Another Snowballs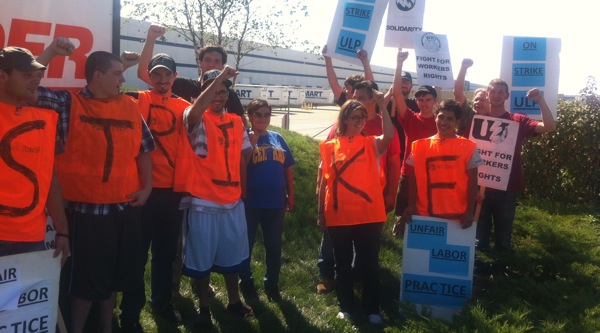 Wal-Mart warehouse workers picket in Ellwood, Ill. (Warehouse Workers for Justice)
BY DAVID MOBERG
In These Times, October 1, 2012
Early on Friday, three dozen non-union workers at a large Walmart warehouse near Riverside, Calif., ended a 15-day walkout protesting poor working conditions. But outside of Chicago, another group of Wal-Mart warehouse workers continue to strike and have called for hundreds of supporters to join them in non-violent civil disobedience at a rally at the huge facility on Monday.
The southern California workers, most of whom earn minimum wage, cited family financial problems as one reason for discontinuing the strike. The decision was made upon their return from a six-day, 50-mile "WalMarch" to downtown Los Angeles to call attention to appalling safety problems and working conditions in the vast Inland Empire warehouse industry.
The spontaneous California work stoppage helped inspire the Sept. 15 walkout by 30-plus workers at Wal-Mart's huge Elwood, Ill. warehouse. The Illinois workers were angry about poor working conditions and apparent retaliation by their employer, a Wal-Mart contractor, against four workers who filed a lawsuit over subminimum wages.
The lawsuit is the sixth filed by Elwood workers in three years. Three prior suits have resulted in settlement payments to workers. The latest claims that Roadlink Workforce Solutions–one of four subcontractors providing long-term "temporary" workers to Schneider Logistics, which operates the warehouse for Wal-Mart–frequently failed to pay overtime and minimum wage, in violation of federal, state and local laws.
Workers at both the Illinois and California warehouses have similar complaints: wage theft, harassment, safety hazards, being denied breaks, and working in extreme temperatures with inadequate water. California's workplace safety agency, CalOSHA, is investigating the Southern California warehouse in response to a complaint filed by workers about working conditions and excessive heat. It may soon pursue an additional complaint about repetitive motion injuries.
Workers have been less successful in getting their complaints heard directly by Wal-Mart. They face a complex structure of authority and responsibility created by the company, with layers of contractors between workers and Wal-Mart management. In response, workers have filed numerous requests with Wal-Mart to enforce its code of conduct throughout its supply chain.
About ten days ago Walmart told some news outlets, including Huffington Post, that it would review contracts and look into third-party monitoring of all contractors, a small step towards taking responsibility. But it did not sign any agreement with either group of strikers.
And when the Southern California workers returned to the job Friday–receiving high-fives from non-striking workers–they found that some of the safety problems remained. The workers alerted management, which shut down the unsafe areas of the warehouse.
"They feel they have a stronger voice now over working conditions," says Elizabeth Brennan, spokesperson for Warehouse Workers United, a project of Change To Win, a union federation trying to improve work for the 85,000 people employed at warehouses in southern California. While they feel they've won a big victory–"a step forward, not an end-all solution," Brennan says–they also anticipate possible retaliation, even though it would be illegal.
That's what the Illinois workers say happened after they filed a wage theft suit on Sept. 13 against Wal-Mart with the assistance of Warehouse Workers for Justice, a project of the United Electrical Workers (UE). Plaintiff Philip Bailey says that management fired him and the other named plaintiffs the next day, then changed its mind and suspended them without pay.
After losing his job in Detroit last year, Bailey came to the Chicago area to seek work because there were jobs available in the warehouses. This is partly due to very high turnover rates, which can pose a barrier to organizing. In the end, he says, it was a group of workers who had managed to last a half year or more who formed the core of the protest action.
"What we have in common is we're pretty marginalized and desperate," Bailey says. "People are fed up in there and not willing to give up without a fight. The prospect of working these low-paying jobs for long hours became scarier than risking losing the job to improve it. People realized we won't get anything until we stand together."
In September, about 40 workers signed a petition "about unsafe equipment, extreme heat, and taking away breaks, making [shifts last] 6 or 7 hours," says veteran warehouse worker Ted Ledwa. On Saturday, after Bailey and some other workers were fired and then suspended, a group of the petitioners tried to take their demands to management.
"We had to walk around the entire warehouse to collect everyone," Ledwa says, "and all the time management was saying we were trespassing and had to leave. All we wanted to do was present the petition to management. As we came around the corner, managers with these riding forklifts cut our group in half, but we continued to walk. They told us we were going to be escorted out of the building by the police. They refused to take the petition. My manager said that we don't want to mess with him. We said we didn't want to mess with anybody. We just wanted someone to take the petition and hear our grievances. Their answer is the police are on their way. You're going to be arrested."
Managers were reportedly erratic in their response. Initially, Ledwa says, the petitioners were also fired, but managers later called to say they had been suspended. Now, both the suspended plaintiffs and the suspended petitioners, joined by a few other workers, are striking together over unfair labor practices, including discharge for lawful collective action. Ledwa believes those who kept working were sympathetic but afraid of losing their $10-an-hour jobs.
"Management uses threats and intimidation as part of their daily routine," he says. "I've worked at several warehouses, and I've never seen it so bad. They have no respect for the people. They say if you can't do the job, we'll get someone else. There's a constant threat. They're always trying to pit people against each other, to create animosity among their workers. I'm tired of it."
So for now the strike continues, picking up support, such as from Chicago teachers, recently on strike themselves. Many public-school teachers see a common enemy in the Walton Family Foundation, the charitable group run by Wal-Mart's founding family, which promotes school privatization.
And the warehouse strike is a worrisome development for Wal-Mart, a company that "has made distribution the heart of its business," as Nelson Lichtenstein writes in The Retail Revolution: How Wal-Mart Created a Brave New World of Business. Wal-Mart's super-efficient system of delivering goods only as needed, while stores carry minimal inventory, keeps costs low. It relies on sophisticated management and technology but also on brute, crude exploitation of workers. But this system is vulnerable to disruption, a threat especially potent now as big retailers prepare for the lucrative Christmas selling season.
Strikers at these two warehouses face both a big antagonist and big barriers to unionizing: Under current labor law, it's perfectly legal for Wal-Mart to simply stop using any contractor whose employees join a union. As a result, workers have instead focused on getting Wal-Mart to enforce its own standards upon its contractors. But the strikers' example could plant the idea in the minds of other warehouse workers that collective action can bring power and improvements at work. And that seed could grow into a movement for change among workers who need it badly.
Strike Supporters Shut Down Illinois Walmart Warehouse
By MICAH UETRICHT
Six hundred people blocked a Walmart warehouse in Elwood, Illinois, yesterday to protest wage theft and retaliation against striking workers. Seventeen were arrested. Photo: Stand Up Chicago.
Six hundred supporters of striking Walmart warehouse workers in Elwood, Illinois, ratcheted up the pressure Monday with a huge march and civil disobedience that shut down the most important node in the company's American distribution network. Workers estimate that shutting down the facility cost the company several million dollars.
The goal was to shine light on an enormous but hidden workforce of warehouse employees toiling to move Walmart's famously cheap products throughout the country. Community and labor supporters from the Chicago area joined the 30 strikers, who walked off the job in an unfair labor practice strike September 15. They are members of the Warehouse Workers Organizing Committee.
Seventeen religious, labor, and community leaders were arrested at the warehouse entrance—closed for the day in anticipation of the action.
Coming on the heels of California warehouse workers' return to work after a two-week strike, things seem to be heating up among workers in Walmart's supply chain.
Miles of Warehouses
Driving southwest from Chicago on I-55 to Elwood, the scenery shifts quickly from dense cityscape to massive, nondescript, windowless warehouses. Unorganized convoys of semi-trucks make up the lion's share of traffic in both directions. At an exit, a backup of big rigs waiting to enter the highway can be seen for more than two miles.
The existence of these massive distribution centers for multinational retailers subcontracted through multiple layers is usually unknown to consumers and even to the residents near the warehouse—and workers say companies want it that way.
"They hide behind the people they have subcontracted," says Mike Compton, who is out on strike. "They get to pass blame when they have problems."
Workers and supporters rallied at a park near the warehouse, with a wide swath of unions and community groups present, including the Chicago Teachers Union, Steelworkers, Service Employees, Food and Commercial Workers (UFCW), Workers United, Action Now, Arise Chicago, Latino Union, Stand Up! Chicago, Jobs with Justice, ROC Chicago, and the Chicago Workers Collaborative.
At the rally—surely the largest in Elwood history—workers told of backbreaking work for little pay, temperatures that oscillate between sweltering heat and bitter cold, management retaliation, and gender discrimination.
Yolanda Dickerson, who had worked in a warehouse for two years, says she "was sexually harassed on a regular basis," recounting an incident of being locked in a trailer by male co-workers. After Dickerson reported the incident, she says management did nothing. WWJ says such reports are common.
Compton says "there's no such thing as a raise in there," and describes the turnover rate as "unreal," a result of the brutality of the work and the callousness of managers.
"[Management] has no regard for our lives outside the warehouse," he says.
Daniel Meadows, a striker who had been at the warehouse since January and in the industry for six years, felt similarly. As the crowd marched toward the warehouse gates, he explained the work's effects.
"You literally can't do anything after a shift," he said, describing his work unloading 270-pound grills from trucks alone, by hand. "You're so exhausted. In the summer, you're soaked in sweat. In the winter, you're freezing. You constantly have bruised shins," from heavy carts with no brakes slamming into workers' legs.
Meadows came to the warehouse through a temp agency. Warehouse Workers for Justice, which began organizing in the area in 2009, estimates that 70 percent of Chicago-area warehouse workers are temps, amounting to a "perma-temp system" where workers can work for years without ever being hired full-time; be paid at, near, or sometimes below the minimum wage; and can be fired whenever bosses want.
"[Management] is constantly threatening to replace you. They want to send a message to you: that you're totally expendable. We want to show that you can stand up to management and keep your job," Meadows said.
When the march arrived at the locked warehouse gates—usually the site of a constant stream of semis entering and leaving—community leaders and pastors in clerical collars and stoles sat down in the street in front of the silent warehouse. Two dozen police, clad in full riot gear from head to toe, preparing to move in to make the arrests.
Even more jarring, a black Humvee was idling behind them, equipped with what appeared to be a Long-Range Acoustic Device, a sonic weapon for crowd control. Military-grade policing equipment and cops who appeared prepared for hand-to-hand streetfighting were being used to clear the street of pastors and community leaders softly singing "We Shall Overcome."
As police prepared to make the arrests, strikers pointed at riot officers' legs and started a chant referencing the common warehouse problem of constantly bruised shins. "You've got shinguards! We want shinguards!" they chanted.
One by one, the 17 were handcuffed and taken away. They were released several hours later with misdemeanor citations.
Justice Sought
Warehouse Workers for Justice (WWJ), a United Electrical Workers union (UE) affiliate, says brutal working conditions, wage theft, and management retaliation against organizing workers are rampant—and the big-box companies like Walmart who are supplied by these warehouses use the complicated layers of subcontracting to avoid responsibility for working conditions.
"Walmart needs to take responsibility for the pattern of egregious abuses in its supply chain," says WWJ organizer Leah Fried.
Fried says Walmart has five major distribution centers throughout the U.S. Those centers then distribute goods to smaller warehouses, which then distribute to Walmart stores. The Elwood location is the largest warehouse by far, according to Fried: 70 percent of all imported products that the company sells in the U.S. come through that warehouse alone.
Workers estimated that around $8 million was lost as a result of yesterday's shutdown. While shopping in a nearby town, one striker's wife overheard a Walmart manager complaining that he could not fully stock his store's shelves because of the Elwood action. Fried says management shut down the warehouse today because "they're afraid that workers who aren't on strike would see the community support."
There are 38 workers on strike out of a workforce of 120 at the temp supplier Roadlink and 400 workers overall in the warehouse. Their web site, warehouseworker.org, has a petition supporters can sign and a strike fund for donations.
California Strike Ends
In Southern California, three dozen non-union temporary workers at a Walmart warehouse ended their 15-day strike and returned to their jobs last Thursday.
The workers, whose direct employer is Walmart contractor NFI, marched with supporters 50 miles to downtown Los Angeles September 13-18, calling on Walmart to take responsibility for appalling safety conditions in its warehouses. Like the Illinois workers, they had suffered retaliation for their organizing efforts, and their strike was an unfair labor practices strike (NFI was thus legally obligated to permit them to return). They are connected to the Warehouse Workers United worker center, an affiliate of the Change to Win federation.
Back on the job, workers report that supervisors are no longer requiring them to work with broken ramps, which had forced workers to manually lift 500 lbs.
A Walmart spokesperson emailed the Huffington Post about the workers' grievances—unusual, given the company's habitual stonewalling. Calling their working conditions "fairly standard" and "consistent with the conditions in our own warehouses," he nevertheless said Walmart is "conducting contract reviews with our service providers with an eye towards implementing specific health and safety requirements."
Of course, Walmart already has "Standards for Suppliers," and getting the company to enforce them has been a main goal of both warehouse worker groups.
The California workers gathered 120,000 signatures on a national petition calling on Walmart to meet with them.
Walmart retail workers from 11 stores in the L.A. area were set to rally in Pico Rivera, California, Thursday with community supporters, also to protest retaliation for organizing. They are part of the OUR Walmart organization, backed by the UFCW, which has protested the low pay of Walmart's 1.4 million retail employees.
Between the two strikes in key places in the Walmart supply chain and the renewed public scrutiny the company is receiving, Compton, one of the strikers, feels confident that warehouse subcontractors and Walmart itself are worried.
"They just took a humongous financial hit. They're definitely shaken up," he said.
Micah Uetricht works for ARISE Chicago.
Some Wal Mart Horror Stories
Huffington Post