Where they walked out from Timeline Photos.
Organizers say they also hit their goal of one thousand total protests
"I'm so happy that this is history, that my grandkids can learn from this to stand up for themselves," Miami striker Elaine Rozier told The Nation Thursday night. Before, "I always used to sit back and not say anything…. I'm proud of myself tonight."
"We need to put ourselves in their shoes. I probably won't shop here; I don't think they should take advantage of workers," said Joe Tegue, a 30-year-old contractor.
"It's amazing, it's really amazing," said Dominic Ware, "to see all of the people that were brave enough to go on strike" and "the community support…. it just touched me in so many ways that I really haven't taken it all in."
In Laurel, MD strikers and their supporers leafleted and caroled "I saw Walmart fire Santa Claus", "Deck the aisles with living wages."
In Severn, MD, fiftt people mic checked inside he store a mic check, the crowd echoing an organizer from Jobs with Justice, : "We call on Walmart to change. We call on Walmart to stop bullying."
UFCW's Dan Schlademan promised earlier this month: "This is a new permanent reality for Walmart…. Two thousand and twelve is the beginning of the season where retail workers are going to start to stand up."
WalMart Manager Says She Will Strike After 3 Years of Being a Manager because she 'Just Can't Make It'
Summaries of the day see:
Occupy Wall Street, #WalmartStrikers Prove the 99% Can Fight Back, November 23, 2012
Josh Eidelson, The Nation, With Biggest Strike Against Biggest Employer, Walmart Workers Make History Again, November 23, 2012
Durham, NC
Demonstrators protest Wal-Mart in Boynton Beach, Florida, Friday, November 23, 2012. (AP Photo/J Pat Carter)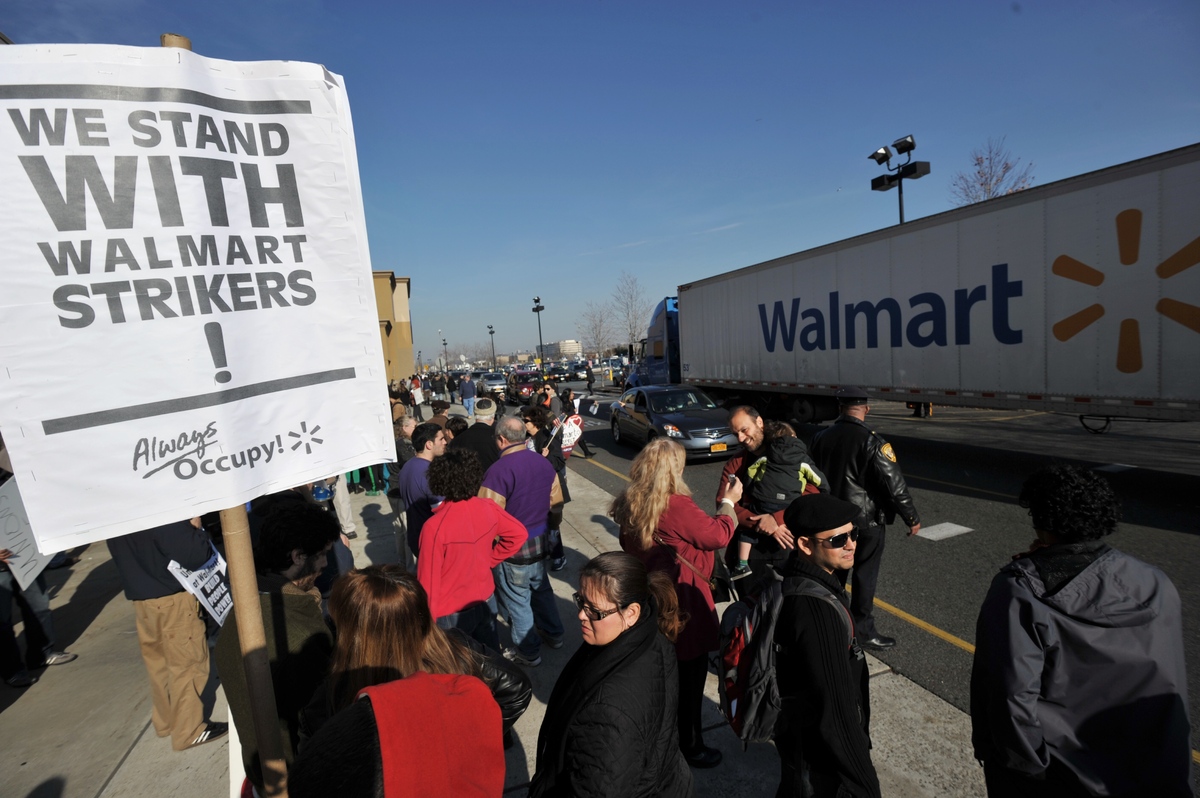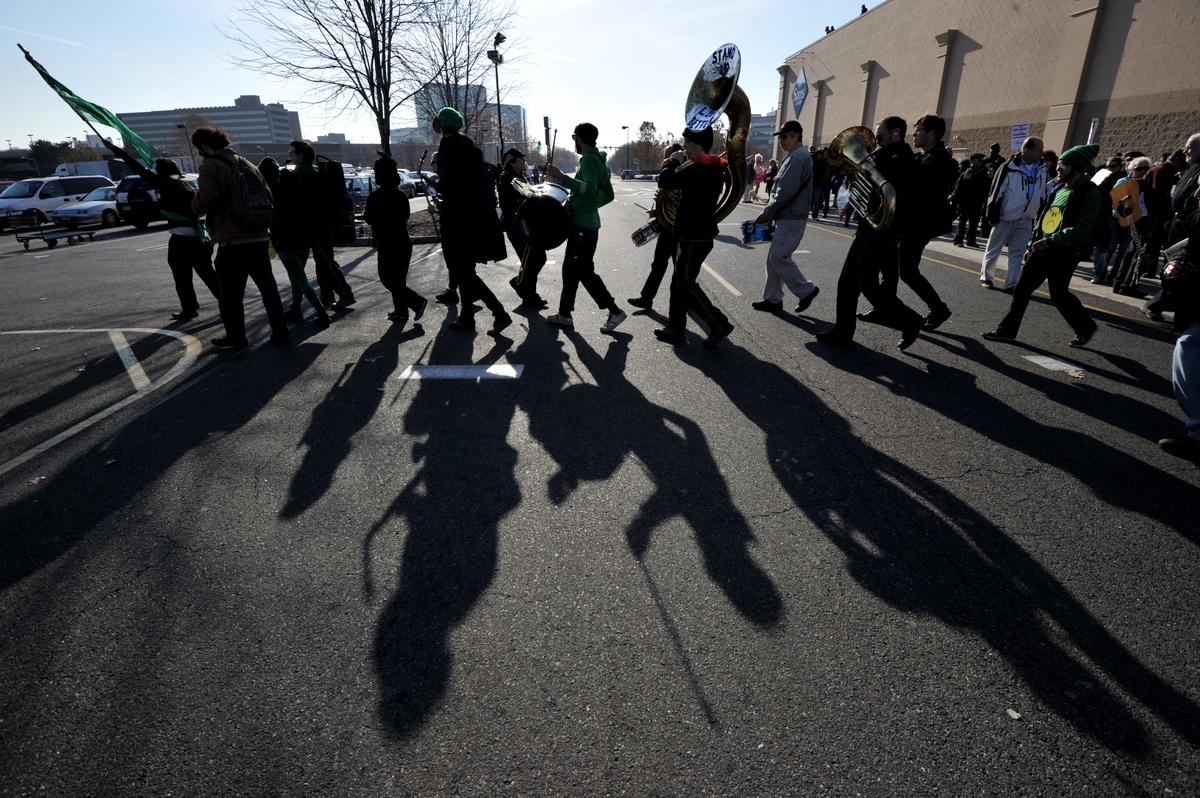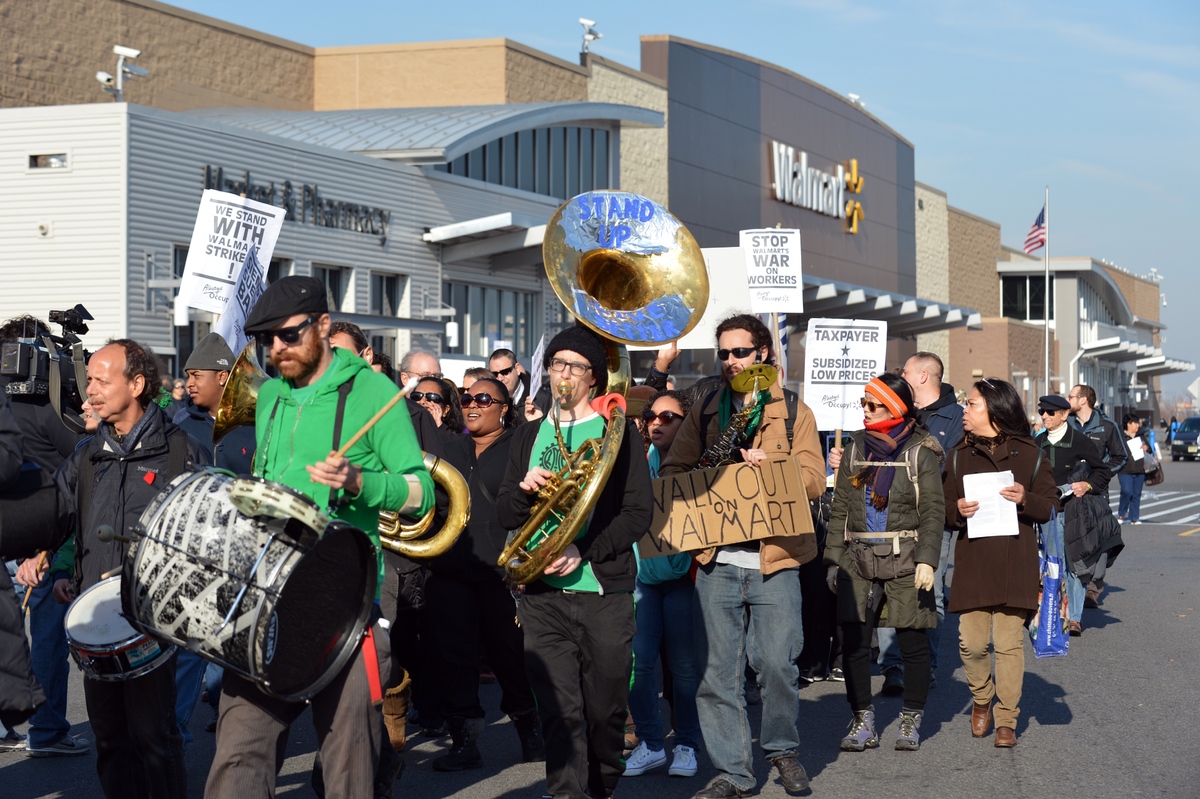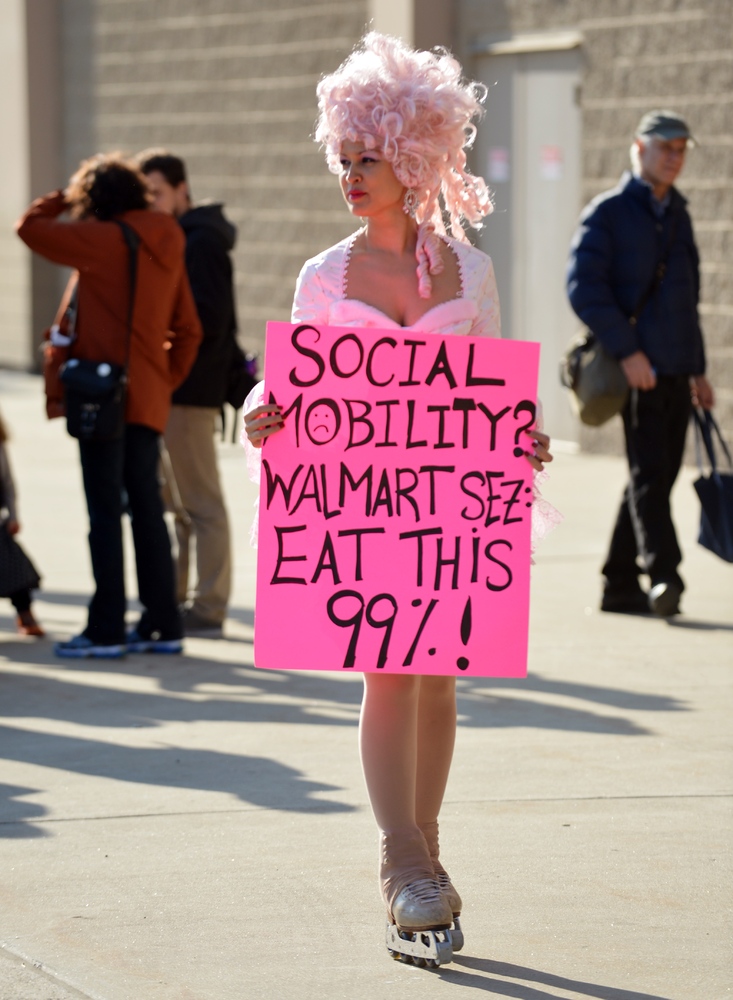 Getting in the spirit in Secaucus, NJ. Reports from this location indicated that Walmart wouldn't even let journalists enter the premises. Fear.
Kearney,NJ Walmart employees and their supporters protest in a parking lot after they were asked to move away from the front entrance to a Walmart store in Paramount, Calif., on Nov. 23, 2012. (AFP Photo/Frederic J. Brown)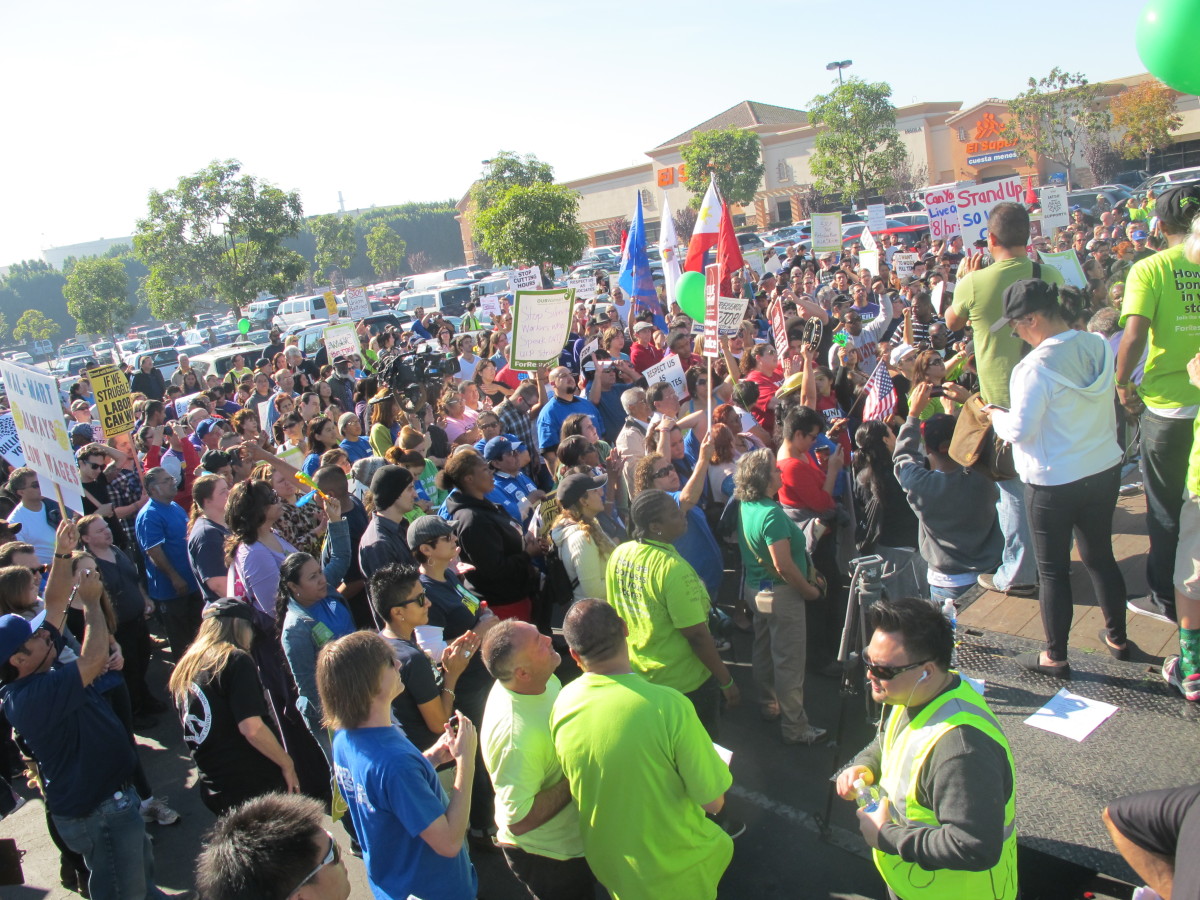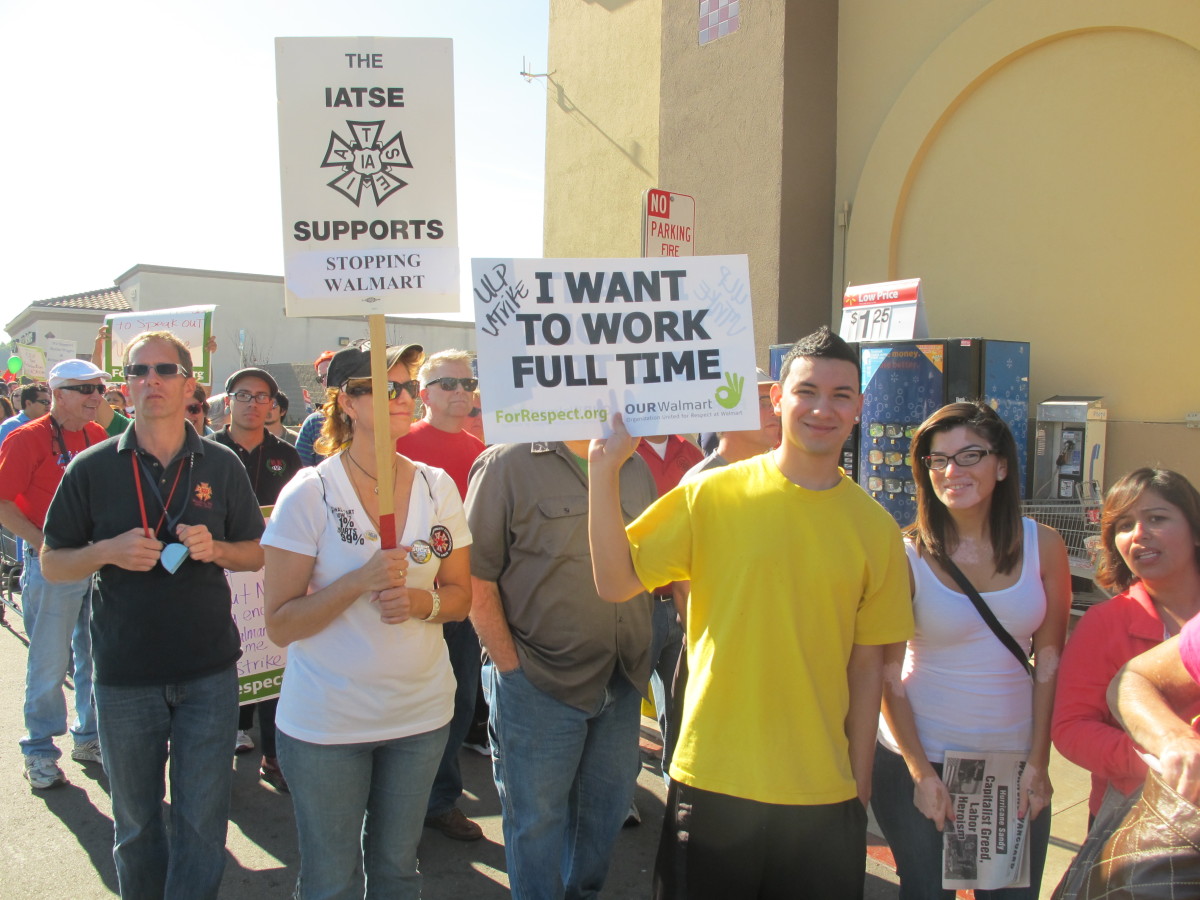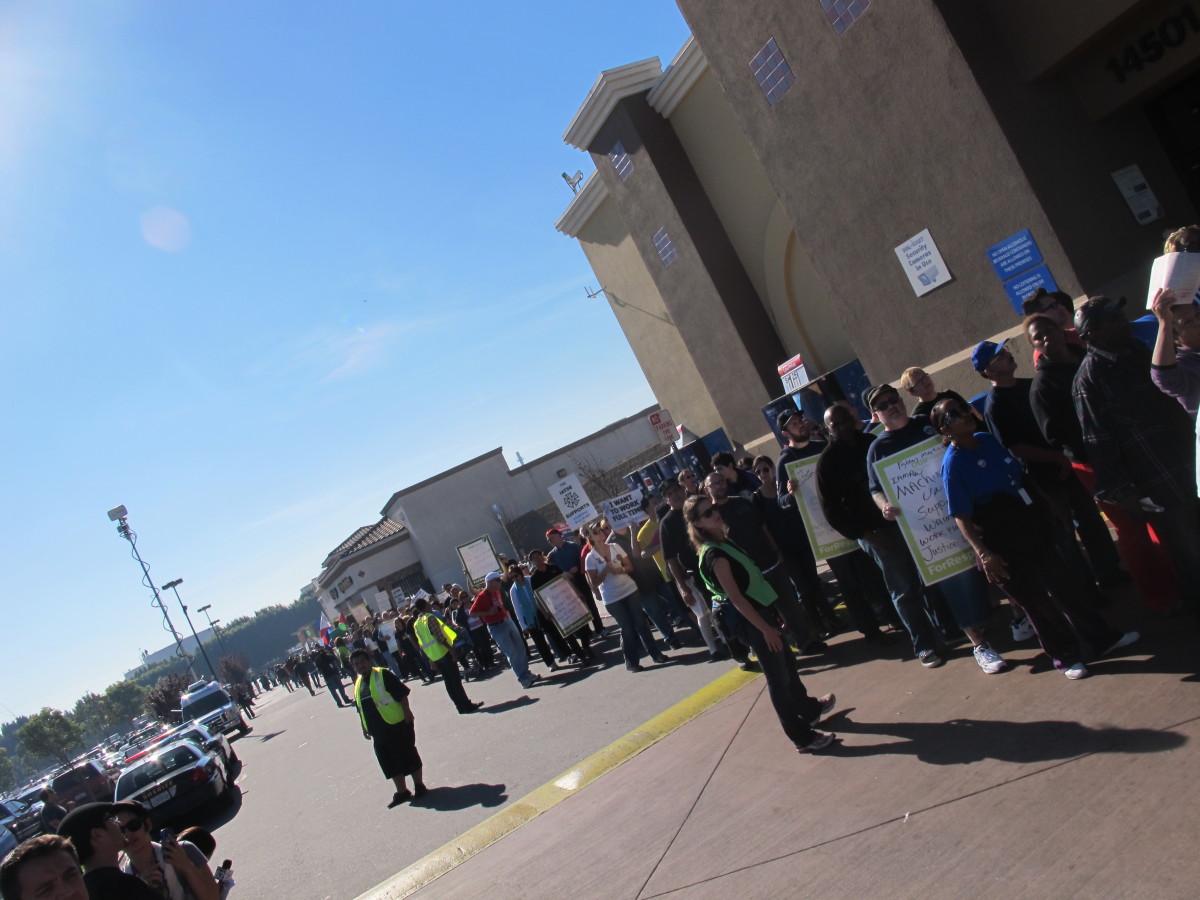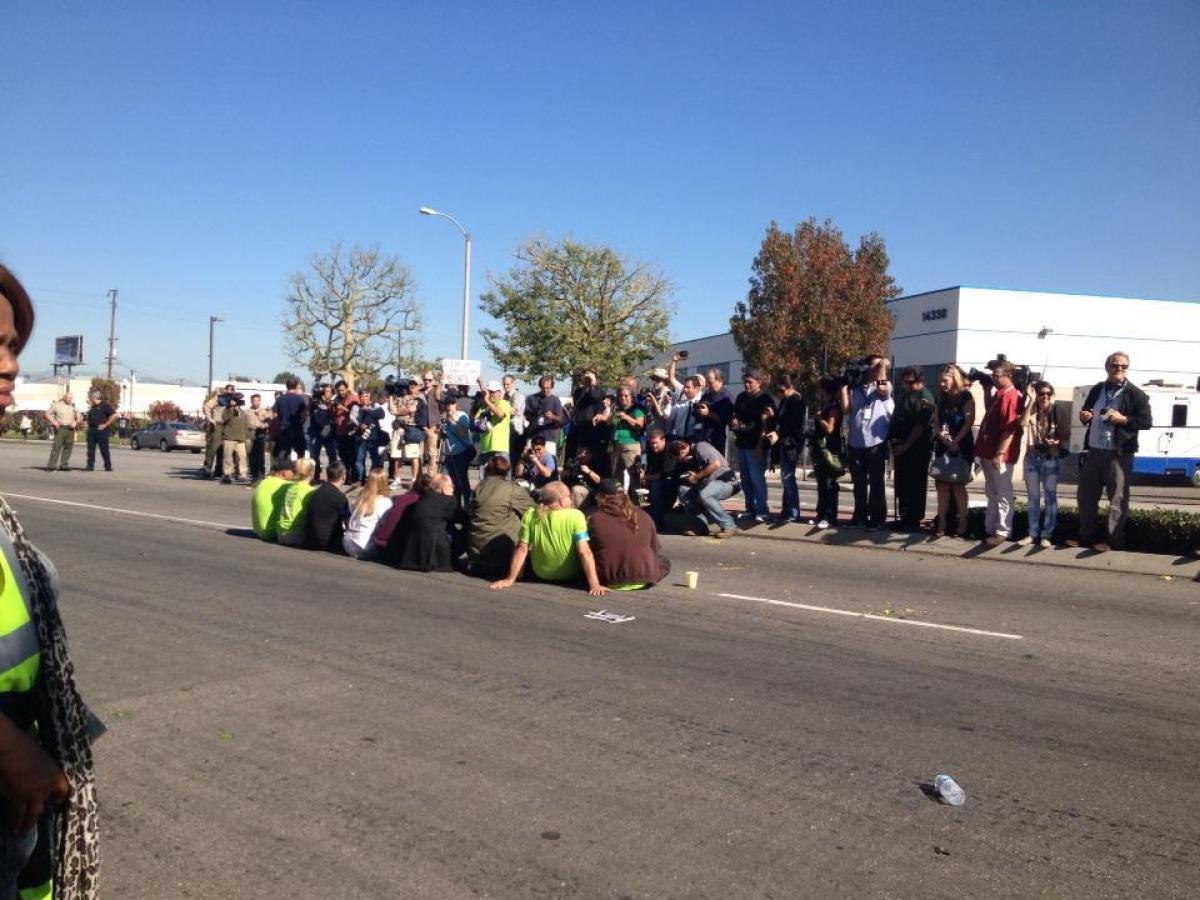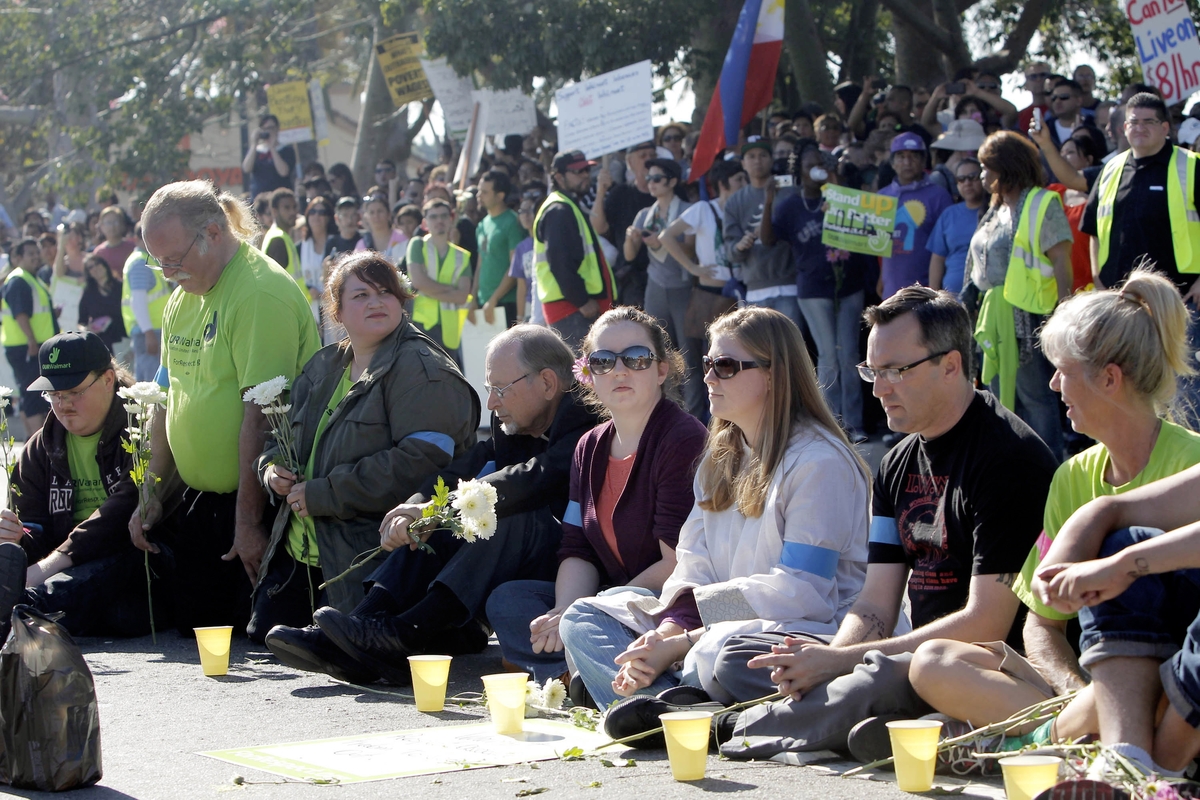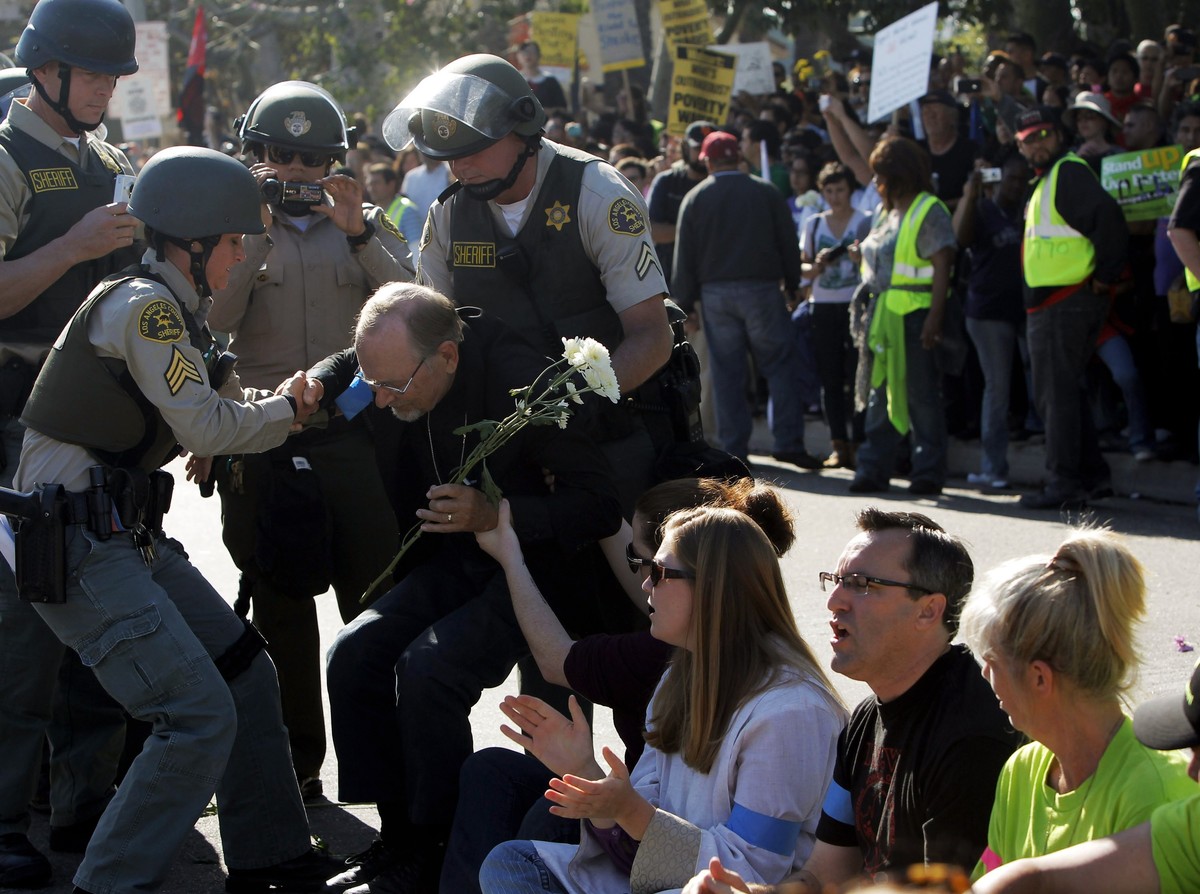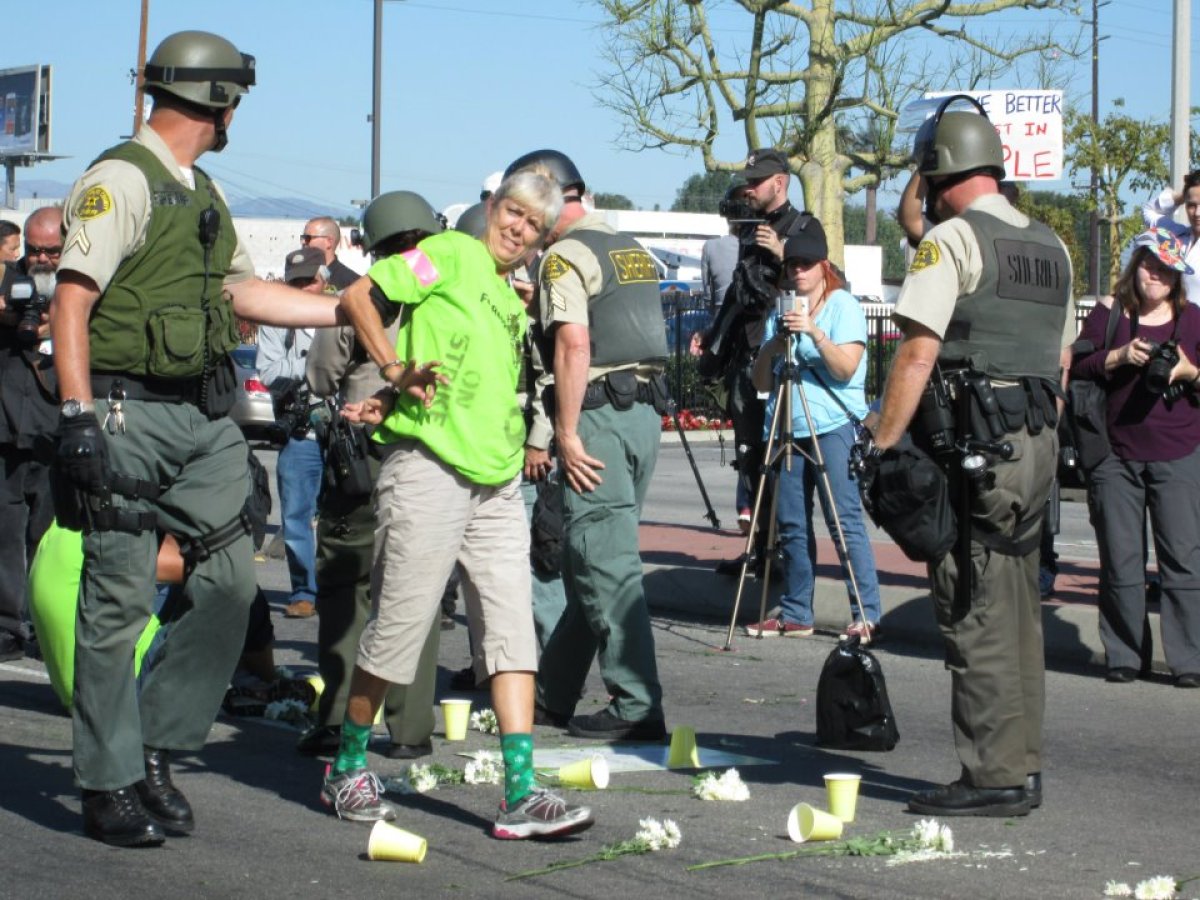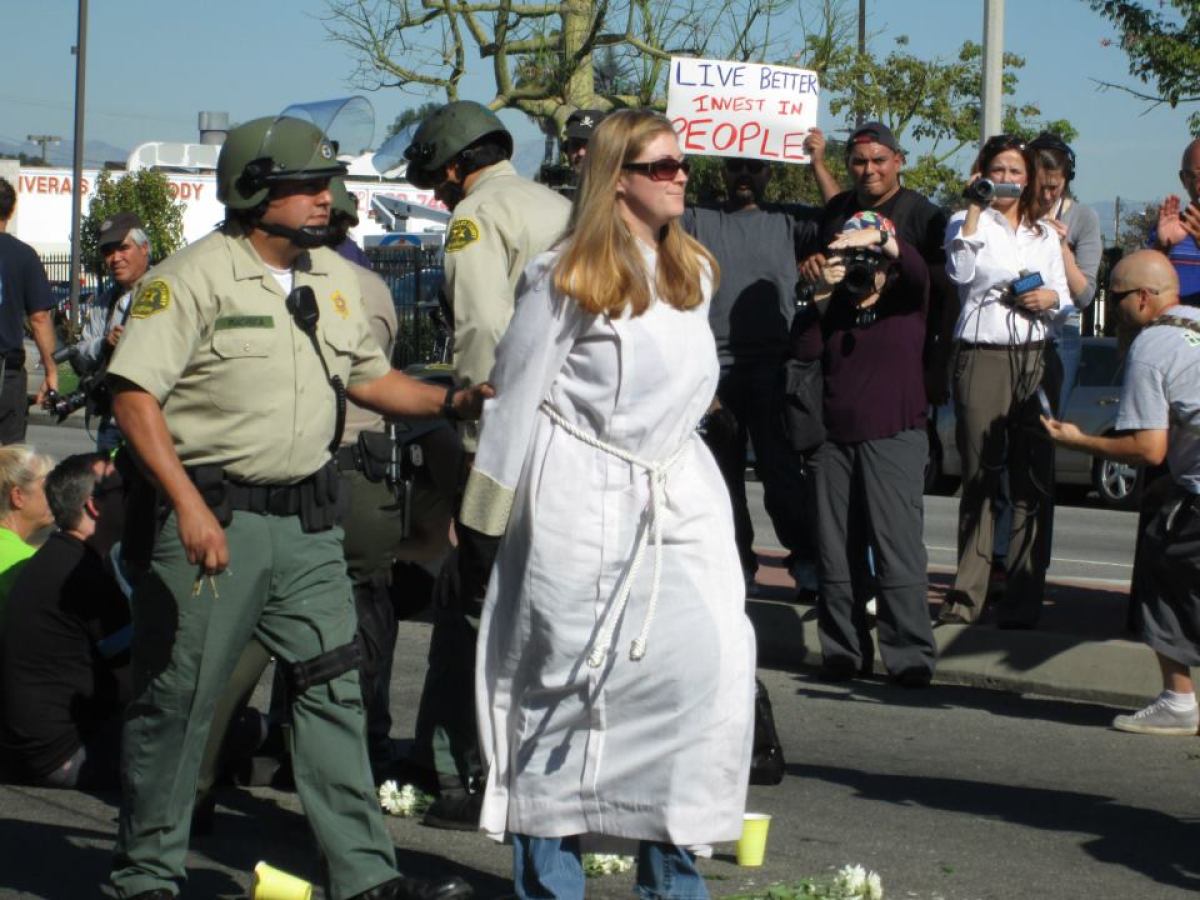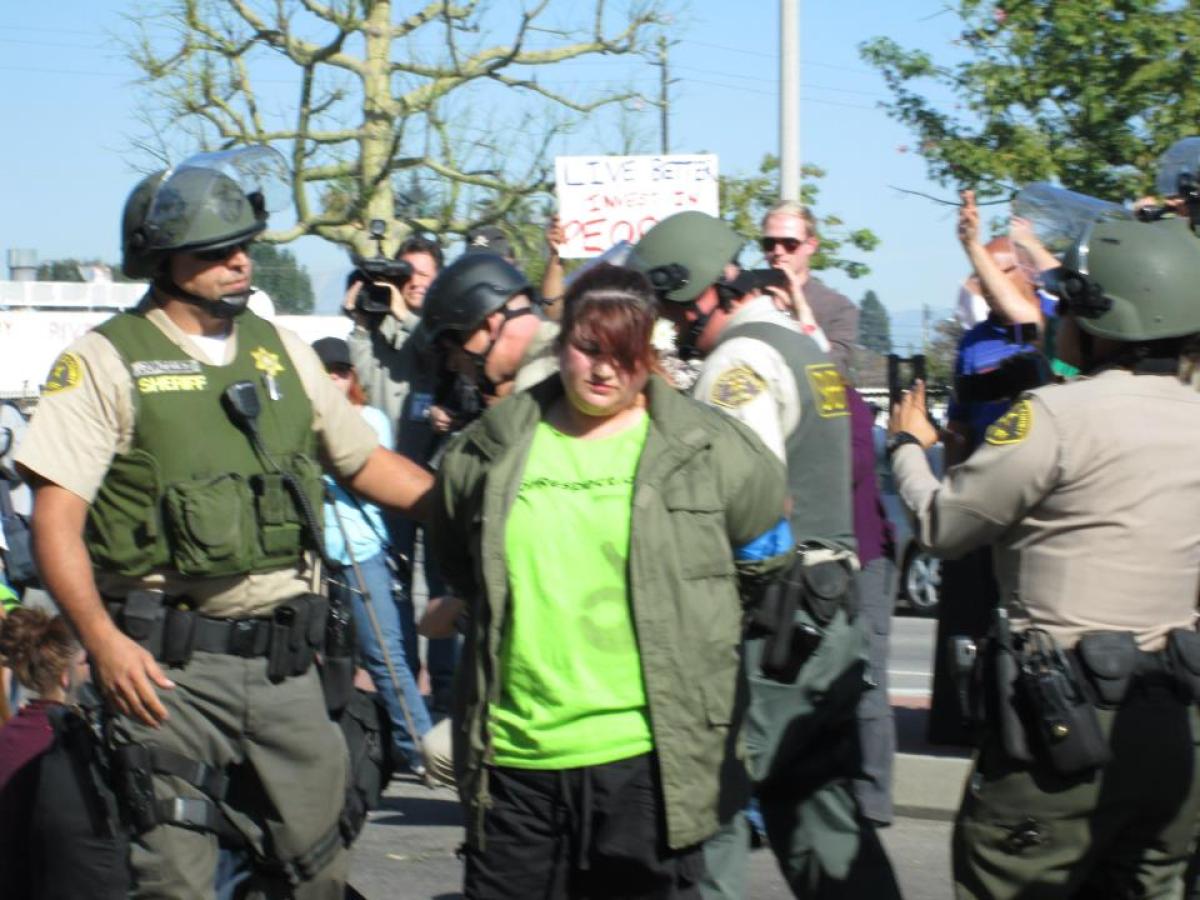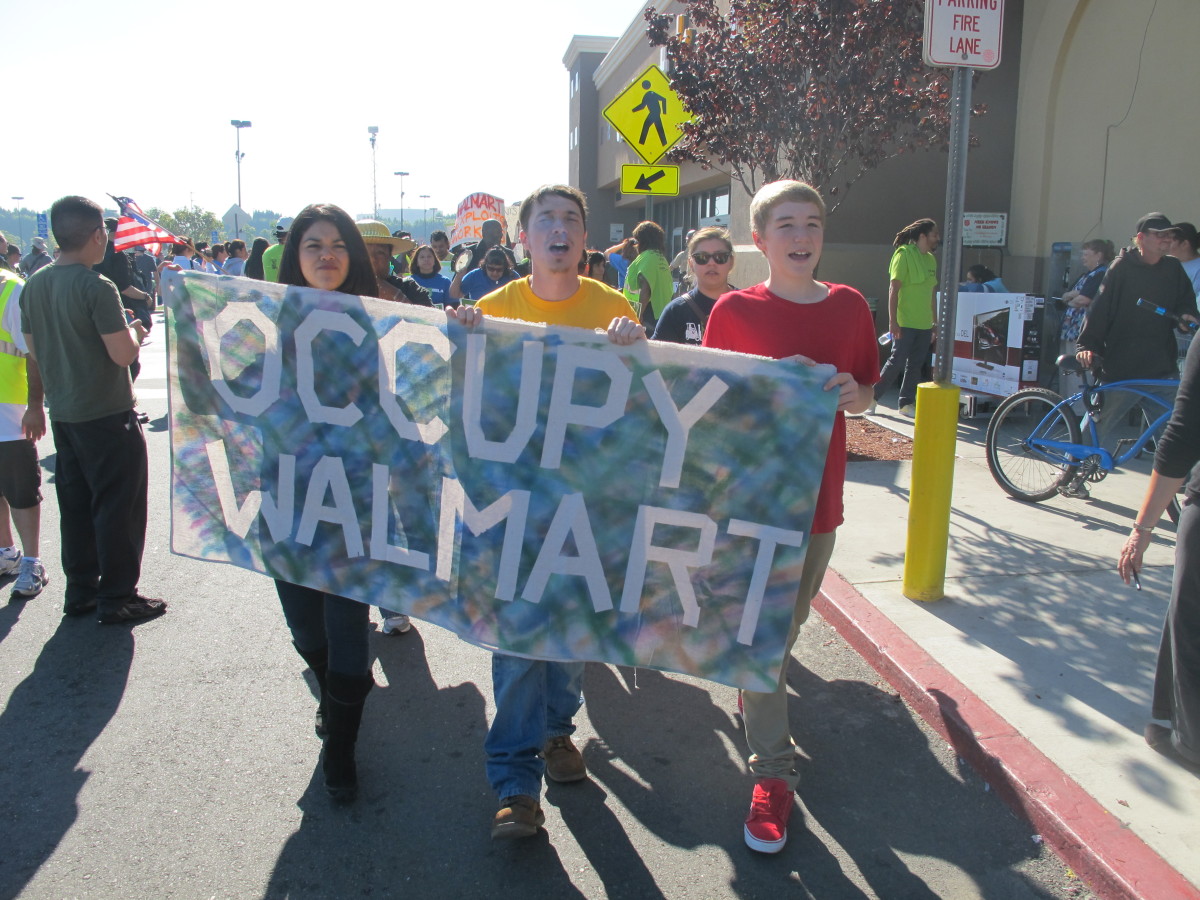 At the Walmart in Paramount, Calif., The Huffington Post counted about 600 protestors at 11:30 a.m. Friday. Organizers later said that a total of 1,500 people participated in the protest. Nine people were arrested for sitting in the street, which was blocked off for protestors. Arrestees included three workers, a father of a worker, a former worker, two clergy and two supporters, according to organizers.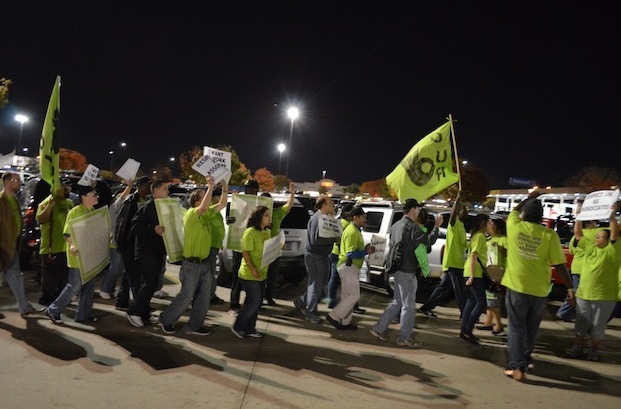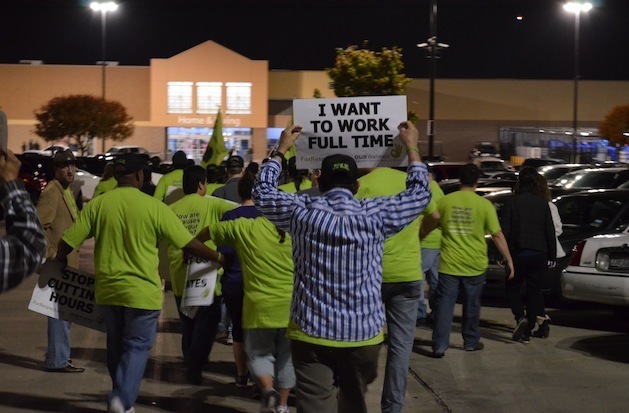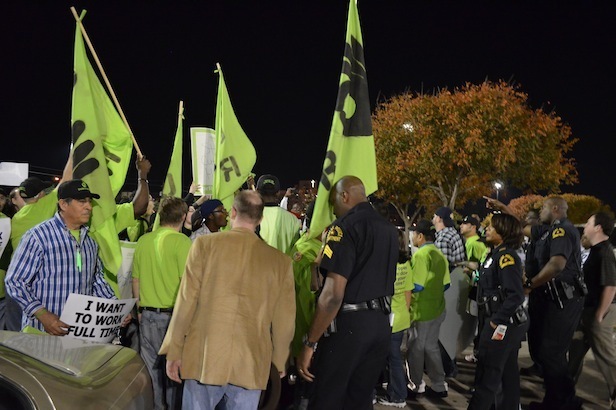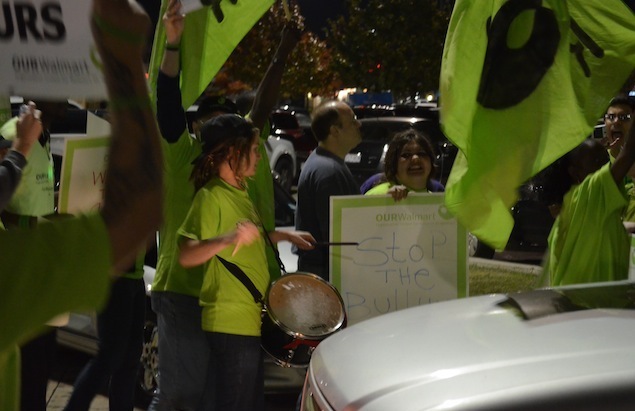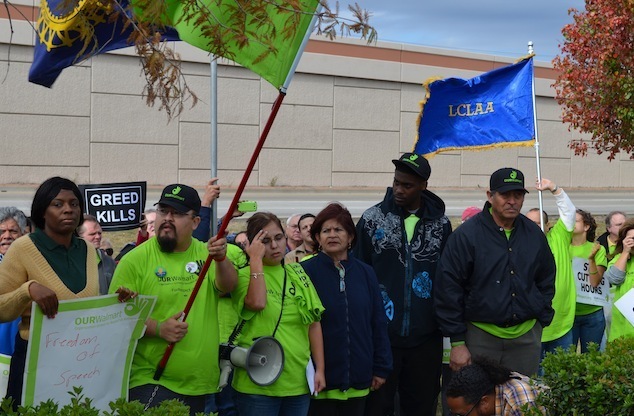 Strikers try to catch the attention of shoppers Thursday evening without entering the parking lot of the Wheatland, Texas store.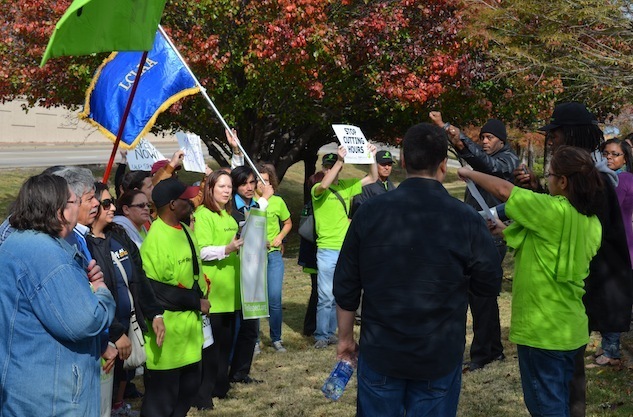 Strikers answer a mic-check outside of the Walmart in Lancaster, Texas Friday.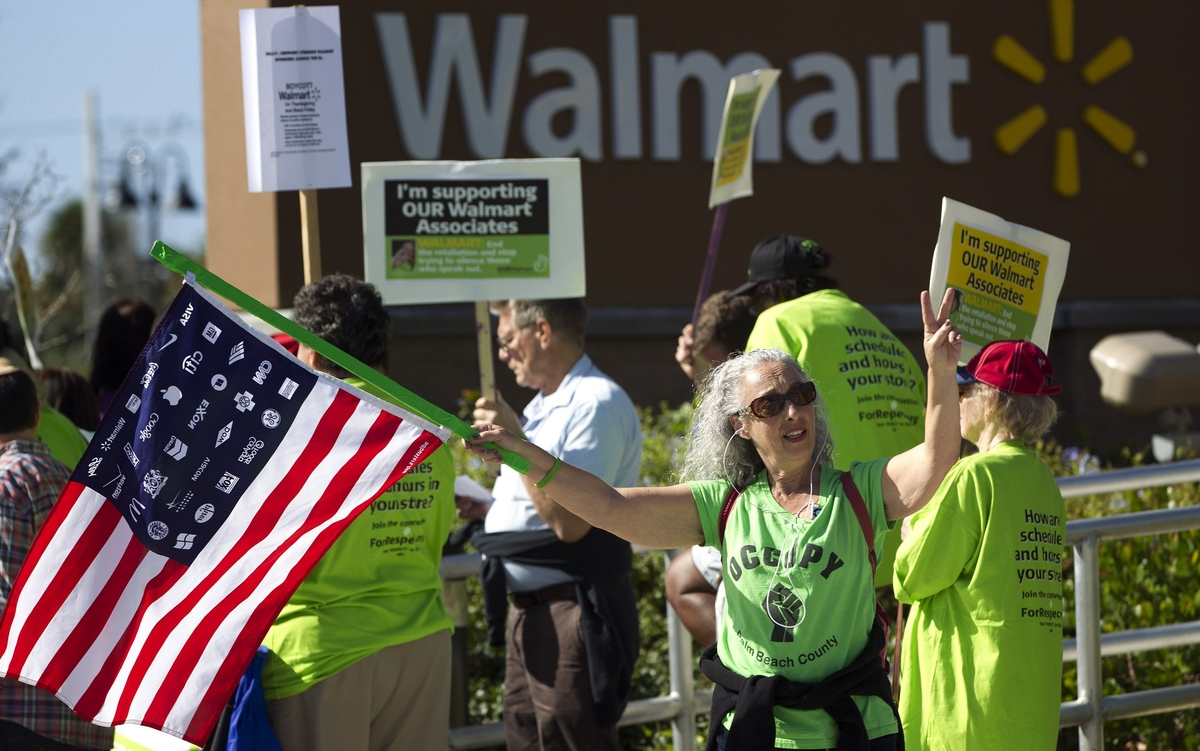 Karen Levin, carrying an American flag with corporate logos, protests Walmart in Boynton Beach, Fla., on Friday, Nov 23, 2012. (AP Photo/J Pat Carter)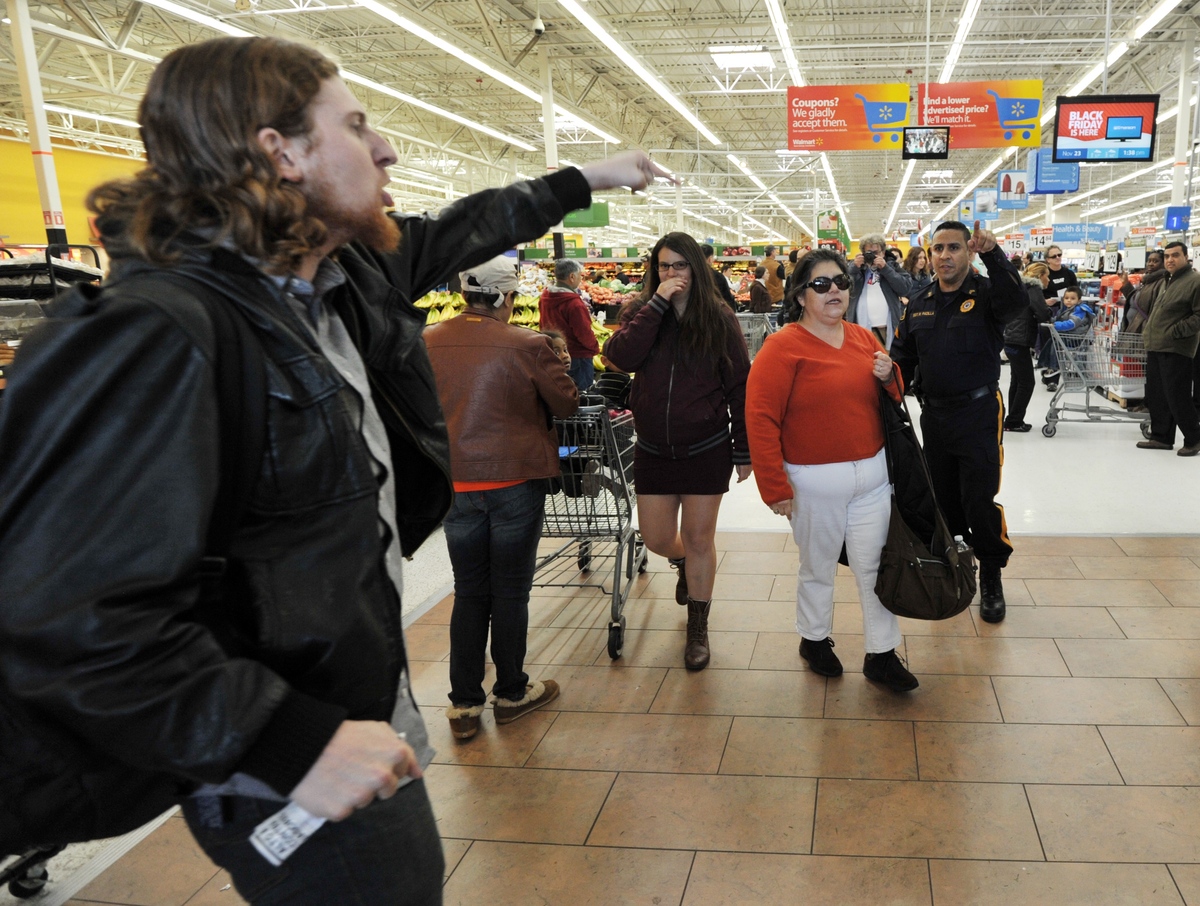 People who support Walmart workers protesting working conditions at the company inside a Walmart Superstore are asked to leave by a security officer (R) Nov. 23, 2012 in Secaucus, New Jersey. (STAN HONDA/AFP/Getty Images)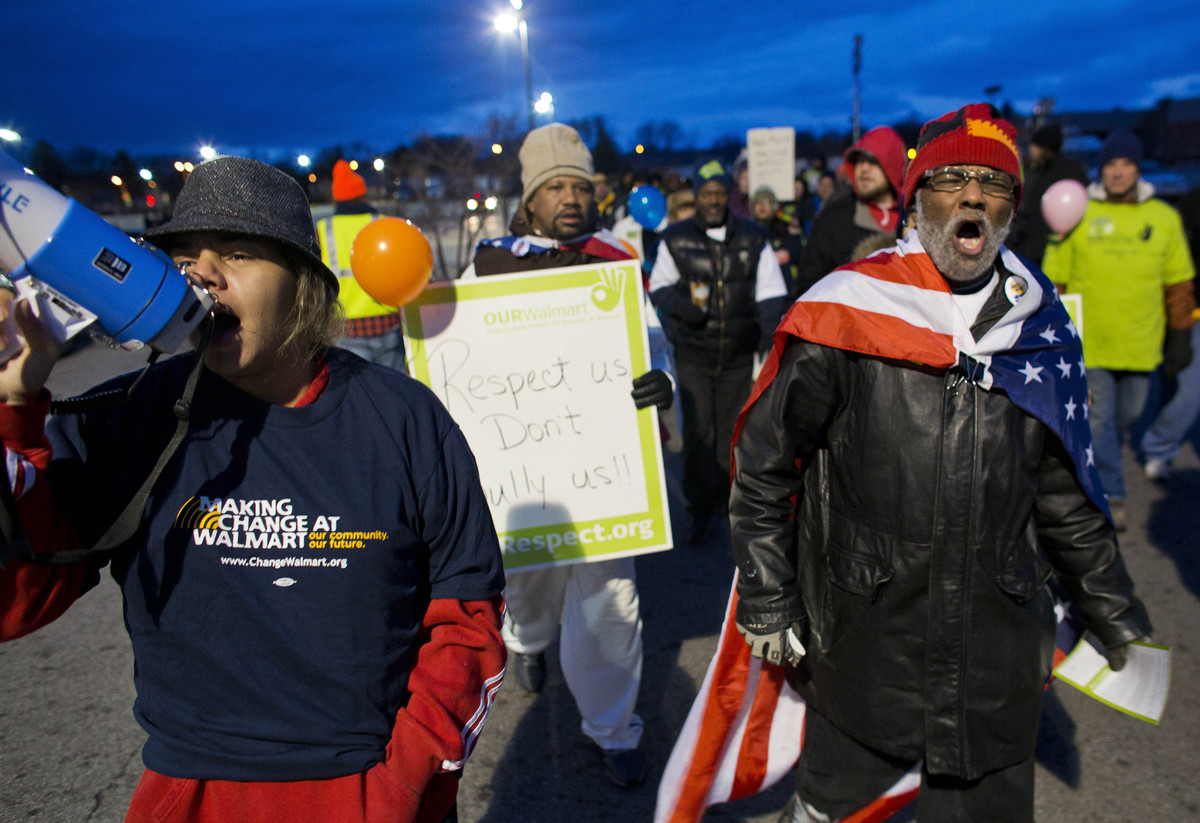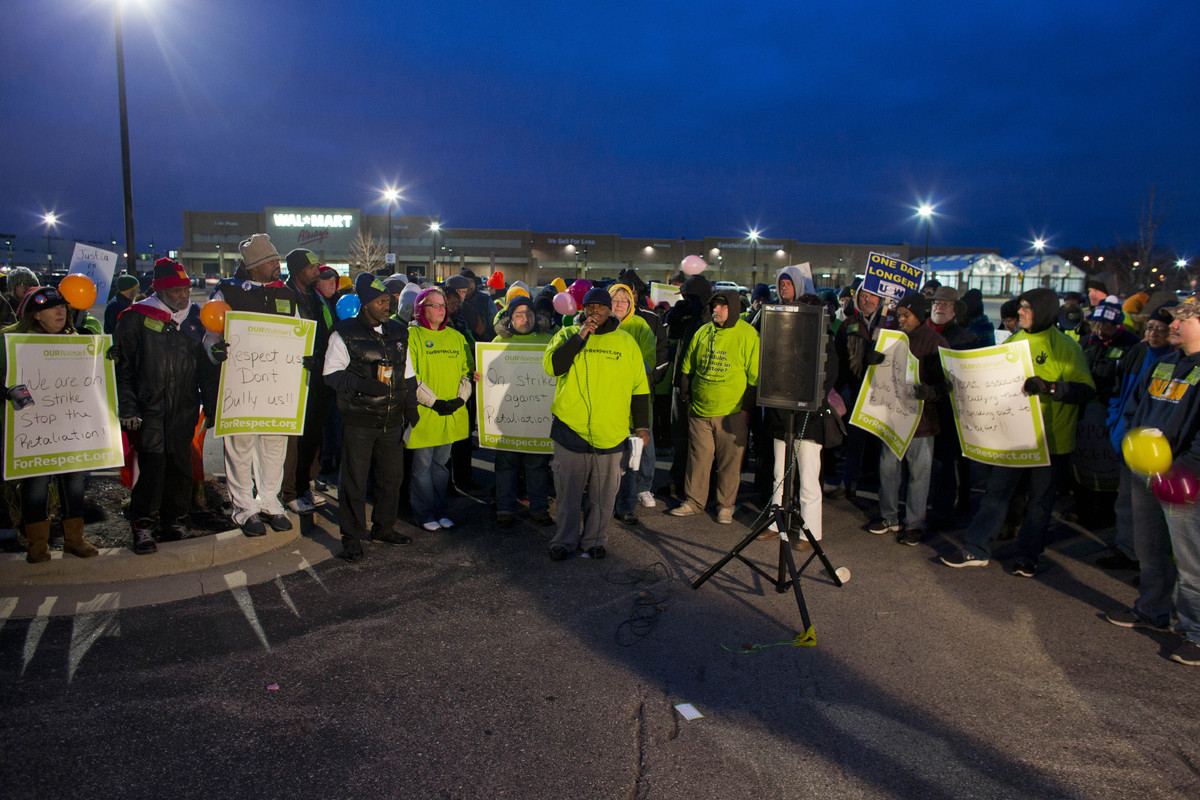 Workers and supporters march outside a local Walmart retail store on Black Friday Nov. 23, 2012 in Milwaukee, Wisconsin. (Photo by Darren Hauck/Getty Images)
South Kenosha, WI
Occupy Wichita dupes Wichita Police into blocking Walmart's Black Friday traffic
Stand with WalMart workers on Black Friday
CNN live-stream of workers on srike in Landover, MD http://www.cnn.com/video/?/video/cvplive/cvpstream1#/video/cvplive/cvpstream1
Fox News freaking out about Wal Mart strike, falsely blames it all on Soros.
People brought the message directly to Walmart and Black Friday shoppers tonight in Kenosha, Wisconsin. Tons of media tonight at the Black Friday Strike Against Walmart action in Kenosha and we made sure they all saw our message.
OLB-San Diego were out last night on I-15 with their new lighted letters.
Overpass Light Brigade – Portland Airport took out the message Burma Shave style last night.
Portland, OR
Framington, MA
Occupy Austin and OLB-Austin out tonight. Check out their angry smiley Wally icon!
Occupy Light Brigade-Hilo Hawaii
Follow the protests . . .
Black Friday Begins (Early): Walmart Workers Already Striking in at Least Seven States
Josh Eidelson, Thee Nation on November 23, 2012 – 12:25 AM ET
8:35 AM: Walmart responds: Keeping media out of stores on Black Friday "has been our practice for four or five years now."
7:55 AM: Is Walmart getting camera shy?
A media advisory sent out Monday invited local reporters in North Bergen, New Jersey to visit the local Walmart on Tuesday or Wednesday and see preparations for Black Friday. But the same advisory (shared with The Nation by a recipient) announced that "Local media will not be permitted in-store access from Thursday, November 22 through Sunday, November 25. Regular media access will resume Monday, November 26." Walmart did not immediately respond to The Nation's inquiry regarding how widespread this policy is, or whether it's a change from the past.
Local reporters aren't the only ones Walmart is reportedly keeping out of its stores. At 12:28 AM, Huffington Post retail reporter Alice Hines tweeted from Wheatland, Texas:
"#kickedoutofwalmart for solicitation but was told i could report in the parking lot"
12:25 AM EST: It's on.
A year and a half after retail workers announced the founding of a new Walmart employee group, five months after guest workers struck a Walmart seafood supplier, and seven weeks after the country's first multi-store Walmart strikes, the Black Friday strike has begun.
Walmart stores opened at 8 PM, drawing additional ire from employees required to come into work on Thanksgiving earlier than ever. But workers' protests got off to an early start too. Around 7:30 PM EST, 30 workers from three Miami stores went on strike, joining 100-plus supporters for one of several nighttime rallies across the country. "It's been so long that I've been working for people that had no respect for me," Miami striker Elaine Rozier told The Nation. "They retaliated against me, and they always treated me like crap. And I'm so happy that this is history, that my grandkids can learn from this to stand up for themselves." In the past, said Rozier, "I always used to sit back and not say anything…I'm proud of myself tonight."
At 9:45 PM CST, workers struck and rallied with supporters outside a store in Dallas; OUR Walmart says that the peaceful crowd was dispersed by police. When workers walked off the job in Kenosha, Wisconsin, the group says that managers kicked customers out of the store on the mistaken assumption that they were there to protest. Workers are also on strike in San Leandro, California, and Clovis, New Mexico. Stores in Ocean City, Maryland; Orlando, Florida; and Baton Rouge, Louisiana each have a single worker out on strike. In St. Cloud, Florida, Walmart associate Lisa Lopez was joined by Congressman-Elect Alan Grayson as she walked out on strike.
At 11:45 PM, labor and community activists demonstrated outside a store in Quincy, Massachusetts, the first of a string of protests that allied groups promise will hit all 48 Walmarts in the state.
OUR Walmart, the union-backed retail worker group that spearheaded last month's 28-store strikes, promised last month to pull off a "memorable" Black Friday unless Walmart reversed a slew of allegedly retaliatory firings (Walmart hasn't). Last week, as workers struck Seattle stores and a Mira Loma warehouse, OUR Walmart pledged 1,000 total actions for the nine days leading up to and including today. Workers say that will include flash mobs, rallies, leaflets, sit-ins, and strikes. Retail employees will have back-up from Occupy activists, women's and consumer groups, and Walmart warehouse workers. But the day's biggest question may be just how many Walmart store workers choose the risk and the sacrifice of striking. Last month, 160 struck; how many more will join them today?
Reached over e-mail Sunday, Walmart's National Media Relations Director, Kory Lundberg, said, "we do not expect these actions by a very small minority of our associates (less than .0003 percent) at a handful of stores to have any impact on our stores or our customers' shopping experience on Black Friday." But the past week offers increasing signs of an aggressive campaign by the company to discourage workers from striking, including mandatory "captive audience" meetings, alleged threats, and public declarations that the strikes aren't legal and strikers could face "consequences."
OUR Walmart has also promised strikes in cities including Chicago, Los Angeles, Milwaukee, and Washington, DC, and states including Oklahoma, Mississippi, Louisiana and Minnesota.
Expectations are high for a historic strike. Given Walmart's role as the dominant employer of our era, the current wave of work stoppages is already among the country's most consequential twenty-first century strikes. But in interviews this month, workers and organizers described today's actions as a turning point, not a climax, in their struggle against the retail giant. "This is the beginning of something…" said Dan Schlademan, a United Food & Commercial Workers union official who directs the allied group Making Change at Walmart. "This is a new permanent reality for Walmart…2012 is the beginning of the season where retail workers are going to start to stand up."
"There's going to be more days that we're going to strike," said Rozier, "and it's not going to stop. I'm not going to stop until they respect us and give us what we want."