Above: Proponents of legal marijuana argue retail dispensaries such as those in Colorado have been a success for the state. Photograph: Chris Hondros/Getty Images

A campaign to legalize possession of up to eight ounces of cannabis and tax its sales has backing from a US senator and leading figures, but opponents warn its promises are overblown and dangers real
This time, say the backers of the latest vote to legalise marijuana in Oregon, things are different.
Two years ago, as neighbouring Washington state and Colorado became the first to authorise the sale of recreational cannabis to adults, Oregonians shot down a similar measure at the ballot box. Now they are being asked once again to approve the legalisation of marijuana but after a very different campaign.
The 2012 initiative was widely criticised as too open to abuse, and was clearly written by true believers – the proposed legislation made reference to George Washington growing cannabis and referred to "federal and corporate misinformation campaigns" that "suppresses" the truth about marijuana. The latest proposal, Measure 91, is written to have broader appeal, and it would provide for tighter regulation of the production and sale of marijuana.
Unlike its predecessor, Measure 91 has heavyweight political backing. Oregon senator Jeff Merkley is the first US senator to come out publicly in support of legalisation. US representative Earl Blumenauer, whose district includes part of Portland, said he is backing the measure because "our marijuana laws don't work and exact a terrible cost in tax dollars, law enforcement priorities and people's lives". They have been joined by a former Oregon state supreme court judge, ex-prosecutors, prominent newspapers and groups such as the Oregon Alliance for Retired Americans.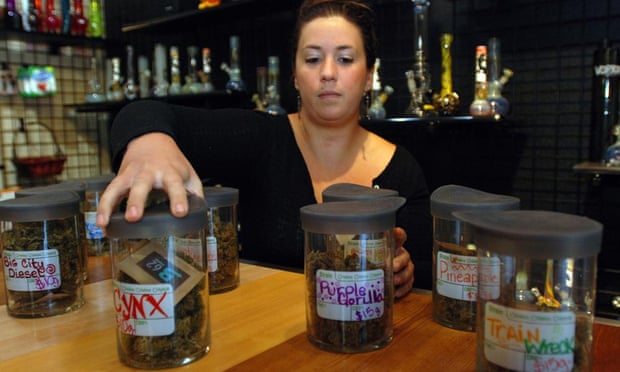 Perhaps most significantly, there is big money behind the "Yes on 91" initiative – big money that stayed away from the 2012 campaign. Supporters of legalisation have thrown millions of dollars into promoting it, with major funding from a group backed by the billionaire George Soros, while opponents have raised less than $200,000. As a result, the pro-legalisation advertising campaign drowns out the rival view.
Yet for all that, opinion polls have the outcome as too close to call. A survey for The Oregonian this week found 46% of voters opposed, 44% in favour, and 7% unsure.
Measure 91 would legalise marijuana use for anyone over 21, permit individuals to grow their own and possess up to eight ounces of cannabis, and bring in tax revenues to be distributed to schools, law enforcement and drug treatment programmes.
Anthony Johnson, the chief sponsor of Measure 91, said that the drafters of the proposed law learned from the mistakes of the past.
"This time, it's the rules and regulations put in place that have satisfied people looking to donate to the campaign as well as mainstream endorsers. Previous marijuana measures would have legalised an unlimited amount of marijuana for people to grow and possess at home, for instance, whereas Measure 91 very much regulates marijuana like beer and wine. Those rules and regulations make moderate voters and mainstream endorsers more comfortable with this measure than other measures in the past," he said.
The "Yes on 91" campaign is drawing heavily on the experience in Washington and Colorado to back its case.
"People have seen that the sky hasn't fallen in either state," said Johnson. "The barometers that most people would look at as to whether marijuana legalisation has been a success or a failure – safety on the highways, usage by minors and the crime rate, as well as new revenue coming into the state – they can see regulating, legalising and taxing marijuana can be a successful policy."
But Measure 91's opponents are finding grist for their cause in Washington stateand Colorado too. They accuse supporters of legalisation of glossing over important differences between the proposed Oregon law and those already in force. Measure 91 would allow residents to grow their own cannabis and supply it to friends, provided they do not charge, while Washington permits only licensed production. Colorado and Washington both limit possession to one ounce. Measure 91 would allow eight times that amount. Critics say that will cost the state a good portion of the promised tax revenues and encourage smuggling to other states.
And opponents say that the promise of tax revenues is already overblown. Oregon's Legislative Revenue Office estimates that legalised sales of marijuana would bring in about $16m in 2017 and rise after that. Oregon's revenues from the lottery were more than $1bn last year.
Mandi Puckett, director of the group leading opposition, "No on 91", says the money poured into the "Yes" campaign – which includes tens of thousands of dollars in donations from firms in Washington, Colorado and California making money from marijuana – is evidence that the push for legalisation is being driven by profit.
"This is about commercialisation and big industry, just like alcohol and tobacco, coming into our state to market addictive products and be able to make money off of Oregonians. Taxpayers here are going to pay huge social costs for treatment and for traffic fatalities and overheads to regulate this," she said.
Puckett quoted from a federal government report on legalisation in Coloradoreleased in August which shows that since the legalisation of medical marijuana in Colorado in 2006 fatal in car accidents involving the drug have doubled, and that there has been a 400% increase in the smuggling of marijuana from Colorado over the past five years. The state also has a significantly higher proportion of underaged use of marijuana compared to the national average.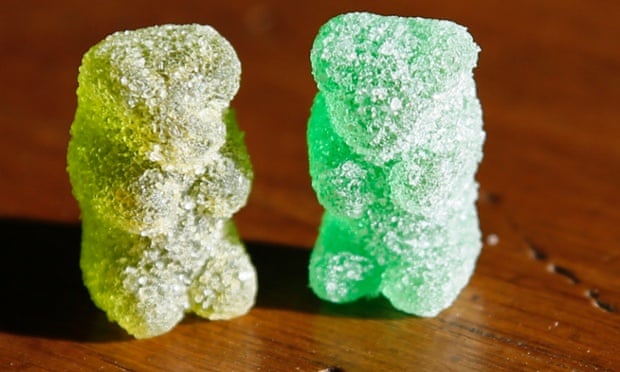 For Puckett perhaps the most worrisome issue to have emerged from Colorado is what she describes as the "normalising of marijuana" and its impact on young people. The widespread sale of marijuana-infused products in Colorado, such as sweets, sodas and cakes, has drawn attention in Oregon.
"What it means is mass commercialisation; stores being able to open to communities selling products like marijuana gummy bears and soda pop and ice cream and cookies and candy, and those products overwhelmingly appeal to kids. Those are huge huge concerns," said Puckett.
"It's about acceptance, social norms and advertising and promoting a product. That is going to send a message to our youth that it's not harmful, it's not addictive and when you increase access to a drug through legalisation we're going to see its use go up. The normalisation of this drug is really disturbing when it comes to our youth."
Opponents of Measure 91 received some unexpected backing for their concerns from the chief consultant to Washington state on its marijuana laws, UCLA professor Mark Kleiman, who warned about the relatively low tax in the proposed Oregon law.
"Unless the legislature decided to raise it, the $35-per-ounce tax in Measure 91 would lead, within a couple of years, to prices way below current illicit prices and way below legal prices in Washington state," Kleiman warned in a blog post.
"That in turn would mean big increases in use by minors and in the number of Oregonians with diagnosable cannabis problems. It would also mean substantial diversion of cannabis products legally sold under Oregon's low taxes to Washington, where taxes are much higher".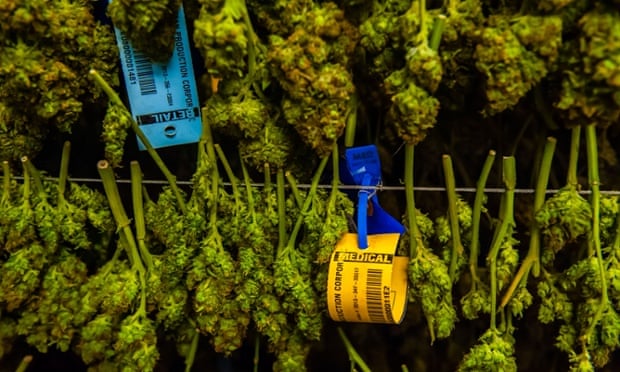 Kleiman also said the idea that barring minors from buying cannabis in stores will keep them from having access to it "doesn't pass the giggle test".
"Cheap cannabis for grown-ups inevitably means cheap cannabis for kids," he said.
The "Yes on 91" campaign is aware that fears about young people being drawn to the drug is one of the most significant concerns it has to overcome. Part of the strengthening of the latest ballot proposal over the 2012 initiative involved stronger measures to prevent people under 21 buying cannabis.
Johnson said that legalising marijuana also removes some of the dangers for young users.
"By lumping marijuana in with heroin and cocaine and meth, that breeds a lot of distrust with kids," he said. "If kids are going to seek out marijuana, where are they going to seek it out today? It's people who are breaking the law and could also be selling heroin and meth and more harmful drugs."
Ultimately, Johnson paints Measure 91 as a social justice issue.
"We are arresting and citing over 10,000 people every year. If you are African American you are 100% more likely to be arrested for marijuana even though usage amongst races isn't any different," he said.
"And if you are poor, the consequences of the marijuana offence are much greater than if you're not. It feeds into racial justice as well as income inequality. If you're rich a $650 fine doesn't mean anything to you, but if you're on a fixed income of $800 a month, it means a lot to you."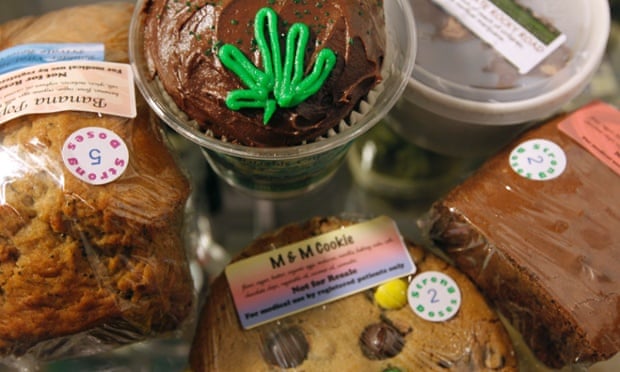 Some leading Oregonians who previously opposed legalisation now see it as inevitable. A former state supreme court justice, William Riggs, voted against the measure two years ago but is publicly backing it this time.
"Marijuana legalization is inevitable. I believe we need to do it with the most responsible approach possible," he said in a statement of support.
Riggs said that "treating marijuana use as a crime has failed", that it has strengthened violent drug cartels in Mexico which sell marijuana in Oregon and that enforcing marijuana prohibition "has bogged down our justice system".
"Last year, 13,408 people were arrested or cited for marijuana crimes in Oregon. That's one person every 39 minutes, all of whom go through the justice system," he said.
That view has been challenged by the Oregon Sheriffs' Association, which opposes legalisation. Law enforcement officials say almost no one is arrested over small amounts of marijuana these days because in 1973 Oregon became the first state to decriminalise possession of less than one ounce. The vast majority of people receive tickets with fines and are not arrested. Only about 130 people are in Oregon prisons for marijuana-related crimes.
"It's not clogging our jails," said Clatsop County sheriff Tom Bergin. "It's not stopping us from solving other crimes because it's not a crime if they have an ounce or their medical marijuana card. It's completely bogus."
Johnson said that his campaign has heard from district attorneys and police officers across Oregon who favour the change but feel unable to speak publicly on the issue. But for all the arguments, he said the outcome of the ballot on Measure 91 may ultimately hinge on turnout.
"Opinion polls show a significant divide between generations over the legalisation of marijuana, so the more younger voters the campaign can turn out the better its chances," he said.