Year Of the Worker: How Labor Struggles Punctuated 2012
By Graciela Razo
Occupy.com, January 17, 2013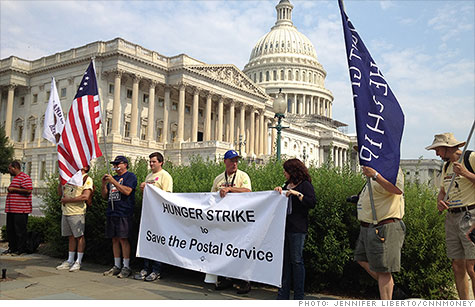 On the morning of December 17, half a dozen United States postal workers set up an "emergency encampment" and began a week-long hunger strike to fight for the future of the U.S. Postal Service and its employees. The protest demanded an end to Congress' proposed office closures and budget cuts, including the removal of six-day mail delivery that would gut nearly 25,000 jobs.
That strike capped a year in which new fires were set ablaze to the United States labor movement. From Walmart employees battling back against America's second richest corporation on Black Friday, to fast food workers "Fighting for $15," wage workers brought the discussion of income inequality back to the workplace. And we can expect more to come in 2013.
Although not all strikes and walkouts last year were successful in directly improving workers' rights, organized labor managed to move itself to the center of political, economic and social discourse. The failed recall of union-busting Governor Scott Walker in Wisconsin and the passage of right-to-work legislation in Michigan dealt obvious blows to labor.
But by highlighting unfair wages, long work hours, limits on the rights to union organizing, and the increasing wealth gap, American workers brought core issues of economic justice back into the discussion. Here are some of the key struggles of 2012 that showed the resurgent force of U.S. labor:
Chicago teachers' monumental strike:
The Chicago Teachers Union garnered the support of parents, students and education advocates nationwide when the CTU went on strike on Sept. 10. The union marched throughout the streets of Chicago denouncing Mayor Rahm Emanuel's privatization efforts — both slashing the number of teachers in schools and increasing the sizes of classrooms. The strike pinpointed the source of the city's deep-rooted problems of poverty and violence: a poor education system, or as CTU president Karen Lewis put it, an "educational apartheid." The strike ended with a diminished focus on standardized testing, more funding for public schools and an average raise of 17.6 percent over the next four years for educators.
Help us speak truth to power. Donate what you can afford to support NationofChange.
Walmart workers' fight against the corporate giant:
The struggle that captivated America's labor movement this year was the long-awaited uprising of workers at Walmart, most notably during Black Friday, the busiest shopping day of the year. Citing chronically dangerous working conditions, Walmart warehouse workers in California and Illinois went on strike in September, which lent a wave of momentum to company employees across the country who expanded rallies and actions through the fall. Strikes and walkouts spread to more than 100 cities and eventually grew into a worldwide movement after a fire at a Walmart factory in Bangladesh killed 112 workers.
Right-to-work legislation pierces labor movement:
Despite daily rallies at the Indiana statehouse, anti-union "right-to-work" legislation was passed there in February, and passed in Michigan in December. Riot police warded off angry protesters as Michigan Gov. Rick Snyder signed the measure without any public discussion or committee hearings. The misnomer bill limits bargaining rights, and other proposed legislation dealt a blow to fair contract and fair wage laws. Although the bill passed, workers mobilized national support and framed economic inequality discussion around labor rights.
Workers take a stand for fair pay:
More than 1,300 American Crystal Sugar factory employees stood up to millionaire founder and CEO David Berg when they rejected the new contract proposal and were locked out of the job in August. Since Dec. 1, workers have rejected unfair contract negotiations four times.
Fast food workers' strike: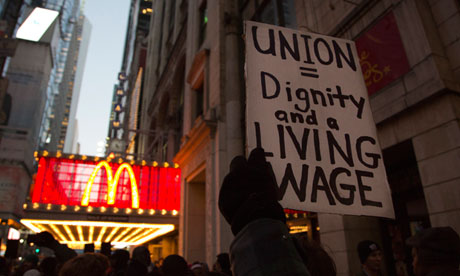 From Wendy's, whose revenue jumped to $615 million in 2011, to chain behemoth McDonald's, more than 200 New York City fast food workers walked off the job in November to demand a living wage of $15 an hour and the right to unionize with the Fast Food Workers Committee.
Janitors' strike:
In June, 3,000 members of the Service Employees International Union Local 1 voted unanimously in favor of the Houston janitors strike. Janitors who clean offices at corporate powerhouses such as Wells Fargo, ExxonMobil and JPMorgan Chase were earning an average hourly wage of $8.35, for an annual income of $8,684. After gaining national support, the striking workers won a pay increase of $9.35 an hour over the next four years.
Transportation workers organize:
Nearly 500 American Airlines pilots, flight attendants and ground workers picketed outside of the Dallas-Ft. Worth International Airport on numerous occasions in 2012, protesting the wage gap between workers and executives who have slashed budgets to try and stay afloat after bankruptcy restructuring. After thousands of layoffs and cuts to pensions and healthcare benefits, pilots secured a new contract that included a pay raise and a 13.5 percent stake in the company in exchange for allowing American Airlines to outsource more of its flights to regional airline partners.
Los Angeles International Airport workers represented by the SEIU walked off the job the afternoon before Thanksgiving when contract negotiations were left unsigned, leaving workers without health insurance and fair pay. Thirteen employees were arrested as riot police descended on the airport, and protesters blocked roads to bring further attention to LAX's unfair practices.
US Airways workers represented by the Association of Flight Attendants–CWA voted to authorize a strike in November to pressure the company over labor contract agreements. After failed negotiations, the union rallied to increase pay and lessen restrictive workplace rules.
Many defeats in 2012 could have been challenged through larger organizing efforts, and by further connecting labor's demands to issues of basic inequality. While attacks on unions also grew, the year's victories provided a clear push forward for workers' rights and economic justice.
As 2012 marked the year of the worker, 2013 must become the year to organize workplaces more effectively: to strengthen the labor movement so that it truly combats poverty and inequality in the U.S.